Tuti-Nama
Description
The Tuti Nama is a Mogul-style work from Persia, also known as The Book of Parrots. With the aid of 218 beautiful miniatures, it relates how a wise parrot strives to prevent the young wife of a far-travelled merchant from committing adultery by telling her the most entertaining stories. Although a popular piece of secular literature, its entertaining stories have a moralizing intent nonetheless. The work appeared in 1963 and was sold at auction to the Cleveland Museum of Art.
Tuti-Nama
This edition of a Persian work executed in the Mogul style, the Book of Parrots describes, in lively miniatures, how a wise parrot strives to prevent the young wife of a far-travelled merchant from committing adultery by telling her the most entertaining stories. The Tuti Nama was extremely popular in the Mogul kingdom, as its contents provided the opportunity of using risqué illustrations. The dangers of such a wayward life are clearly illustrated, either in unambiguous terms, or in a less obvious and codified form of highly interesting parables.
218 Miniatures from a Fascinating, Distant World
The extremely colorful miniatures of the book clearly show the popularity of secular literature as a form of entertainment at the court of the cosmopolitan Mogul Empire in India. Its turbulent history is as stunning as the work itself: in 1963, the leaves emerged from the darkness of history and were offered to the Cleveland Museum of Art where they are still kept.
Codicology
Alternative Titles

Tales of a Parrot

Size / Format

684 pages / 20.4 × 14.0 cm

Origin

Date

1560–1568

Epochs

Style

Genre

Illustrations

218 miniatures

Artist / School

Moghul School
Detail Picture
Tuti-Nama
Fourth Night
This woman's husband was a soldier who was away on duty for months at a time. His master, the king, was intrigued at his wife's faithfulness and decided to test her by sending his two handsome cooks to visit her and attempt to lure her into adultery. She tricked them into coming to her home and getting on a bed made of weak strings, positioned over a pit into which they fell and were imprisoned until the king and her husband came to see what happened.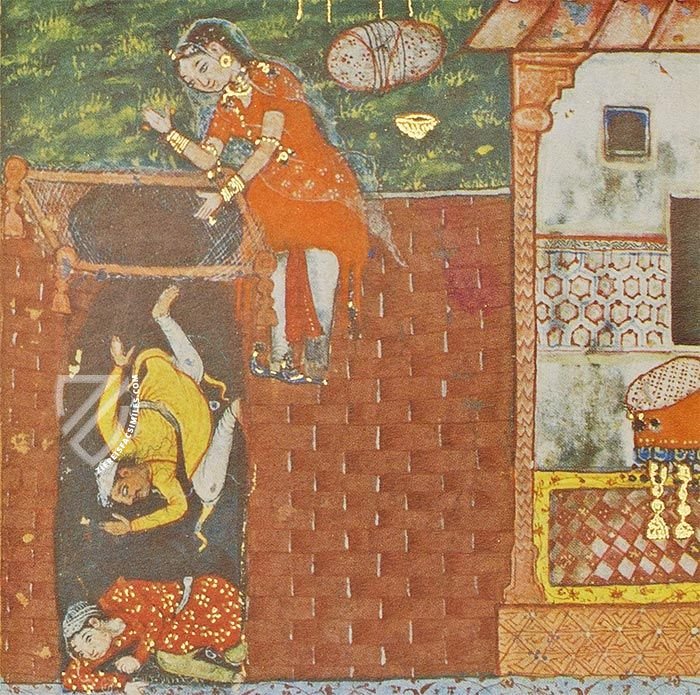 Single Page
Tuti-Nama
Thirty-Fourth Night
Three young men present themselves to a merchant from Kabul, competing as suitors for the hand of his daughter, Zuhra, who is seated on the roof above. Each suitor wears a feathered cap, the man on the left in purple has a full beard, the man in white looking over his shoulder a moustache, and the clean-shaven man on the right holds a bow and arrow.
The attention to detail in the miniature is remarkable, e.g. each figure is depicted with a different skin tone to reflect the various peoples of the Mughal Empire. Intricate geometric and floral patterns cover nearly every surface. Seated within a walled garden, the figures are depicted with individual faces and expressive gestures, which are enriched by an incredible color palette and gold leaf.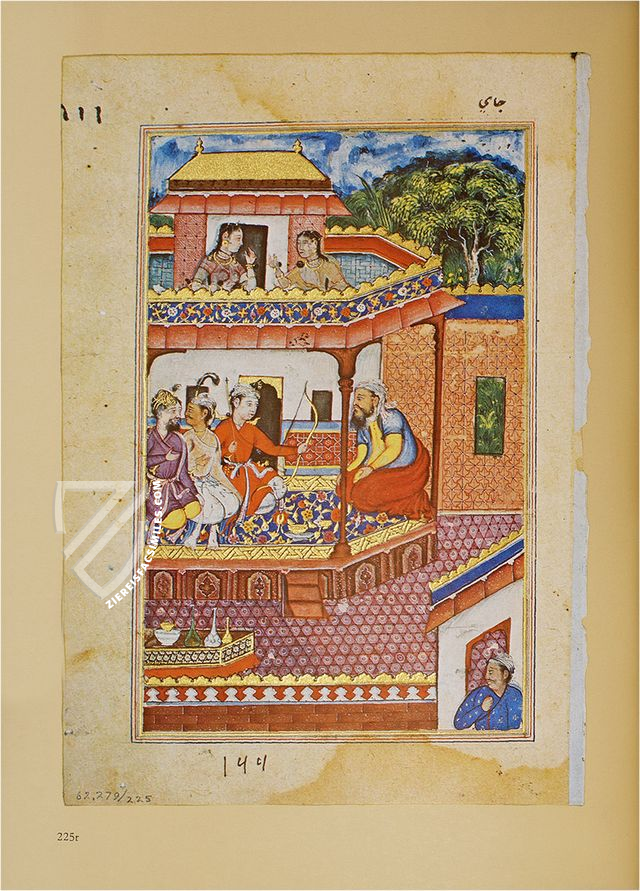 Facsimile Editions
#1

Tuti-Nama

Binding:

Leather, according to oriental pattern.

Commentary:

1 volume (224 pages) by Pramod Chandra and Sherman E. Lee
Languages: English, German

P. Chandra, Chicago. 224 pp. text and 121 plates. Preface by S. E. Lee, Cleveland. Oct., cloth with colour jacket.

1 volume: Exact reproduction of the original document (extent, color and size)

Reproduction of the entire original document as detailed as possible (scope, format, colors). The binding may not correspond to the original or current document binding.
You might also be interested in:
Aesopus - Vita et Fabulae
Ulm (Germany) – 1476
One of the earliest prints in the history of books: the famous fables of the Greek poet Aesop in German and Latin, illustrated with stylish, colored woodcuts
Experience More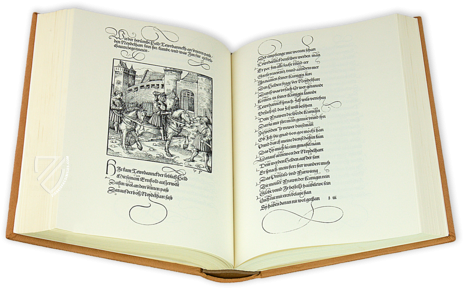 Emperor Maximilian I: Theuerdank
Augsburg (Germany) – 1517
The emperor as a gallant hero: a chivalric epic with biographical features written by Emperor Maximilian I himself is regarded as one of the most important works of the German Renaissance
Experience More
Blog articles worth reading