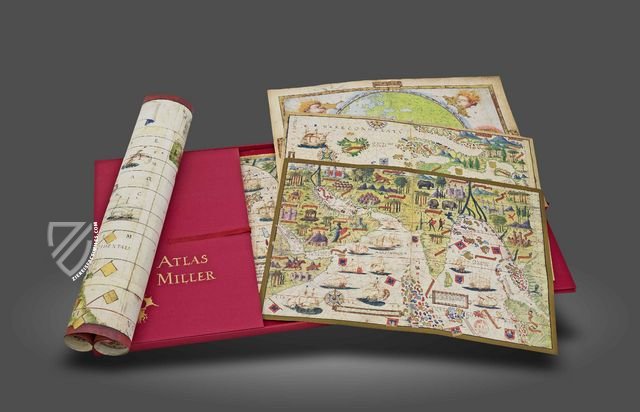 Atlas Miller
Portugal — 1519
A commission by King Manuel I of Portugal, presumably as a gift for King François I of France (1494–1547)

The cartographical work shows world geography as it was known in the Renaissance

The work in Latin and Portuguese arose from a collaboration of various artists and academics
Atlas Miller
Short Description
The Atlas Miller is a cartographical work that shows the geographic regions of the world, as they were known in the Renaissance. The atlas arose in 1519 from a collaboration between the cartographers Pedro and Jorge Reinel and the miniaturists Lopo Homem and Antonio de Holanda. It contains 10 richly detailed illustrated maps in various formats.
Atlas Miller
The Atlas Miller is one of the most famous cartographical works in the Renaissance style. It originates from Portugal in 1519 at the behest of King Manuel I. The work arose from a collaboration of various artists and academics. The cartographers Pedro and Jorge Reinel prepared the geographic plans. The highly valuable illustrations of the maps were undertaken by the talented illuminators Antonio de Holanda and Lopo Homem. The work contains six sheets of vellum with a total of 10 zestfully decorated maps in various formats.
Exciting Geographic Depictions
The map, written in Latin and Portuguese, represents numerous geographic regions as they were known to Renaissance scholars. The North Atlantic, northern Europe, the archipelago of the Azores, Madagascar, the Indian Ocean, Indonesia, the West Pacific, the Maluku Islands, Brazil, and the Mediterranean are all depicted. The map of Brazil in particular, the *Terra Brasilis, is a truly masterful work of illuminated cartography**. The map shows countless depictions of people in activities typical of the country and the natural conditions of Brazil, as envisioned by those artists. Their depictions give evidence of their limitless creativity and great attention to detail.
A Royal Owner
The Atlas Miller was commissioned by King Manuel I of Portugal. The king set no financial limits on the cartographers and artists who produced the work. It is assumed that it was meant as a gift for the knight-king Francois I of France. The valuable work was acquired by the French National Library in Paris in 1897. It was formerly in the possession of the librarian Bénigne Emmanuel Clement Miller, from whom its present name originates.
Codicology
Alternative Titles

Atlante Miller

Type

Size / Format

8 maps / 6 mpas: 59.0 × 41.5 cm 2 maps: 117.0 x 61.0 cm

Origin

Date

1519

Epochs

Style

Genre

Language

Illustrations

6 parchment leaves: 8 maps measuring 59.0 x 41.5 cm and 2 maps measuring 117.0 x 61.0 cm

Artist / School

Cartographers: Pedro and Jorge Reinel
Miniaturists: Lopo Homem and António de Holanda
1 available facsimile edition(s) of "Atlas Miller"
Atlas Miller Facsimile
Atlas Miller Facsimile
1 volume: Exact reproduction of the original document (extent, color and size)
Publisher

M. Moleiro Editor – Barcelona, 2004

Limited Edition

987 copies

Commentary

1 volume (432 pages) by Alfredo Pinheiro Marques, Luís Filipe Thomaz, Alfredo Pinheiro Marques and Bernardo Sá Nogueira
Language: Spanish

More Information

Reproduction of the entire original document as detailed as possible (scope, format, colors). The binding may not correspond to the original or current document binding.
Matching Background Articles
Geography / Maps

Most of what you know about world and how you perceive geography is based on maps you have seen. Medieval maps likewise...

Experience more

Renaissance

What does the word "Renaissance" bring to mind for you? Art, science, and culture of course! It was a "rebirth" and...

Experience more

16th Century

When did the Middle Ages end and the Early Modern Period begin? Most agree it was sometime in the course of the 16th...

Experience more