Berlinski Sbornig
Description
The influence of the Byzantines on Slavic language, culture, and religion is apparent even today. Much of the linguistic history of this development is represented in the Berlinski Sbornig, a collected volume of texts written in Greek and Slavic addressing a wide range of issues relating to the church and theology. It is a unique manuscript because of the diverse compilation of texts, some rather mundane and others controversial, which were united into a single codex ca. 1300.
Berlinski Sbornig
Unlike the Mihanovic Homilarium, which was produced by the same workshop belonged to the same epoch, this "collected codex" or sbornig, named after its abode in Berlin, unifies Greek texts, genuine Slavic writings, and elementary-completive compositions with their own uniqueness. The total assortment of themes addressed in the Berlin Sbornig ranges from canonical and apophthegmatic works of little authority to apocryphal and half-apocryphal literature with eschatological or prognostic themes. Separately emphasized are, amongst others, the well-known struggle between body and soul; the sensory picture parabola of the blind and the lame, a hymn about Saint Paraskeue-Petka, as well as the middle-Bulgarian treatment of the Chrabr Treatise and the Constantine creation of the Slavic alphabet. Therefore this codex from ca. 1300 also sets a very high benchmark from a linguistic perspective even though it is incompletely preserved and possesses the same importance for the Slavic people as it did the Byzantines and also theologians interested in the development of the canon.
Codicology
Size / Format

276 pages / 19.5 × 14.0 cm

Date

Around 1300

Epochs

Style

Language
---
Available facsimile editions:
Facsimile Editions
#1

Berlinski Sbornig

Commentary:

1 volume by Heinz Miklas
Language: German

In addition, an 81-page facsimile of the corresponding manuscript stored under the shelf mark Ms. 42 in the Gil'ferding Collection of the Saltykov-Shchedrin Public Library in St. Petersburg is included along with an 8-page scholarly description by Vjačeslav M. Zagrebin.

1 volume: Exact reproduction of the original document (extent, color and size)

Reproduction of the entire original document as detailed as possible (scope, format, colors). The binding may not correspond to the original or current document binding. 3 pages with colored ornaments, the rest in black and white facsimile.
You might also be interested in: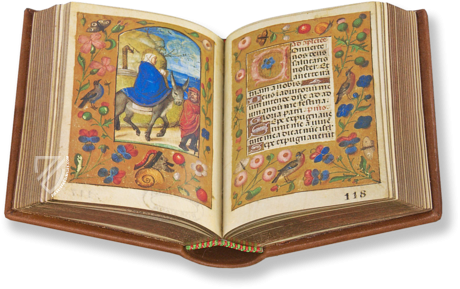 Bruges Hours Vat. Ross. 94
Bruges (Belgium) – Ca. 1500
Flowers, fruits, and gemstones in a jewel of illumination: a Flemish masterpiece from the hand of three unknown masters, preserved today in the Biblioteca Vaticana Apostolica
Experience More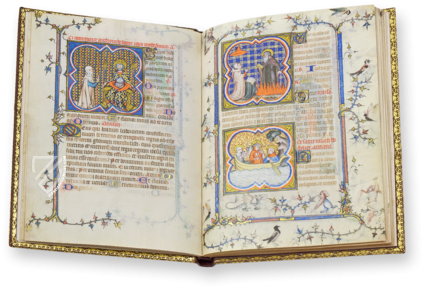 Savoy Hours
Paris (France) – 1334–1348 and 1370–1378
Inspiring Jean Duc de Berry's love of books: 26 preserved, magnificently illuminated sheets of the masterpiece for the Countess of Savoy that burned in 1904
Experience More
Blog articles worth reading