Bernardino da Sahagún: Historia Universal de las cosas de Nueva España
Description
Bernardino da Sahagún: Historia Universal de las cosas de Nueva España
"One of the most remarkable accounts of a non-Western culture ever composed": La Historia Universal de las Cosas de Nueva España (The Universal History of the Things of New Spain) by Bernardino da Sahagún. Considered to be the father of American ethnography, the Franciscan friar Bernardino da Sahagún created a work over the course of 45 years that spans 12 volumes and 2,400 pages, adorned with 2,500 illustrations by his indigenous assistants, who blended the aesthetics of Europe and Old Mexico. Sahagún was sympathetic to the local populace and wanted to learn as much about their culture and worldview as possible, which he could then record for the edification of other missionaries. This is an incredible source of incomparable worth concerning the Aztecs and other Mexican ethnicities, as well as a foundational work of both anthropology and ethnography.
Bernardino da Sahagún: Historia Universal de las cosas de Nueva España
Between the years 1545 and 1590, the Spanish Franciscan friar Bernardino de Sahagún (ca. 1499–1590) worked on one of the most important ethnographic research projects in history. Commonly referred to as the Codex Florentinus, referring to the most well-preserved specimen, which is housed in the Laurentian Library of Florence, it was originally titled: La Historia Universal de las Cosas de Nueva España (The Universal History of the Things of New Spain). It is a massive 12-volume, 2,400-page source spanning the worldview, rituals, society, economy, and natural history of the Aztec people. The work originated from a commission of Fray Francisco de Toral, the provincial superior of New Spain, who desired a text that would be useful for the missionary project. Toral ordered Sahagún to formalize his study of the indigenous population. He was assisted in his work by a group of Nahuas, an indigenous ethnic group from Mexico and El Salvador, and the book is recorded in the Nahuatl language in addition to Spanish. The work, which took 45 years to create, took another 30 years for the Americans Charles E. Dibble and Arthur J. O. Anderson to translate into English. This is one of the most important documents with regard to the history of Central America and has been described as: "one of the most remarkable accounts of a non-Western culture ever composed."
"The First Anthropologist"
Although Bernardino de Sahagún journeyed to New Spain in 1529 with the purpose of missionizing the indigenous population, he is famous today for his ethnographic study, but also translated various biblical texts into Nahuatl including the Psalms and the Gospels. He was educated at the University of Salamanca in the Humanist tradition, where he joined the Order of the Friars Minor, and spent the last 61 years of his life in New Spain. There Sahagún helped to found the first institution of higher education in the Americas, the Colegio Imperial de Santa Cruz de Tlatelolco, which was founded in 1536 in modern Mexico City. During his various missions throughout rural Mexico, Sahagún became proficient in Nahuatl, allowing him a great deal of insight into the worldview of the Aztecs and other ethnic groups. Interviews of local leaders concerning their perspectives on the Conquest of Mexico between 1553 and 1555 were published as the twelfth volume of his magnum opus. Missionaries like Sahagún, who greatly sympathized with and accepted the full humanity of the indigenous people, were often under suspicion by colonial authorities and the more conservative Dominican Order, some even being accused of endorsing idolatry for their tolerance of the Indochristian mix of Christian and pagan art that was developing at the time. However, Sahagún's Humanist inclinations helped liberate him of such Eurocentric prejudices, allowing him to create an accurate and reliable account.
An Epic Ethnographic Project
After conducting research for about 25 years, Sahagún spent about 15 years editing, translating, and copying his work. Concerned with the reliability of information, he interviewed people, including women, both individually and in groups. There is evidence in his writing that indicates that he was constantly evaluating and developing his own research, attempting to create a crude methodology. In doing so, Sahagún created a precursor to the formal methods of inquiry practiced by modern anthropologists and ethnographers. His Nahau assistants, in addition to their own language, spoke Latin and Spanish, and were given full credit by him for their contributions, most notably for the ca. 2,500 illustrations they created, which blend European and indigenous artistic elements. Some passages are transcriptions of statements given in interviews, others are sets of questions and answers relating to a specific topic, and some take the form of a narration or commentary. His work took the form of a medieval encyclopedia, which resembles more of a medieval "world book", attempting to transmit a complete narrative of world history – the New World in this instance. Sahagún's overall impression of Aztec culture was overwhelmingly positive, even if he was disgusted at their idolatry and some ongoing practices like human sacrifice. He also determined that the initial wave of mass conversions in Mexico had been largely superficial, and that a true conversion of the population would require a much greater understanding of the language and worldview of the local populace.
Codicology
Alternative Titles

Codice Fiorentino




Florentine Codex




Codex Florentinus




La Historia General de las Cosas de Nueva España




The Universal History of Things of New Spain




The General History of Things of New Spain

Type

Size / Format

3 volumes: 2,446 pages / 32.5 × 22.0 cm

Origin

Date

1576–1577

Epochs

Style

Language

Illustrations

2,468 mostly colored illustrations in various formats

Content

Catalan and Coatepec Nahuatl texts covering the worldview, rituals, society, economy, and natural history of the Aztec people

Patron

Fray Rodrigo de Soquera (Padre Comisario General of Franciscan Order)

Artist / School

Friar Bernardino da Sahagún (b. 1499) (author)
---
Available facsimile editions: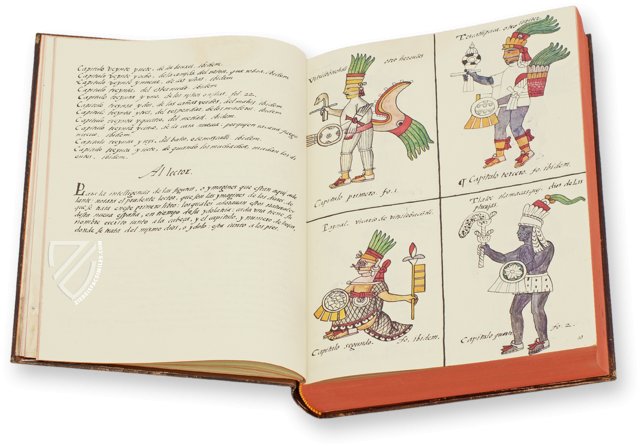 Giunti Editore
– Florence, 1996
Limited Edition:
3000 copies
Detail Picture
Bernardino da Sahagún: Historia Universal de las cosas de Nueva España
Jaguar Warrior
Aztec warfare was based in the Aztec religion and as such the primary purpose of battle was not to kill the enemy but to capture them for use in ritual sacrifices. This task was primarily assigned to elite soldiers in the Aztec army including the Jaguar warriors, so-called because they wore the pelt of the jaguar in battle. They did for two reasons, firstly because they believed it made them fight with the jaguar's strength, secondly because the jaguar represented the god Tezcatlipoca.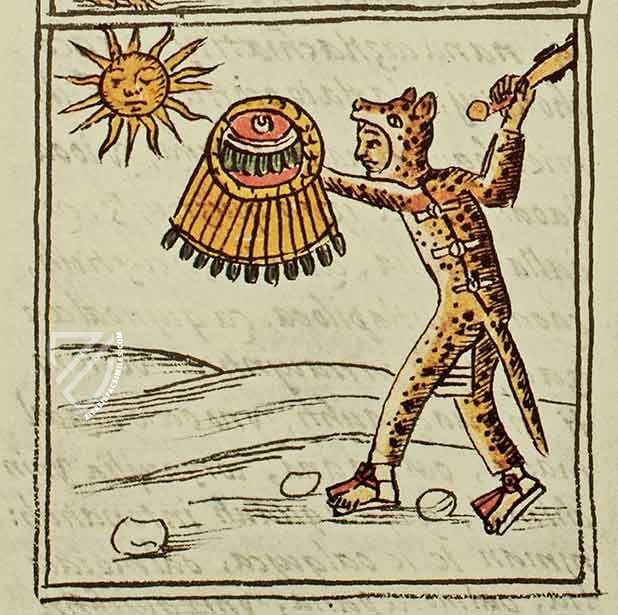 Single Page
Bernardino da Sahagún: Historia Universal de las cosas de Nueva España
Aztec Gods
This incredibly rare Mexican manuscript represents a precious testimonial to pre-Columbian Aztec culture and in this case, the Gods of the Aztecs. Under the direction of the Franciscan friar Bernardino de Sahagún, a team of indigenous artists working in the native tlacuilo tradition of hereditary scribe-painters created images like this miniature in four registers.
Each of the Gods is labelled and presented in profile, most wear elaborate headdresses while all are depicted wearing sandals, a tunic, and a long skirt in the fashion of the Aztec people. Coloring is minimal and aside from light shades of green and red, the team of artists depicted the figures' skin tones with surprising realism and in various hues.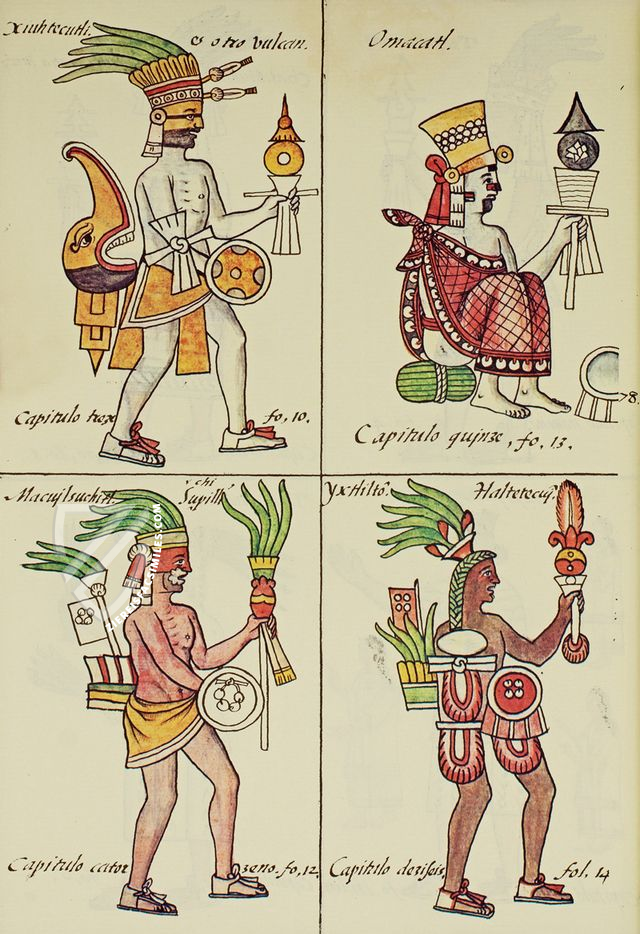 Facsimile Editions
#1

Bernardino da Sahagún: Historia Universal de las cosas de Nueva España

Limited Edition:

3000 copies

Binding:

Imitation leather cover and red leaf cut. A slipcase contains all three volumes.

Commentary:

1 volume
Language: Italian


1 volume: Exact reproduction of the original document (extent, color and size)

Reproduction of the entire original document as detailed as possible (scope, format, colors). The binding may not correspond to the original or current document binding.