Matricula de tributos - Codex Mendoza
Description
Matricula de tributos - Codex Mendoza
The Aztecs were fierce warriors who demanded tribute from those they conquered, and those records were recorded in the Matricula de tributos, also known as Codex Mendoza. It provides detailed information about specific regions of the empire ruled over from Tenochtitlan. The time when the manuscript was made in relation to the Spanish conquest is a matter of debate, but the fact that the leaves are arranged as a codex suggests that is was made after the conquest.
Matricula de tributos - Codex Mendoza
The Matricula de tributos has a long list of tributes that stems from the subjected provinces of the Aztecs and is one of the most important sources of information about Old Mexico. The content of this codex is shared partially with that of the Codice Mendocino (Codex Mendoza); both together representing the most important source with regards to the territorial and economic conditions of individual subsections of the Empire of the Three-Alliances under the rule of Tenochtitlan. Appearing on every side are regional hieroglyphics from respective regions and in which the tributes paid by the various tributaries of the Aztec empire are featured. The writing and transcription of the names appear in European handwriting.
Dating the Manuscript
The arrangement of the leaves in book form suggests the Matricula originated after the time of conquest, even if some of the authors date it back to pre-conquest periods, as is the case with R. Barlow who set the earliest date. In contrast D. Robertson dates the Matricula according to the latest time period of 1540, when the second part of the Codex Mendoza was written. The scattered notes in Nahuatl and Spanish, naturally could have only been written after the conquest, at which time they were then added to the finished manuscript.
Codicology
Alternative Titles

Matrícula de Tributos - Códice de Moctezuma




Matricula de tributos - Mendoza-Codex

Type

Size / Format

42 pages / 42.0 × 29.0 cm

Origin

Date

Ca. 1520

Epochs

Style
---
Available facsimile editions: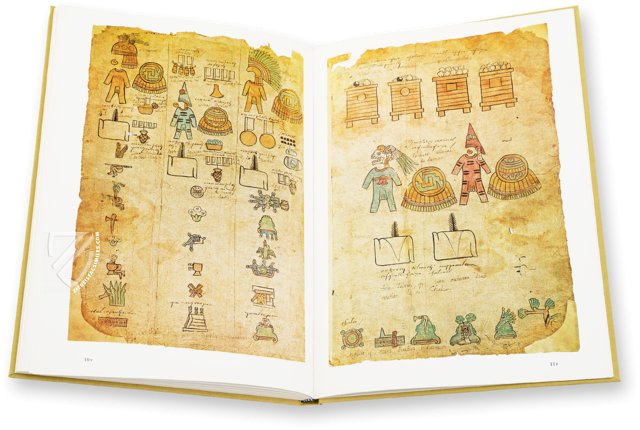 Akademische Druck- u. Verlagsanstalt (ADEVA)
– Graz, 1980
Facsimile Editions
#1

Matricula de tributos - Códice de Moctezuma

Binding:

Cloth binding with embossing

Commentary:

1 volume (46 pages) by Jacqueline de Durand-Forest and Frances. F. Berdan
Languages: English, French, German, Spanish

1 volume: Exact reproduction of the original document (extent, color and size)

Reproduction of the entire original document as detailed as possible (scope, format, colors). The binding may not correspond to the original or current document binding. Reduced to 7/10 of the original size, i.e. to 420 x 290 mm.