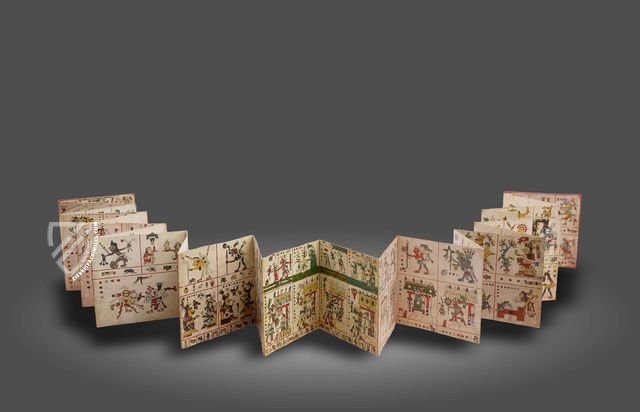 Codex Fejérváry-Mayer
Veracruz (Mexico)
A Pre-Columbian manuscript whose precise graphic style distinguishes it among the Codex-Borgia-Group

The ownership history of the manuscript is shrouded in mystery, only the 19th century is well-documented

Among the rarest handwritten documents in existence today, it offers a glimpse into a lost world
Codex Fejérváry-Mayer
Short Description
Pre-Columbian manuscripts are among the rarest hand-written documents to exist today, and some of the most coveted for their historic as well as artistic value. They offer a glimpse into a world now forever lost, whose civilizations were devastated by disease and who culture was lost in the frenzy of conquest and Christianization. The deerskin Codex Fejervary-Mayer boasts a precise graphic style that both places it within and distinguishes it from the Codex-Borgia-Group.
Codex Fejérváry-Mayer
The aesthetics of old Mexican illuminated manuscripts introduce the viewer into the world of reproduction – this access further supports the release of the Codex Fejervary-Mayer as volume VIII of the Codices Selecti by the Akademische Druck- u. Verlagsanstalt (Academic Printing and Publishing House) Graz. The precise contouring and brilliant colors demonstrate a very precise graphic style comparable to that found within the Codex Laud. The Codex Ferjervary-Mayer is in a folded book form made out of deerskin containing 23 well-used and well-preserved leaves whose stucco coating serves as a base surface for the book painter to work on. With regards to the history of the codex, only the journey from Hungary to England in the 19th century is well-known. The quadratic shape of the Codex Fejervary-Mayer resembles to a large extent, that of the Laud and Cospi; this similarity between the three illuminated manuscripts is further emphasized by the common depiction of the illustrated number "5". In this regard, a sub-group is created and sets itself apart from the so-called Codex-Borgia-Group.
Codicology
Size / Format

46 pages / 17.5 × 17.5 cm

Origin

Epochs

Style

Illustrations

44 full-page miniatures

Content

Sacred Aztec calendar

Previous Owners

Gabriel Fejérváry (1780–1851)
Joseph Mayer (1803–1886)
1 available facsimile edition(s) of "Codex Fejérváry-Mayer"
Codex Fejérváry-Mayer Facsimile
Codex Fejérváry-Mayer Facsimile
1 volume: Exact reproduction of the original document (extent, color and size)
Publisher

Akademische Druck- u. Verlagsanstalt (ADEVA) – Graz, 1971

Binding

Folding book in half leather case with commentary

Commentary

1 volume (48 pages) by Cottie A. Burland
Language: German

More Information

Reproduction of the entire original document as detailed as possible (scope, format, colors). The binding may not correspond to the original or current document binding.
Matching Background Articles