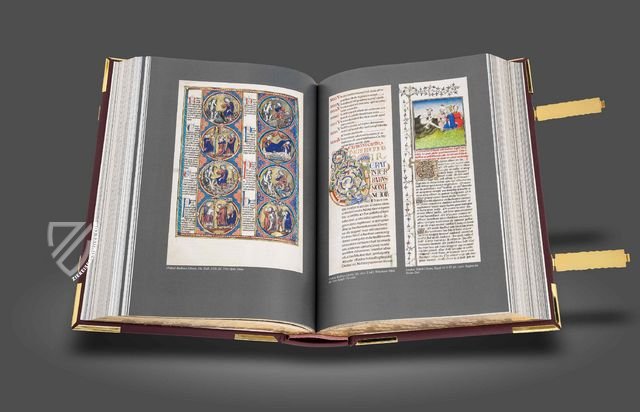 Bible of Compassion
The most beautiful manuscripts from over 40 significant libraries worldwide were sampled for this Bible

It is a compendium of 350 splendid miniatures, 270 of which are adorned with precious gold leaf

Ten centuries of illumination are presented within a unique binding with a removable, ruby-adorned cross on the cover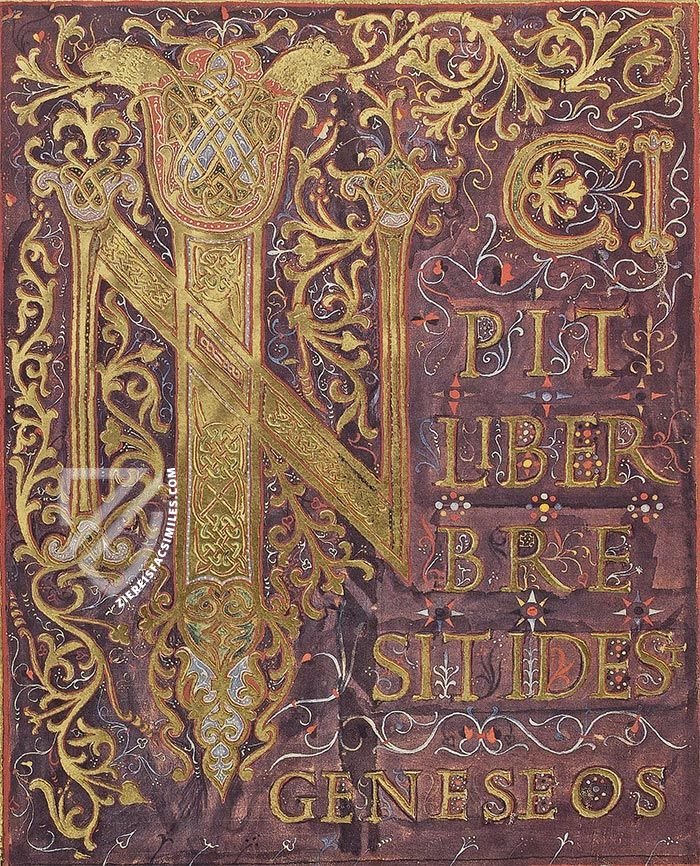 Bible of Compassion
Short Description
This splendid Bible, the finest yet produced in the 21st century, was created as part of the Extraordinary Jubilee of Mercy announced by Pope Francis I in 2016, who also personally authored the preface. The Bible has 350 miniatures from illuminated manuscripts spanning ten centuries of medieval art and features a unique binding with a removable, ruby-adorned cross on the cover.
Bible of Compassion
Pope Francis I (b. 1936) announced that 2016 would be the Extraordinary Jubilee of Mercy, a period of remission for sins and universal pardon focusing specifically on God's forgiveness and mercy. To celebrate this special event, the Biblioteca Apostolica Vaticana helped to organize the creation of the most beautiful Bible of the 21st century, the Picture Bible of Mercy, a part of the sales of which is donated for the benefit of a children's hospital in Africa. The 24 x 34 cm Bible comprises 1,024 pages and contains the German translation of the Old and New Testaments in the entirety. It is illustrated with 350 splendid miniatures, 270 of which are adorned with precious gold leaf, taken from the most beautiful manuscripts from over 40 significant libraries worldwide. These miniatures represent a sampling of ten centuries of illumination. It is housed in a hard leather binding with gilded embossing, corner fittings, and claps with a special removable cross with a ruby on the cover. The preface for the text was personally written by Pope Francis, adding further to the desirability of this singular Bible.
The miniatures featured in this extraordinary edition represent manuscripts including:
• St Albans Psalter, Hildesheim Cathedral Library
• Wenceslas Bible and Gothic Picture Bible, Austrian National Library
• Strahov Evangeliary, Strahov Monastery in Prague
• Mirror of Salvation, Czech National Museum
• Stammheim Missal, Getty Museum in Los Angeles
• De Lisle Psalter and Bedford Hours, British Library
• Hamilton Bible, Berlin Museum of Prints and Drawings
• Psalter of Saint Louis, Bibliothèque nationale de France
• Salzburg Missal, Bavarian State Library
• Bible of Federico da Montefeltro inter alia, Biblioteca Apostolica Vaticana
Codicology
Alternative Titles

Bibel der Barmherzigkeit

Style

Genre

Language

Illustrations

350 miniatures
1 available facsimile edition(s) of "Bible of Compassion"
Bibel der Barmherzigkeit Facsimile
Bibel der Barmherzigkeit Facsimile
Limited Edition

2016 copies

Binding

Red lether with a cross in the center. Acrylic box

More Information

Reproduction of the entire original document as detailed as possible (scope, format, colors). The binding may not correspond to the original or current document binding.
Matching Works
Gospels of John of Opava
The "founding work" of the Austrian National Library, written entirely in gold ink: a Bohemian Codex Aureus with breathtaking historicized initials and miniatures
Experience More
Matching Background Articles
Bibles

You would assume that Bibles were the most commonly produced medieval manuscript, right? Wrong. The sheer size of the...

Experience more

Gospel Books

Who were the original Fab Four? Matthew, Mark, Luke, and John. Luxury Gospel books are among the most precious...

Experience more