Book of Hours of Guyot Le Peley
Description
Book of Hours of Guyot Le Peley
The Book of Hours of Guyot Le Peley is a wonderful testimony and one of the major works of the outstanding art of Jean Colombe, who was one of the most important illuminators in France towards the end of the 15th century. On 300 richly decorated pages, a panorama of French book illumination unfolds that impresses not only with its quantity but also with its artistic quality. Jean Colombe created this late Gothic masterpiece on commission from Guyot Le Peley, a high-ranking citizen of Troyes. After the manuscript passed through the hands of various owners in the centuries that followed and at some point disappeared from view, it first reappeared in 2005 at a spectacular Christie's auction and has since been in the possession of the Bibliothèque municipale of Troyes.
Book of Hours of Guyot Le Peley
The Book of Hours of Guyot Le Peley presents the outstanding artwork of Jean Colombe, the most significant French illuminator at the end of the 15th century. A panorama of French illumination unfolds on 300 richly adorned pages, which impress with both their quantity as well as their quality. Jean Colombe made an artistic masterpiece for Guyot Le Peley, a high-ranking citizen of Troyes, which was first rediscovered at a spectacular London auction in 2005. A true wonder of the history of illumination!
Impressive Miniatures
Each of the precious manuscript's 300 pages is embellished with gorgeous decoration. The typical components of a book of hours – a calendar at the beginning, then excerpts from the Gospels, the Office of the Virgin Mary, Psalms, additional prayers and religious texts – were illustrated with full- and even double-page miniatures. For example, the Annunciation is depicted on a double page. Gorgeous architectural frames surround these full-page miniatures. In some places, the miniatures present themselves also in the form of broad frames, which surround the text in an illustrative manner. Additionally, there is a variety of bas-de-page-miniatures. Numerous historiated initials impressively round-out the consummate overall impression of the manuscript.
A Commission for the Outstanding Master
Manuscript 3901 of Troye's Bibliothèque municipal was the commission of Guyot Le Peley, a high-ranking citizen of Troyes. The escutcheon on the first page of the manuscript provides the information of its patron, and the artist who executed it was no less than Jean Colombe. Jean Colombe (active 1463–1493) is considered to be the most significant French illuminator at the end of the 15th century and as the last great master of French Gothic. The Book of Hours of Guyot Le Peley, a precious jewel measuring 13 x 9.5 cm, is seen as one of the primary works of Jean de Colombe.
A Treasure Resurfaces
The manuscript gives indications of it previous owners through escutcheons, notes, and other signs in the book. Among these was the Italian collector Gaetano Poggiali from Livorno in the 18th century, and in the 19th century by Henry Bordes, a ship-owner from Bordeaux. All traces of the book of hours was lost to history until 2005, when it was auctioned at Christie's in London. This discovery of the manuscript, which had only previously been in a private collections, was an event in the world of illumination and historic manuscripts!
Codicology
Alternative Titles

Le Peley Hours




Libro de Horas de Guyot II Le Peley




Stundenbuch des Guyot II Le Peley




Libro de Horas de Lepeley




Book of Hours of Guyot Le Peley




Livre d'Heures de Guyot Le Peley




Hours of Guyot II Le Peley




Stundenbuch von Guyot II Le Peley

Size / Format

300 pages / 13.0 × 9.5 cm

Origin

Date

Late 15th century

Epochs

Style

Genre

Script

Bastard Secretary

Illustrations

Every page is illuminated: one double-page and 13 full-page miniatures with architectural frames, 24 calendar miniatures, 269 arched lateral miniatures, 283 bas-de-page miniatures with Old Testament scenes, 3 small miniatures of the Evangelists, 16 historiated initials

Content

Book of Hours, use of Troyes and Rome

Patron

Guyot II Le Peley of Troyes

Artist / School

Jean Colombe (ca. 1430 – ca. 1493) and his workshop

Previous Owners

Gaetano Poggiali
Henri Bordes
Henri Gallice
---
Available facsimile editions:
Detail Picture
Book of Hours of Guyot Le Peley
Expulsion from Paradise
In this bas-de-page miniature for a calendar page, Adam and Eve are shown being expelled from the Garden of Eden by an angel armed with a sword for defying God's explicit ban on eating fruit from the tree of knowledge. As they attempt to cover their sinful nakedness, the first humans are scurrying away from God's punishing servant past various trees that they could have happily eaten from. Adam is shown with a brown beard and hair, while Eve's flowing blond hair hangs down past her buttocks.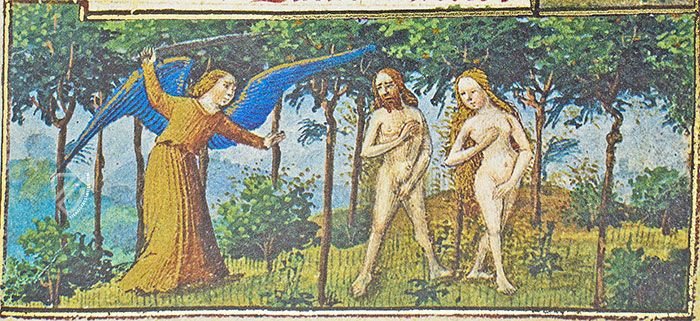 Single Page
Book of Hours of Guyot Le Peley
Kneeling Angel
Appearing on the left side of a double-page miniature of the Annunciation, this kneeling angel is masterfully depicted, especially with respect to its artfully stylized fall of folds. The angel's cloak is trimmed with gold leaf and holy texts while wearing a tiara with a cross. Its wings are painted in a luminous shade of blue and appear to sparkle with gold dust.
The angel is shown kneeling on a grand balcony with its arms crossed in front of its chest in a sign of deference to the Virgin Mary on the right (not pictured). A fairytale landscape reveals itself in the background, including castles with many towers and a fortified bridge crossing the river. The high quality of this miniature is equal to that of contemporary panel paintings.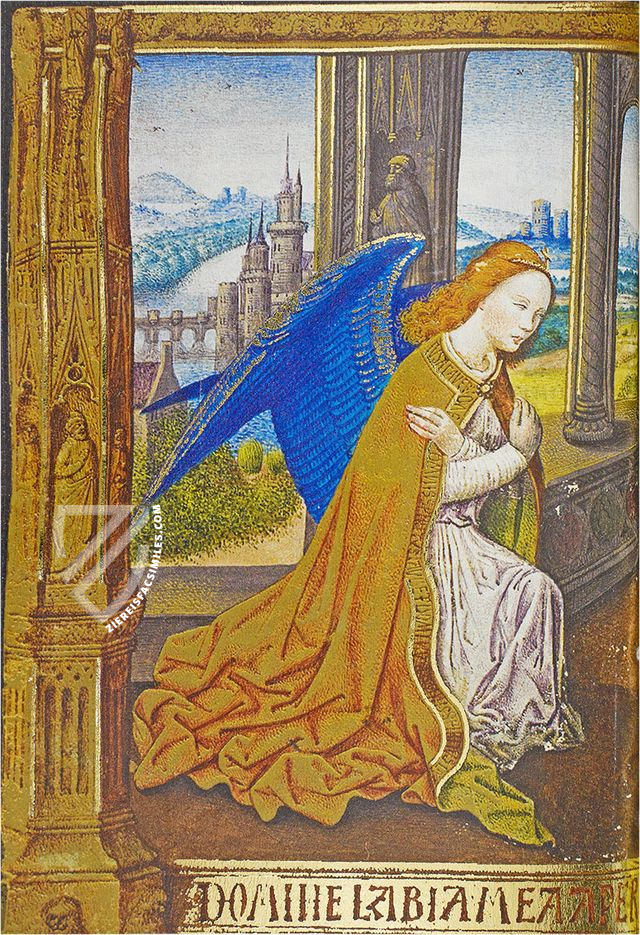 Facsimile Editions
#1

Libro de Horas de Le Peley

Limited Edition:

495 copies

Binding:

Gold stamped leather

Commentary:

1 volume (180 pages) by Christine Seidel and Ebherard König
Languages: Spanish, German

1 volume: Exact reproduction of the original document (extent, color and size)

Reproduction of the entire original document as detailed as possible (scope, format, colors). The binding may not correspond to the original or current document binding. A predominant feature in this manuscript is the use of perspective, clearly influenced by the Sienna school of the Trecento. Many figures are seen within architectural frameworks, a common feature of French miniatures of the time of the Duc de Berry. These backgrounds play an important part in the work and, whether landscapes or abstract compositions, are very elaborate. Their wealth of detail is characteristic of the best Flemish workshops: according to Professor Angulo, Flemish artists achieved a perfection virtually unsurpassed in the rendering of draperies, metals, jewels, glass, leather, etc.