Book of Hours of Luis de Laval
Description
Book of Hours of Luis de Laval
The Book of Hours of Luis de Laval is a masterpiece of French illumination that connects some of the leading artists and political figures of the 15th century. Louis de Laval, who served King Louis XI of France, commissioned the great master Jean de Colombe with the work, which is distinguished among contemporary manuscripts for both the quality and the quantity of its illumination. Practically every page of the manuscript is embellished with lavish architectural frames and golden borders full of flowers and winged cherubs with more than 1,200 miniatures large and small altogether. It is thus no surprise that the manuscript was the coveted possession of royal French bibliophiles for generations before becoming a highlight of the collections of the Bibliothèque Nationale de France in Paris.
Book of Hours of Louis de Laval
Numerous big names are associated with the Book of Hours of Luis de Laval. The commissioner was an important politician under the French King Louis XI (1423–83) and bequeathed the manuscript after his death to his daughter Anne de France. The artist of the numerous unbelievable miniatures was Jean de Colombe, the most important French illuminator of his time, whose name is also associated with the Très Riches Heures du Duc de Berry. Nevertheless, aside from this name, the artistic furnishing of the manuscript alone makes it clear that this is not a typical book of hours, but rather something exceptional!
Outstanding Miniature Painting of the 15th Century
With a relatively large format for a prayer book, the Book of Hours of Luis de Laval contains 700 pages of true treasures of illumination. An unbelievable 1,234 miniatures, of which 157 are full-page, make the reading a true treat for the eyes of the beholder. Scenes from the lives of saints and the Bible, splendid calendar pages, but also allegories, coats-of-arms, and more offered the artist the opportunity to exhaust his full ability. Pictures were created atmospherically and with fine brushstrokes that impressed in particular with their landscapes and exceptional spatiality. Yet, even the depictions of individuals and large groups of people, such as the host of angels, were achieved in a unique way. The luminous and diverse colors were accentuated with the exceptionally rich application of gold.
Both Artist and Commissioner were Important Personalities in Their Time
Jean de Colombe is responsible as the artist for this splendor. The most important illuminator of his time operated a large art studio that supported the master in the realization of numerous important commissions. Thus, Jean de Colombe was employed by the Duke of Savoy among others. Ca. 1485 he completed his commission of the famous Très Riches Heures du Duc de Berry, which the famous Limburg Brothers had begun. He also found an important commissioner in Louis de Laval for the book of hours. He was an eminently influential and powerful politician under King Louis XI of France. He was named a Knight of the Ordre de Saint-Michel by the king because of his numerous merits. Louis de Laval commissioned numerous manuscripts from the greatest illuminators and is known to this day as a patron and lover of book art.
The Ownership History: A Chain of Famous Names
The Book of Hours of Louis de Laval, in its opulent adornment, is judged to more likely have served as a representational collector's item than as a private devotional book for religious contemplation. Made by Jean de Colombe in the years 1470–75 and 1485–89, it contains numerous indications of its famous commissioner, for example, Louis de Laval's coat-of-arms and chain of the Ordre de Saint-Michel, as well as portraits of the politician in various places. Also the coat-of-arms of Anne de France, Duchesse de Bourbon, can also be found discovered in the miniatures. She was the new owner of the splendid treasure, Louis de Laval had left it to the power- and self-conscious daughter of Louis XI. Finally, another indication of a royal owner is found on the red-brown leather binding of the manuscript: the monogram of Henry IV, who had the book hours fitted with a new binding while it was in his possession at the end of the 16th century. Today, the 15th century book treasure is stored in the Bibliothèque Nationale de France in Paris and still counts among the highpoints of French illumination of this period.
Codicology
Alternative Titles

Libro de Horas de Luis de Laval




Stundenbuch des Ludwig de Laval




Stundenbuch des Louis de Laval

Size / Format

700 pages / 24.3 × 17.2 cm

Origin

Date

1470–1475 and 1485–1489

Epochs

Style

Genre

Language

Illustrations

1,234 miniatures including 157 full-page miniatures

Patron

Louis de Laval Seigneur de Chatillon, Lord of Châtillon (1411-89)

Artist / School

Workshop of Jean de Colombe

Previous Owners

Anne de France, Duchess of Bourbon (1461-1522)
---
Available facsimile editions: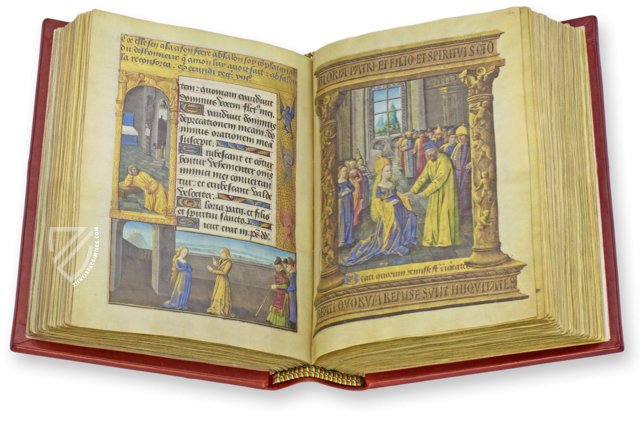 Siloé, arte y bibliofilia
– Burgos, 2013
Limited Edition:
898 copies
Detail Picture
Book of Hours of Luis de Laval
Baking Bread
Found on a calendar page for the month of November, this miniature shows a medieval bakery in operation during the fall, when granaries were full and there was plenty of bread. In the foreground of this interior scene we see the baker stoking a roaring fire, the heat of which is indicated that by the fact that he is barefoot, stripped to his undershirt, and has a simple cloth cap for the sweat on his brow. Meanwhile, his pregnant wife and son attend to a customer at the window.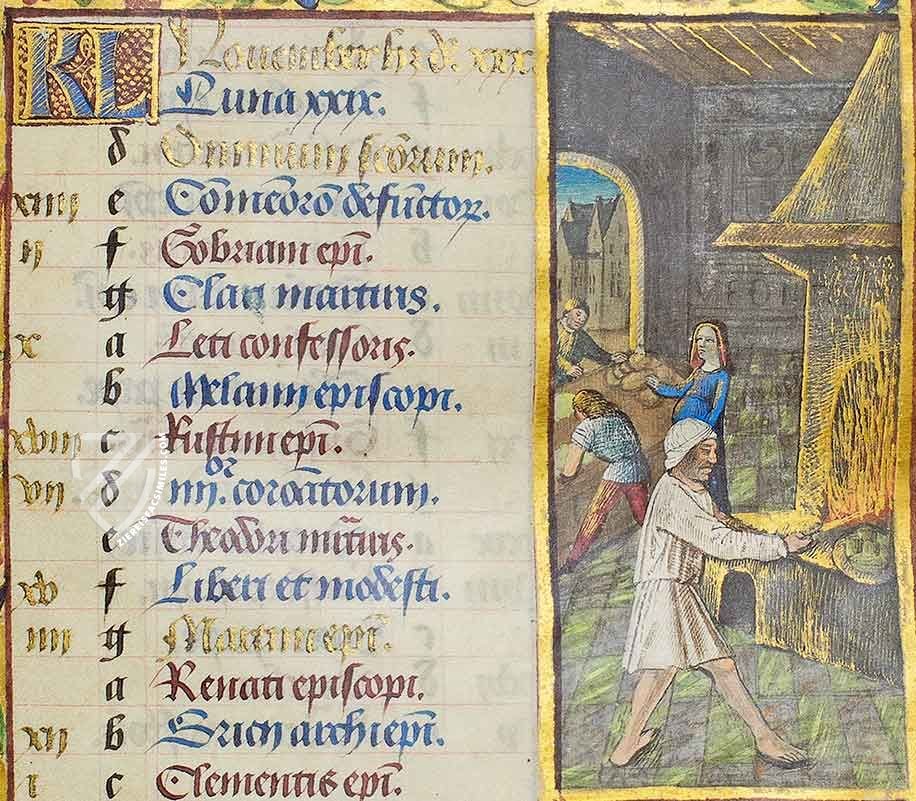 Single Page
Book of Hours of Luis de Laval
Portrait of Luis de Laval
Donor portraits, also known as votive or owner portraits, present the patron of a manuscript. While earlier specimens depicted the subject with standard facials features, later works (like this) can be regarded as portraits in the modern sense. Jean de Colombe completed numerous commissions for Luis de Laval and thus can be relied upon for a dependable likeness of him.
The Baron is portrayed thin, bald, aged, and kneeling in prayer. His onlookers in the background indicate that he is presented as a mirror for the beholder to reflect on their own piety. His coat of arms is depicted alongside a book, presumably this very book of hours. Interestingly, two small dogs take position in front of the crowd, likely the nobleman's favorite pets.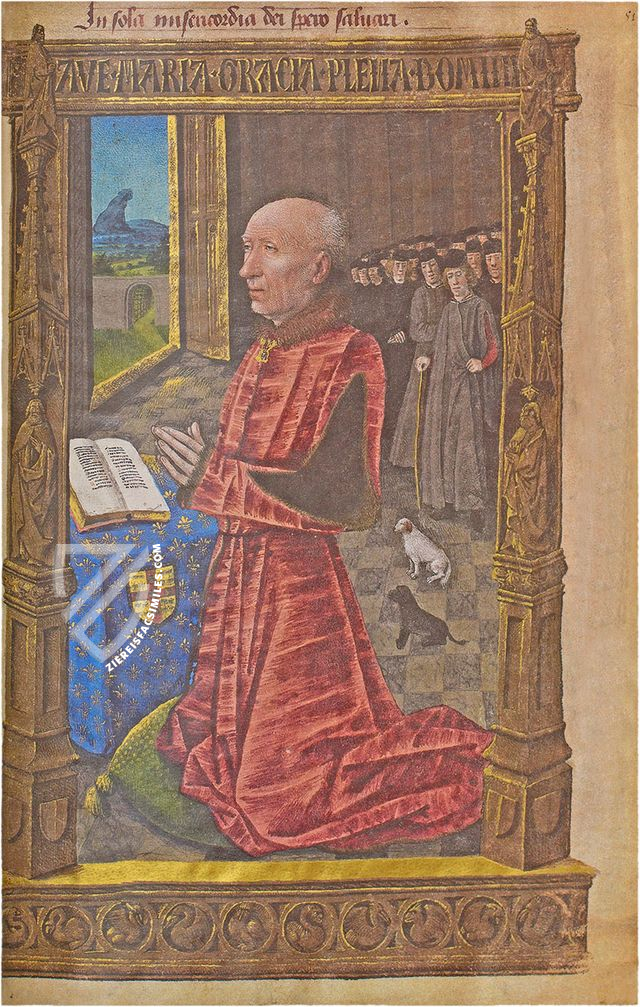 Facsimile Editions
#1

Libro de Horas de Luis de Laval

Limited Edition:

898 copies

Binding:

Red leather with gold embossing, red presentation box

Commentary:

1 volume by Spanish


1 volume: Exact reproduction of the original document (extent, color and size)

Reproduction of the entire original document as detailed as possible (scope, format, colors). The binding may not correspond to the original or current document binding.