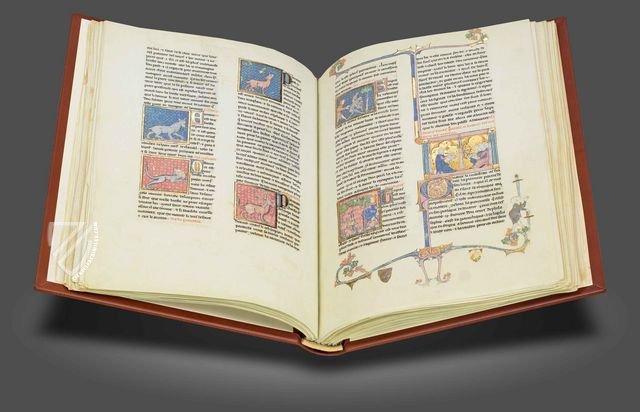 Book of Treasures
France — 1230–1294
Brunetto Latini's universal reference addressing philosophy, history, natural studies, religion, and politics

The marginalia is distinguished by a variety of grotesque faces, animals, monsters, and fanciful dwarves

The work was intended as a textbook and reference for a non-clerical, urban-patrician public

Book of Treasures
Fr. F. v. III, 4
National Library of Russia (St. Petersburg, Russia)
Alternative Titles:
Libro del Tesoro
Le Livre du Trésor
Buch der Schätze
Libro del Tesoro
Livro do Tesouro
Short Description
The Book of Treasures is a universal reference book that deals with the themes of philosophy, history, natural studies, religion, and politics. It was written in French ca. 1270 by the Italian scholar and politician Brunetto Latini. The informative text of the work is illustrated with numerous miniatures and highly-valued decorative frames.
Book of Treasures
French was one of the most important languages in Europe in the year 1260. In order to reach as many readers as possible, manuscripts from this period were mostly written in French. The Italian scholar Brunetto Latini was guided by this circumstance and wrote down the text of his Book of Treasures in the French language. The manuscript is a kind of encyclopedia of geographical-natural historical, philosophical-moral, and biblical-ancient historical knowledge of the Middle Ages. The document likewise handles themes from politics and rhetoric. The manuscript was charmingly illustrated with various decorative elements.
Who was Brunetto Latini?
Brunetto Latini was an Italian statesman, scholar, and writer, who was known above all else as the teacher and fatherly friend of the poet Dante. He was a representative of the political party of the Guelfs and was forced into exile in France following the abortive power struggles of his party. During this time he wrote a large portion of his literary works. He compiled the Book of Treasures as a textbook and reference book for a non-clerical, above all urban-patrician public. Written in austere French prose, the text became a template for numerous additional philosophical and political reference books in Europe.
A Universal Textbook
The three-part manuscript begins with the account of events from the Bible, the history of Troy, and the history of the Middle Ages. Following that is a treatise on natural history, which gives proof of the enormous geographic and astronomical knowledge of the author. Some types of animals and birds are described here in detail. The next part of the book deals with ethical principles of both classical and contemporary moralists. He studies the virtues and vices of humanity. In the third part, Latini discusses the politics and art of governance. He himself was of the opinion that this is the highest of all sciences.
Exceptional Decoration
The extensive manuscript is adorned with a rich variety of illustrations. 18 pages of the work show imaginative border decoration. These show a most varied display of grotesque faces, animals, monsters, and fanciful dwarf figures. Other miniatures show musicians, who play organs, harps, bagpipes, and other musical instruments. Worthy of note is a miniature, which depicts the divine creation of Eve from the rib of Adam. The extraordinary work is found today in the Russian National Library in St. Petersburg.
Codicology
Alternative Titles

Libro del Tesoro




Le Livre du Trésor




Buch der Schätze




Libro del Tesoro




Livro do Tesouro

Size / Format

298 pages / 31.0 × 22.0 cm

Origin

Date

1230–1294

Epochs

Style

Language

Illustrations

115 miniatures

Artist / School

Author: Brunetto Latini (c.1230–1294), Florentine politician, poet, historian–philosopher, and friend of Dante
1 available facsimile edition(s) of "Book of Treasures"
Libro del Tesoro Facsimile
Libro del Tesoro Facsimile
1 volume: Exact reproduction of the original document (extent, color and size)
Publisher

M. Moleiro Editor – Barcelona, 1999

Limited Edition

987 copies

Binding

Brown goatskin with mosaics corresponding to the 16th century original Protected by a brown leather case

Commentary

1 volume (500 pages) by Liudmila I. Kisseleva, Vladimir N. Zaitsev, Inna P. Mokretsova, Willene B. Clark, Maria Algas, and Monica Miro
Languages: Spanish, English


More Information

Reproduction of the entire original document as detailed as possible (scope, format, colors). The binding may not correspond to the original or current document binding.
Matching Background Articles