Brandenburg Evangeliary
Ms. 1
Domstiftsarchiv Brandenburg (Brandenburg an der Havel, Germany)
Description
In the early 13th century, Brandenburg was on the edges of Christendom; the Eastern Baltic was still largely pagan and facing the wrath of the Northern Crusades. Immigration from the south fueled the growth of cities across what is now northern Germany and cathedrals were being erected. A scriptorium in the city of Magdeburg was commissioned with the creation of the splendid manuscript at hand by the Premonstratensians, a religious order consisting of Canons Regular engaged in preaching instead of monks. The manuscript is a magnificent example of the Late Romanesque style in Germany exhibiting artistic influences from across Europe. Full-page miniatures and large historiated initials are executed with great mastery in a wonderful variety of bright, opaque colors as well as gold and silver leaf. More than 800 years later, the impressive manuscript still resides in the treasury of Brandenburg Cathedral.
Brandenburg Evangeliary
One of the last and greatest artistic accomplishments of German Romanesque art: the Brandenburg Evangeliary was created ca. 1210 in the city of Magdeburg. It was commissioned by the Brandenburg chapter of the Premonstratensians, a religious order consisting of Canons Regular engaged in preaching instead of monks, and has remained in Brandenburg Cathedral's treasury for all 800+ years of its existence. It is in fact one of the few manuscripts to spend its entire life in its original location, although the jeweled binding was lost in the course of World War II. Gorgeous full-page miniatures and large historiated initials, some of which fuse figure and letters, are created using rich opaque colors accented with gold and silver leaf. Its splendid combination of contemporary styles makes it a landmark of medieval German illumination.
The Pride of Brandenburg Cathedral
This manuscript is part of a tradition of large Gospel Books intended for public display, usually in cathedrals or large abbeys. It is also a gorgeous testament to the period, when the Northern Crusades were engaged in the conversion of pagan Slavs living in the region of the Eastern Baltic, and when modern northern Germany was experiencing an influx of settlers from the south. It was doubtless meant to impress both the faithful and the unconverted. As an evangeliary, the text consists of readings from the Gospels that were arranged in accordance with the liturgical year, arranged for the purpose of being recited during Mass. The picture cycle depicts scenes from the Life of Christ going up through the Pentecost presented in richly colored full-page miniatures with gold leaf.
An Impressive Mix of Styles
Although distinctly German in character, artistic influences from across Europe are evident in the 18 full-page miniatures, one full-page historiated initial, ten large historiated initials, and numerous other initials all painted with intense, bright colors embellished with gold and silver leaf. The glimmering gold backgrounds that give a timeless and spaceless feeling to the miniatures and historiated initials is derived from Byzantine art, as are certain iconographic forms. The tendril initials are inspired by the "Channel Style", a Romanesque fusion of English and northern French styles. Meanwhile, Italian influences can also be seen in many of the initials and frames that incorporate acanthus, palmette, and ivy motifs. The manuscript could even be considered proto-Gothic because of its more naturalistic body posturing highlighted by a skillful play of light and shadow. Furthermore, jagged fall of folds, rocky edges, and similar stylized elements seem to foretell the coming Zackenstil, a "jagged style" of early German Gothic art. It is precisely the manuscript's hard-to-define hybrid style that, along with the extremely high quality of its execution and quality of its materials, makes the Brandenburg Evangeliary a milestone of German illumination.
Codicology
Alternative Titles

Brandenburger Evangelistar

Size / Format

218 pages / 33.6 × 24.0 cm

Origin

Date

Ca. 1210

Epochs

Style

Genre

Language

Illustrations

18 full-page miniatures, one full-page ornamental initial, ten large miniature-like ornamental initials, numerous multi-line gold initials on coloured ground and coloured initials on gold ground, large areas of gold leaf, shiny silver, intensively bright colours

Content

Pericopes - Texts for the liturgical year beginning with Christmas
---
Available facsimile editions:
Quaternio Verlag Luzern
– Lucerne, 2020
Limited Edition:
680 copies
Facsimile Editions
#1

Das Brandenburger Evangelistar

Limited Edition:

680 copies

Commentary:

1 volume by Beate Braun-Niehr, Klaus Niehr, Christina Meckelnborg, Rüdiger von Schnurbein, Fabian Kolb and Uwe Czubatynski
Language: German

1 volume: Exact reproduction of the original document (extent, color and size)

Reproduction of the entire original document as detailed as possible (scope, format, colors). The binding may not correspond to the original or current document binding.
You might also be interested in: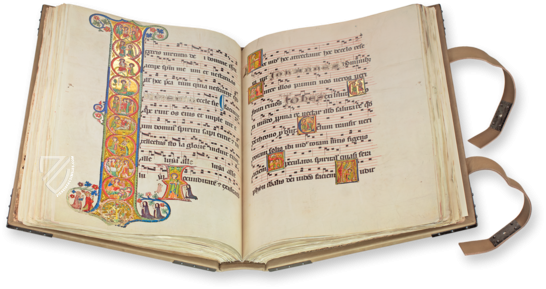 Gradual of St. Katharinenthal
Katharinenthal Abbey (Switzerland) – 1312
Magnificent miniatures on a golden background: one of the most beautiful Gothic manuscripts was used as a large choir book until the 19th century
Experience More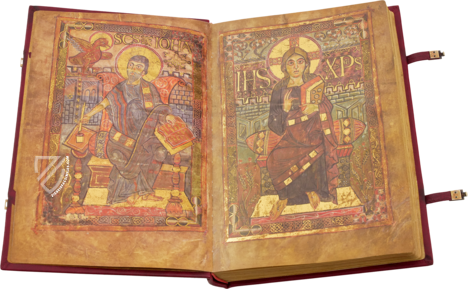 Godescalc Evangelistary
Germany – 781–783
Commissioned by Charlemagne, completed by the scribe Godescalc in his Aachen court school: a Carolingian-Insular masterpiece in gold and purple
Experience More
Blog articles worth reading