Codex Aureus of St. Emmeram
Description
Codex Aureus of St. Emmeram
The Codex Aureus of St. Emmeram is a Carolingian Gospel Book and one of the most renowned manuscripts of the Middle Ages, which is particularly well known for its spectacular golden, jewel-encrusted binding. In fact, it is one of the few Carolingian luxury bindings to have survived to the present, making it a valuable artifact for art historians and gemologists alike. It is a product of the Palace School of Charles II the Bald (823-877), King of West Francia, but where this was, or whether it was in a fixed place, is debated. Unlike most manuscripts from this period, its completion can be dated precisely to the year 870. The luxury binding, purple vellum, rich colors, and script written in gold ink have all the hallmarks of an imperial commission, making this one of the finest products of medieval art.
Codex Aureus of St. Emmeram
This spectacular specimen of Carolingian Illumination is worthy of an emperor, specifically Charles II (823–877) the Bald, grandson of the famous Charlemagne (742–814). He became King of West Francia and Italy in 840, while the rest of the Frankish Empire was divided among his brothers. Their brotherly love was exceeded by their ambitions, and they often varied between cooperation and conflict with one another. He eventually secured the imperial crown in 875, but was unable to reunify the empire entirely as the nations of Germany and France began to emerge from the rupture. Nonetheless, his reign corresponded with the late-period of Carolingian art, during which time some of the movement's most splendid works were created. The Codex Aureus of St. Emmeram consists of a Gospel book with richly illuminated pages protected by one of the most spectacular bindings to survive from the Carolingian era. It is a great tome measuring 42 x 33 cm and was certainly intended to impress all who saw it. The Codex Aureus of St. Emmeram is a true masterpiece of medieval art and one of the finest artifacts of the Early Middle Ages.
From the Emperor's Scriptorium
This Carolingian masterpiece is dated exactly to the year 870, it originated from the Palace School of Charles the Bald, but where this was, or whether it was in a fixed place, is debated. The previous court school at St. Martin's in Tours was ravaged by a Viking raid in 853, so the Basilica of St. Denis near Paris is considered to be a likely candidate. Liuthard and Beringer are identified as the monks responsible for the work, which contains seven full-page miniatures (plus an eight added in the 10th century), twelve canon tables, ten historiated initials, and incipits. The beautifully framed text is written entirely in gold ink and is executed in a neat uncial script. The use of extremely expensive purple vellum not only attests to the costliness of the commission, but further emphasizes the gold script. Rich, dark paints dominate the color palate of the miniatures, whose figures have elegantly draped classical garments and sweeping gestures. The sheer richness of the manuscript's embellishment indicates that it could only have come from an imperial patron and was certainly meant to be a sign of his sophistication and prestige. After its creation, another artfully decorated page with the central image of an abbot holding the manuscript in his hands was added to the Evangeliary between 975 and the year 1000. The attached caption, which identifies the "unworthy" abbot, can be attributed to the tenure of Abbot Ramwold of Regensburg, who died there in the year 1000.
Connection to St. Emmeram
The name of the manuscript is a nod to its repository for the next 900+ years: Regensburg's St. Emmeram Abbey, which was itself rose to become an important center of manuscript production in the coming century. Charles the Bald apparently bequeathed the manuscript to his cousin Arnulf of Carinthia (ca. 850–899), who ruled much of modern Bavaria, Austria, Slovenia, and Hungary before overthrowing his uncle Charles III (839–888), commonly known as Charles the Fat, to become King of East Francia in 887. According to an 11th century record, Arnulf donated the manuscript to St. Emmeram's in Regensburg in 893. He would invade Italy at the beginning of the following year at the instigation of Pope Formosus (ca. 816–896), eventually being crowned Holy Roman Emperor in 896. In the source of Secularization, the Codex Aureus of St. Emmeram was brought in 1811 to the Bayerische Staatsbibliothek in Munich, where it is stored under the shelf mark Clm 14000 and represents a highlight of that prestigious collection today.
A Truly Spectacular Binding
Precious gemstones, figural depictions in relief, and so much gold: this is what makes the cover of the Codex Aureus of St. Emmeram one of the greatest treasures to survive the Middle Ages. The cover's emeralds, sapphires, rubies, garnets, agate, and pearls are held in place by golden acanthus leaves, which were more intricate than the plain "claws" created by earlier goldsmiths. The Carolingians believed in the spiritual powers of gemstones and minerals as well as their connection to heaven. Christ in Majesty takes center stage in repoussé relief, he is seated atop the world and holds a book on his knee with a Latin transcription of John 14:6 – "I am the way, and the truth, and the life. No man cometh to the Father, but by me." Surrounding Christ are four reliefs, also from finely wrought gold, depicting each Evangelist in portrait with a scene from their respective Gospel. Most of these luxury bindings, which were particularly popular in Carolingian and Ottonian book art, were pilfered in later centuries – their gold was melted down and their gems were removed and used in jewelry and the binding replaced with a simpler leather one. In many instances, only the gems were removed and subsequently replaced with faux gems made of colored glass. That this binding has survived completely intact is a gift to art historians and gemologists alike.
Codicology
Alternative Titles

Der Codex Aureus der Bayerischen Staatsbiliothek in München




Codex Aureus von St. Emmeram

Size / Format

252 pages / 42.0 × 33.0 cm

Origin

Date

Ca. 870 and 975–1000

Epochs

Style

Genre

Language

Script

Uncial

Illustrations

16 ornamental pages, 12 of them with large miniatures and expansive ornamental frame program, the remaining 4 are ornamental incipit pages; 12 canon tables; each text page has an ornamental frame; the original treasure binding is preserved

Content

Gospels

Patron

Charles the Bald

Artist / School

Liuthard (scribe)
Beringar (scribe)
Court School of Charles the Bald

Previous Owners

Charles II
Arnulf of Carinthia
St. Emmeram Abbey
---
Available facsimile editions: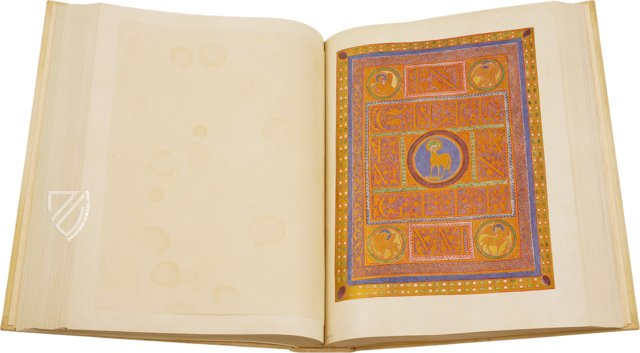 Hugo Schmidt Verlag
– Munich, 1921–1925
---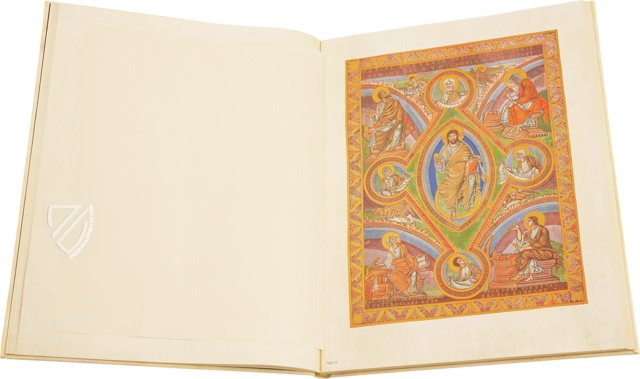 Hugo Schmidt Verlag
– Munich, 1921–1925
Detail Picture
Codex Aureus of St. Emmeram
Portrait of Charles the Bald
Holy Roman Emperor Charles II is depicted enthroned between two arms-bearers and female personifications of the lands of Francia and Gothia, which is modern day southern France. He is richly dressed in colorful robes trimmed with gemstones. His divine right to rule is represented by a hand reaching down from the heavens, where two angels look down approvingly upon Charles. This miniature served as a template for a similar portrait of Emperor Henry II in his splendid 11th century sacramentary.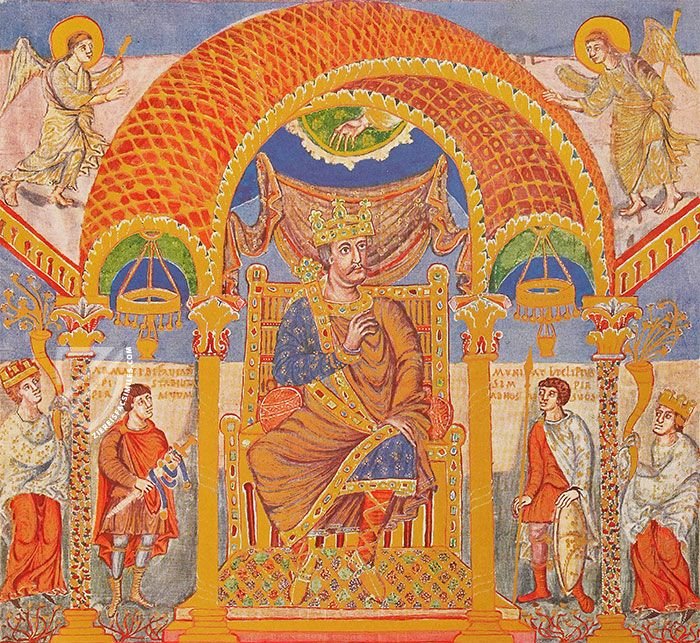 Single Page
Codex Aureus of St. Emmeram
Maiestas Domini
This splendid full-page miniature is an exemplary specimen of the archetypal image of Christ in Majesty framed by purple and gold acanthus leaves. Aside from the generous application of gold leaf and purple dye, the most expensive pigments were used to color this sumptuous scene. Each figure wears a toga with a detailed fall of folds.
Christ sits in a central mandorla (an almond-shaped aureola) while holding a book in one hand and a golden globe in the other as he looks directly at the beholder. The four major prophets – Jeremiah, Isaiah, Daniel, and Ezekiel – are depicted in medallions holding scrolls. Meanwhile, the Four Evangelists sit in the corners working on their respective Gospels and looking at their symbols for divine inspiration.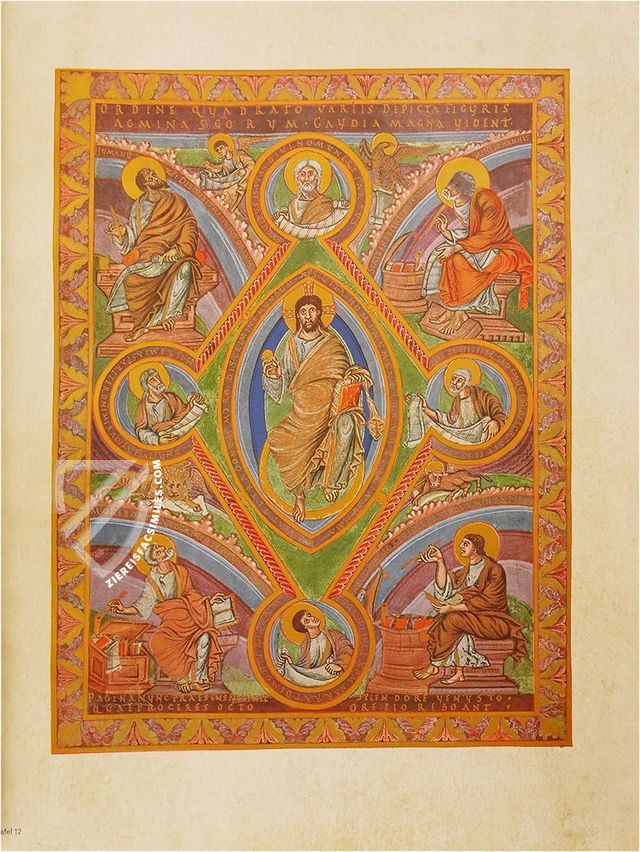 Facsimile Editions
#1

Codex Aureus von St. Emmeram

Binding:

Bound in parchment as a special binding

Commentary:

1 volume by Georg Leidinger
Language: German

1 volume: Exact reproduction of the original document (extent, color and size)

Reproduction of the entire original document as detailed as possible (scope, format, colors). The binding may not correspond to the original or current document binding.
---
#2

Codex Aureus von St. Emmeram

Binding:

5 volumes bound in parchment

Commentary:

1 volume by Georg Leidinger
Language: German
You might also be interested in: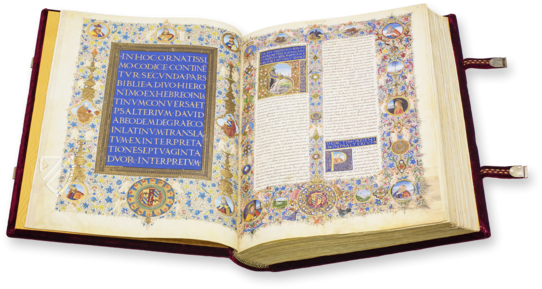 Bible of Federico da Montefeltro
Florence (Italy) – 1476–1478
A magnificent Bible as the crown jewel of the library of one of the richest princes of the Italian Renaissance: a huge, two-volume masterpiece with grandiose miniature paintings by two of Lorenzo de Medici's court artists
Experience More
Blog articles worth reading