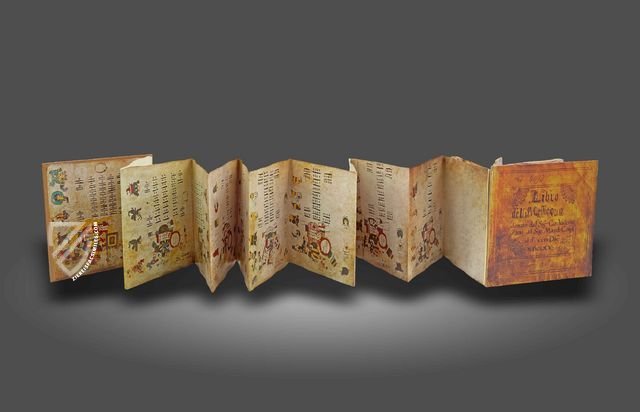 Codex Cospi
Mexico — 1200-1250
Pre-Columbian tabular calendars connected by a series of pictures and detailed descriptions of rituals

Dates for the rituals are no longer selected according to the old calendar but Christian holy days instead

Artistic echoes from the ceramics of the Nochistlan in the Mixteca Alta, but also the Cholula Tlaxcala
Codex Cospi
Short Description
The Codex Cospi is a 17th century manuscript that is part of the so-called Codex-Borgia-Group. Its artistic style has been influenced by that of the Nochistlan and the Cholula Tlaxcala and has been invaluable for preserving certain ancient rites, even bearing a calendar for calculating the holidays of the festive year.
Codex Cospi
The Codex Cospi is a brilliantly illuminated manuscript and belongs to one of the five so-called Codex-Borgia-Group. The manuscript is well preserved, painted on rawhide and protected by two covers from the 17th century, which probably replaced former wood covers. The artistic style of the Codex Cospi bears relation not only to the painted ceramics of the Nochistlan in the Mixteca Alta, but also to the style of the Cholula Tlaxcala. The evaluation of style is challenged by an archaeological problem which through excavations to date has been only partially solved. The front section of the Codex Cospi consists of three parts in which calendar arrangements in tabular form are connected by sequences of pictures. The original empty pages of the back section were at a later date inscribed by hand. Such rituals have been preserved to the present through different acculturative aspects. The selection of days for the rituals is no longer made according to the old calendar but rather according to the different Christian holy days.
Codicology
Alternative Titles

Codex Bologna

Size / Format

20 pages / 17.80 x 17.85 cm

Origin

Date

1200-1250

Epochs

Style

Illustrations

20 leaves painted on both sides, 24 full-page miniatures total

Previous Owners

Pope Clement VII (1478–1534)
Count Valerio Zani
Marchese Ferdinando Cospi (1606–86)
Cospi Museum
Istituto delle Scienze
1 available facsimile edition(s) of "Codex Cospi"
Codex Cospi Facsimile
Codex Cospi Facsimile
1 volume: Exact reproduction of the original document (extent, color and size)
Publisher

Akademische Druck- u. Verlagsanstalt (ADEVA) – Graz, 1968

Binding

Leporello folding. Together with commentary in half leather case.

Commentary

1 volume (32 pages) by Karl Anton Nowotny
Language: German

More Information

Reproduction of the entire original document as detailed as possible (scope, format, colors). The binding may not correspond to the original or current document binding.
Matching Background Articles