Compendium Geographicum of Pedro Teixeira
Description
Compendium Geographicum of Pedro Teixeira
This splendid cartographic compendium originates from when the Spanish Empire was at its most powerful, ruling over a united Iberian Peninsula, much of Italy, and colonies across the Americas. Mapping this empire was the job of skilled and experienced cartographers like Pedro Teixeira Albernaz, who served two kings as royal cosmographer.
Compendium Geographicum of Pedro Teixeira
Pedro Teixeira Albernaz (1595–1662) was born into a Portuguese family of cartographers in Lisbon and eventually rose to be the royal cosmographer to Philip III of Spain (1578–1621) and his successor Philip IV (1605–1665). He executed various royal commissions, including mapping the coasts of the Iberian Peninsula. Creating maps requires extensive, meticulous field work and the Portuguese cartographer travelled far and wide in order to execute these meticulous commissions. As its name implies, the Compendium Geographicum is a collection of richly illuminated maps representing the state of contemporary geographic knowledge. It is a synthesis of the cartographer's body of work and the sum of a lifetime of travel and careful observation.
Codicology
Alternative Titles

Geographische Sammlung des Pedro Teixeira

Origin

Date

1660

Epochs

Style

Genre
---
Available facsimile editions:
Circulo Cientifico
– Madrid, 2007
Limited Edition:
999 copies
Facsimile Editions
#1

Compendivm Geographicvm Pedro de Teixeira, siglo XVII

Limited Edition:

999 copies

Binding:

Hand-bound, aged and bound in parchment with silk binding and gilded edges

Commentary:

1 volume by Alvar Ramón Rodríguez González
Languages: English, Spanish



1 volume: Exact reproduction of the original document (extent, color and size)

Reproduction of the entire original document as detailed as possible (scope, format, colors). The binding may not correspond to the original or current document binding. Printed in stochastic screening in 7 colours.

Facsimile Copy Available!

Price Category: €€
(1,000€ - 3,000€)
You might also be interested in: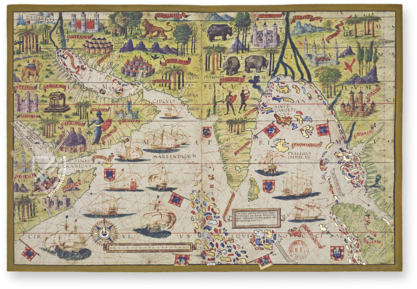 Atlas Miller
Portugal – 1519
The world at the time of the Renaissance: An exquisite cartographic work and worthy gift for King Francois I of France, masterly illuminated by Antonio de Holanda and Lopo Homem
Experience More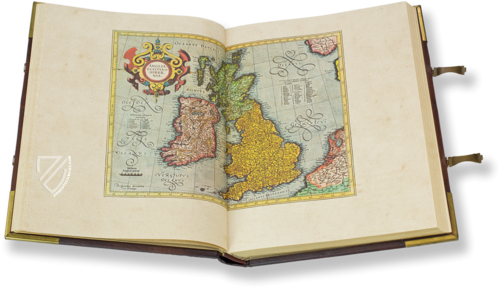 Mercator Atlas of 1595
Germany – First part: 1585;Second part: 1589; Third part: 1595
A milestone of cartography and the template for all later atlases: Gerardus Mercator's posthumously published pictorial atlas from 1595 contributed to a completely new perspective on the world
Experience More
Blog articles worth reading