Ortelius Atlas - Theatrum Orbis Terrarum
Description
Ortelius Atlas - Theatrum Orbis Terrarum
The Ortelius Atlas, or the Theatrum orbis Terrarum, was written, expanded, and continuously republished between 1570 and 1624. What one finds here is a map series by the Flemish geographer Abraham Ortelius. Alongside true-to-scale maps, the manuscript contains assembled information about the lands depicted and is illuminated with charming images.
Ortelius Atlas
The Atlas by Abraham Ortelius is a work which united all of the cartographical findings of the 16th century. It is considered to be first modern and first commercially successful atlas of the world. The Baroque style illuminated manuscript contains 170 gorgeously colored and geographically correct maps of the then-known regions of the world. Alongside maps and cartographical information, the precious work is adorned with delightful representations of landscapes and architecture.
The Formation of the Map Series
Abraham Ortelius was a Flemish geographer and cartographer. He composed some of the most influential map series of the Middle Ages. His atlas represents the crowning of his most important work. The Ortelius Atlas was funded by Gillis Hooftman, an Antwerp merchant, banker, and ship-owner. It was published between 1570 and 1612 in 42 editions and in 7 languages: Latin, German, Dutch, French, Spanish, English, and Italian. In contrast to his colleagues, Ortelius clearly referenced the sources of his maps and texts. He thereby referred to texts that no longer exist today or are only accessed with great difficultly. After the first edition of the Theatrum Orbis Terrarum, Ortelius reworked and expanded his atlas at regular intervals and newly printed it in various forms until his death in 1598. With this atlas, one is dealing with probably the clearest and most accurate map series of the Late Middle Ages.
Charming Pictorial Adornment
The Ortelius Atlas contains not only the most accurate geographical information about the lands of the world that were known to its maker. The precious codex concerns itself with the national history of the respective regions depicted. Ortelius described trades typical to those countries, typical eating habits, trade, and the politics of a land – no other work can measure up to the comprehensive informational content of this book. Additionally, the pages of the atlas show breath-taking representations of mountain landscapes, of broad meadows and fields, of sparsely-populated forest regions, and of great castles and palaces. The Ortelius Atlas was an all-around successful manuscript that no library should miss.
Codicology
Alternative Titles

Abraham Ortelius: Theatrum Orbis Terrarum




Ortelius-Atlas

Type

Size / Format

672 pages / 44.0 × 24.0 cm

Origin

Date

1612–1624

Epochs

Style

Genre

Illustrations

170 maps, almost all on double pages

Artist / School

Abraham Ortelius (1527–98)
---
Available facsimile editions: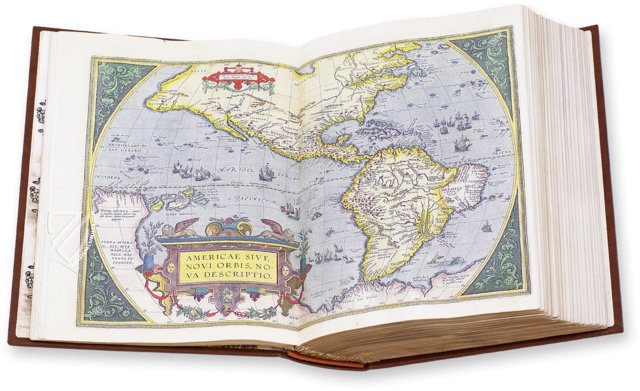 CM Editores
– Salamanca, 2014
Limited Edition:
375 copies
Detail Picture
Ortelius Atlas - Theatrum Orbis Terrarum
Author Portrait
Renaissance Humanism elevated knowledge, creativity, and the human spirit as being quasi-divine. One of the signs of this is that medieval patron portraits showing who the work was dedicated to gradually gave way to portraits of the authors themselves. This splendidly-colored woodcut shows the Dutch cartographer Abraham Ortelius in profile and dressed in the Spanish style with a close-cropped beard, ruffled collar, coat with embellished sleeves, and a sumptuous fur.
Single Page
Ortelius-Atlas - Theatrum Orbis Terrarum
REGNI HISPANIAE…
This depiction of the Kingdom of Spain at the turn of the 17th century is truly remarkable. It is a work of cartography that accurately represents both political boundaries and geography. Aside from approaching the accuracy of a modern map, it is a fine work of art that lovingly depicts cities, mountain ranges, sailing ships, and sea monsters both real and mythical.
Aside from depicting Spain's borders, her rivers, and most important settlements, this map is a window into European politics during this period, when its position as the leading power in Europe was being supplanted by France, just across the Pyrenees Mountains to the North. As a leading center of cartography, Spain's geography was one of the first to be accurately mapped.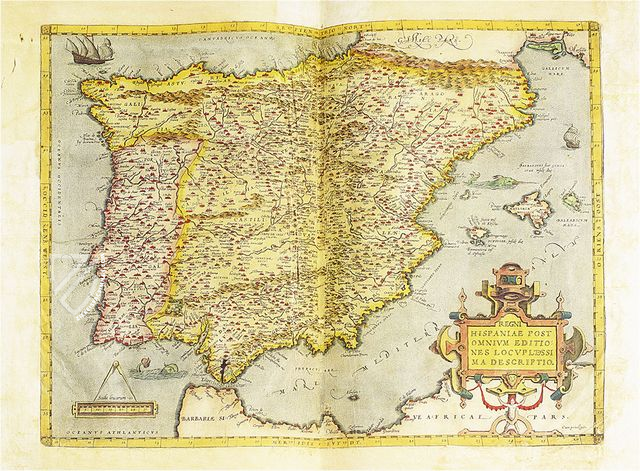 Facsimile Editions
#1

Atlas de Abraham Ortelius -Theatrum orbis Terrarum

Limited Edition:

375 copies

Binding:

Embossed brown leather, protected by a slipcase

Commentary:

1 volume
Language: Spanish


1 volume: Exact reproduction of the original document (extent, color and size)

Reproduction of the entire original document as detailed as possible (scope, format, colors). The binding may not correspond to the original or current document binding.
You might also be interested in: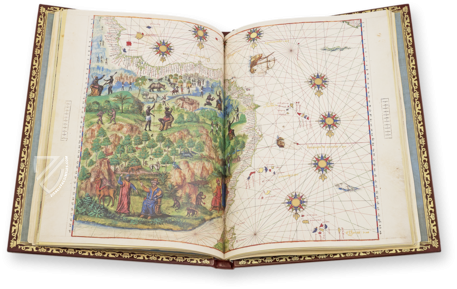 Vallard Atlas
1547
Masterpieces of Renaissance cartography: large-format continental maps from the Dieppe school by the French cartographer Nicolas Vallard
Experience More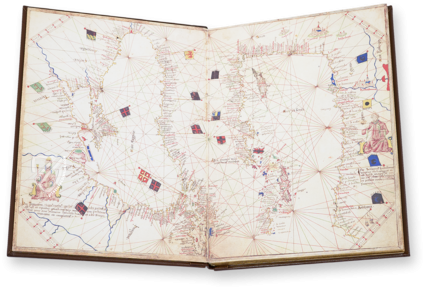 Blog articles worth reading