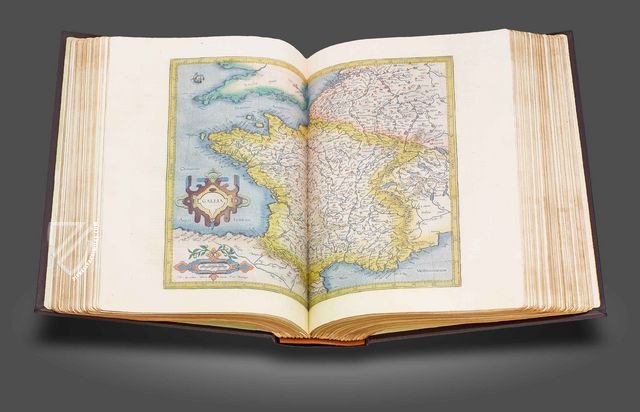 Mercator Atlas - Codex Salamanca
Amsterdam (Netherlands) — 1607
The magnum opus of Gerhard Mercator (1512–94) masterfully combined scientific geographical insights with refined art

He is considered to be the eponym of the modern "atlas" book and made an incalculable contribution to navigation

His greatest achievement was the invention of Mercator Projection, which was first recorded in 1569 on a 21-sheet wall map of the world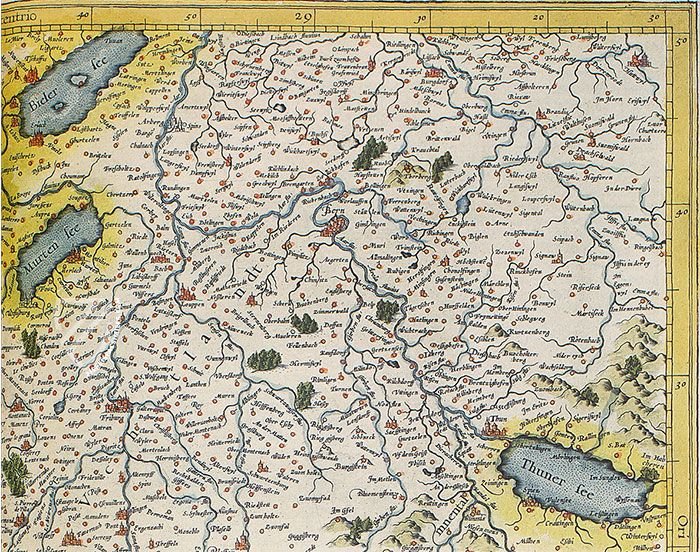 Mercator Atlas - Codex Salamanca
Alternative Titles:
Atlas sive Cosmographicae meditationes de fabrica mundi et fabricati figura
Atlas de Mercator
Mercator Weltatlas
Mercator Atlas
Short Description
The Mercator Atlas was made by the famous scholar Gerhard Mercator and published in 1595, shortly after his death. It is the first geographically correct map series to bear the name "atlas". The work was one of immeasurable significance for the discovery of modern navigation. This historic Universidad de Salamanca houses a particularly fine 1607 edition of the atlas that was printed in Amsterdam.
Mercator Atlas
The Universidad de Salamanca was founded in 1134 and is one of the oldest universities in the world. It shelters a splendid 1607 edition of the atlas created by the German scholar Gerhard Mercator, which is one of the most important cartographic manuscripts that was ever produced. It consists of 146 geographically correct and enchantingly-colored double-page maps representing all the known regions of the world.
The Scholar Gerhard Mercator
Gerhard Mercator was a geographer and cartographer, who was already seen as the Ptolemy of his time during his lifetime and was famous as far as the Arab-Islamic world. He was a cosmographer, theologian, and philosopher of great significance in the 16th century and set standards as a typographer. He achieved special significance through his efforts in the field of cartography. He developed an isogonal manner of representation that became known as Mercator Projection and retains great significance for travel by sea and by air to this day.
A Significant Map Series
Mercator's map series, the first to bear the name "atlas", can be designated as a historical-cultural achievement. The modern method of depicting the geographic regions of the world substantially contributed to the overcoming of the medieval world view. Mercator gave cartography its mathematical basis. He died in 1494 as a distinguished and wealthy man, numerous statues and monuments pay tribute to his works in his hometown of Duisburg. His amazing world atlas is probably the famous master's greatest achievement and was published after his death by his son Rumold in 1595, with other editions published in the years to come, including the specimen at hand from 1607.
Codicology
Alternative Titles

Atlas sive Cosmographicae meditationes de fabrica mundi et fabricati figura




Atlas de Mercator




Mercator Weltatlas




Mercator Atlas

Type

Size / Format

680 pages / 43.0 × 30.0 cm

Origin

Date

1607

Epochs

Style

Genre

Language

Illustrations

146 double-page maps

Artist / School

Cartographer: Gerardus Mercator
Engraver: Jodocus Hondius
1 available facsimile edition(s) of "Mercator Atlas - Codex Salamanca"
Atlas de Mercator Facsimile
Atlas de Mercator Facsimile
1 volume: Exact reproduction of the original document (extent, color and size)
Publisher

CM Editores – Salamanca, 2011

Binding

Brown leather

Commentary

1 volume
Language: Spanish


More Information

Reproduction of the entire original document as detailed as possible (scope, format, colors). The binding may not correspond to the original or current document binding.
Matching Works
Diego Homen's Atlas 1561
Diego Homem's pioneering work in the field of cartography: the mapping of sea routes, oceans, and world regions as an example of the unstoppable advance of science
Experience More
Matching Background Articles
Geography / Maps

Most of what you know about world and how you perceive geography is based on maps you have seen. Medieval maps likewise...

Experience more