Italy's Ptolemaic Chart
Description
The Italian map of the great Renaissance humanist Gerardus Mercator belongs among the most precious masterpieces of medieval cartography. The card was manufactured in 1578 and is part of the Mercator Atlas, the first atlas worldwide. Unbelievably high-quality color and the rich application of gold leaf lend the map its great worth.
Italy's Ptolemaic Chart
Our modern term "atlas," indicating a bound book edition of a collection of maps, goes back to the work of the polymath Gerardus Mercator. The Mercator Atlas, considered to be the cornerstone of the science of cartography, was completed in 1595 and was arguably the most influential work of its kind in addition to being a model for all subsequent cartographic works. 107 detailed, geographically correct maps in brilliant black-and-white copperplates, which the wealthy buyers mostly had colored subsequently, on 558 pages. This map of Italy from the atlas boasts a particularly elaborate design with lavish gold leaf and high-quality paints. The work glows in lush royal blue and is contrasted by landscapes in shimmering gold earth tones.
Gerardus Mercator was Ahead of His Time
The scholar Gerardus Mercator was responsible for the creation of the atlas. Mercator came into the world on March 5th, 1512 near Antwerp in modern Belgium and was educated by the most famous scientists of his time, among them the Leuven goldsmith Gaspard van der Hayden and the natural scientist Gemma Frisius. After being accused of heresy in his hometown, he decided in the year 1552 to resettle with his family in the more modern and tolerant city of Duisburg. Here he lived and worked as a distinguished scholar until his death in 1594 and undertook numerous written correspondences with other humanist and academics, through which he was able to collect important topographical knowledge for his own work.
A Master and His Many Talents
Mercator's life was characterized by the spirit of the Renaissance, he was a true Renaissance man whose goal was to explain the occurrences of our world with the help of all the sciences. He composed scientific texts in the field of mathematics, philosophy, history, and theology. He was also active as a practical craftsman, e.g. he manufactured copperplates, globes, and measuring devices. He himself is responsible for most of the copperplates in his atlas. His greatest achievement was the creation of Mercator projection, which was recorded for the first time on a large, 21-sheet wall map of the world. This first conformal and geographically precise depiction of the earth, which broke with superstition and the views of the church, served the famous navigators and explorers of that time. Francis Drake, the famous privateer serving the English throne, oriented himself on Mercator's cartographical material. His topographies have not lost their influence today, e.g. his projection is used as the template for our modern satellite navigation.
Science and Art, Masterfully Combined
The Mercator Atlas is not only famous for its precision and systematic correctness, its artistic power and beauty are also enchanting. Information and aesthetic are combined with one another in this work in an outstanding way. Mercator employed an Italian cursive script for the first time for his work, he designed his water surfaces with ships and fish and recorded the map title in graceful, almost three-dimensional looking pen writing. There is no doubt that this is an unforgettable artwork of geographic science.
Codicology
Alternative Titles

Carta Tolemaica dell'Italia di Gerardo Mercatore




Italien-Ptolemäus-Karte von Gerardus Mercator

Type

Size / Format

1 map / 48.2 × 34.2 cm

Origin

Date

1578

Epochs

Style

Genre

Language

Script

Cursive

Artist / School

Gerardus Mercator (1512–94)
---
Available facsimile editions: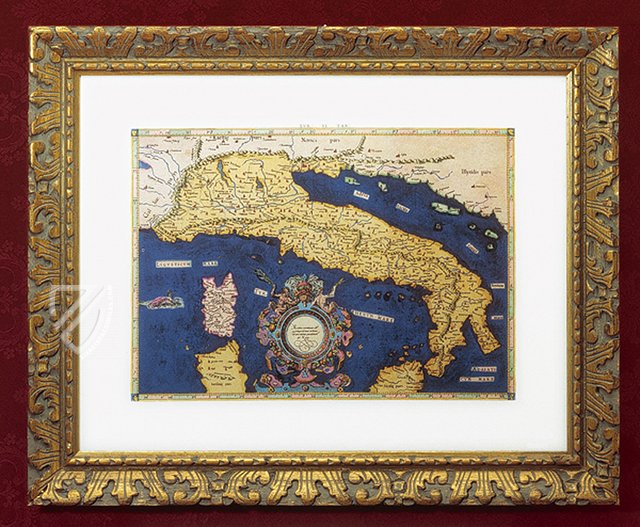 Priuli & Verlucca, editori
– Scarmagno, 2004
Limited Edition:
2049 copies
Facsimile Editions
#1

Carta Tolemaica dell'Italia di Gerardo Mercatore 1578

Limited Edition:

2049 copies

Binding:

The map is presented in an elegant box

1 volume: Exact reproduction of the original document (extent, color and size)

Reproduction of the entire original document as detailed as possible (scope, format, colors). The binding may not correspond to the original or current document binding.
You might also be interested in:
Blog articles worth reading