Ortelius Atlas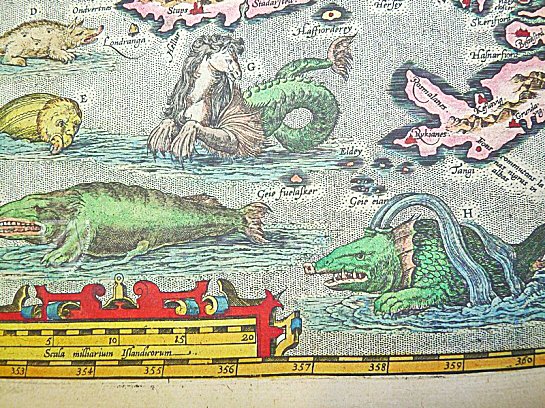 Description
The Theatrum Orbis Terrarum by Abraham Ortelius is a world atlas, which appeared in numerous, various editions between 1570 and 1598. The 1595 Edition is one of the latest and most comprehensive editions of the work. It is found today in the Istituto Geografico Militare in Florence.
Ortelius Atlas (1595)
The atlas created by Abraham Ortelius is a work which united all of the cartographical findings of the 16th century. It is considered to be first modern and first commercially successful atlas in the world. The Baroque style illuminated manuscript has been numerously reworked and republished. The 1595 Edition of the manuscript is one of the latest editions and contains 147 gorgeous colored tables with information about the regions of the world known at that time. Alongside maps and cartographical information, the precious work is adorned with delightful representations of landscapes and architecture.
The Formation of the Map Series
Abraham Ortelius was a Flemish geographer and cartographer. He composed some of the most influential map series of the Middle Ages. His atlas represents the crowning of his most important work. The Ortelius Atlas was funded by Gillis Hooftman, an Antwerp merchant, banker, and ship-owner. It was published between 1570 and 1612 in 42 editions and in 7 languages: Latin, German, Dutch, French, Spanish, English, and Italian. In contrast to his colleagues, Ortelius clearly referenced the sources of his maps and texts. He thereby referred to texts that no longer exist today or are only accessed with great difficultly. After the first edition of the Theatrum Orbis Terrarum, Ortelius reworked and expanded his atlas at regular intervals and reprinted it in various forms until his death in 1598. With this atlas, one is dealing with probably the clearest and most accurate map series of the Late Middle Ages.
The 1595 Edition
Between 1570 and 1641, over 40 editions of the Ortelius Atlas emerged, as well as five extensions, so-called Addimenta, of the inventory of maps. The 1595 Edition was printed in Belgian Antwerp and is found today in the Istituto Geografico Militare in Florence. With this late edition, Ortelius completed a formally unified, aesthetically high-quality, and easily readable map program in book format shortly before his death in 1598. Famous artists of the Middle Ages worked on this project, among them the famous German book artist Frans Hogenberg.
Codicology
Alternative Titles

Abraham Ortelius: Theatrum Orbis Terrarum 1595




Ortelius-Atlas

Type

Size / Format

656 pages / 45.3 × 29.5 cm

Origin

Date

1595

Epochs

Style

Genre

Language

Illustrations

147 tables

Artist / School

Abraham Ortelius (1527–1598)
Franz Hogenberg (1535–90)
---
Available facsimile editions: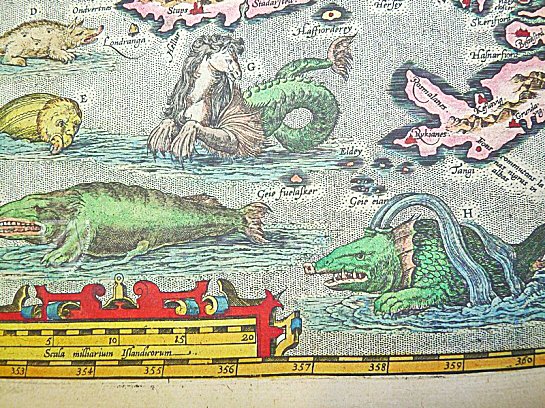 CM Editores
– Salamanca, 2011
Limited Edition:
998 copies
Facsimile Editions
#1

Atlas de Abraham Ortelius "Theatrum orbis Terrarum" (1595)

Limited Edition:

998 copies

Binding:

Hardbound, with slipcase

1 volume: Exact reproduction of the original document (extent, color and size)

Reproduction of the entire original document as detailed as possible (scope, format, colors). The binding may not correspond to the original or current document binding.
You might also be interested in: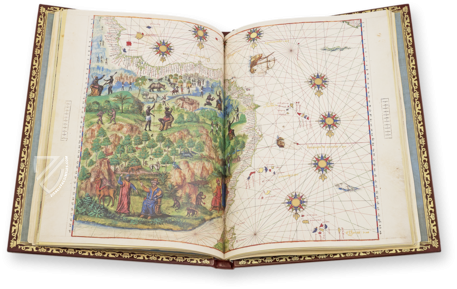 Vallard Atlas
1547
Masterpieces of Renaissance cartography: large-format continental maps from the Dieppe school by the French cartographer Nicolas Vallard
Experience More
Blog articles worth reading