Civitates Orbis Terrarum - 1582
Description
Civitates Orbis Terrarum - 1582
The Civitates Orbis Terrarum is famous for the hundreds of gorgeous cityscapes from around the world contained in its six volumes, which are particularly precious because they present the medieval cities of Europe before the destruction of the Thirty Years' War. Cologne theologian, geographer, and printer Georg Braun and Flemish engraver Frans Hogenberg collaborated in creating the ambitious project, which has only gained popularity over the centuries.
The masterfully designed and charmingly colored engravings not only depict buildings and their surrounding landscapes, but coats of arms, genre scenes from the everyday life of farmers and fishermen, local customs and costumes, boats, wagons, and more. Instructive and amusing texts written by Braun accompany the images and describe each town's geographical location, historical development, and economic conditions. It was designed as a way of introducing the world to educated humanists. The volume printed in 1582 is presented here.
Civitates Orbis Terrarum – 1582
This collection of cityscapes across the entire world including Europe, Asian, Africa, and even the New World is considered to be the oldest work of its kind. This enormous six-volume work, also known under the title (in German) Beschreibung und Contrafactur der vornembster Stät der Welt, was edited and created over a period of nearly fifty years between 1572 and 1618. It not only stimulates the mind, but also offers the eye endless enjoyment through the lovely design and artist shaping of the maps. The edition from 1582 contains 79 colored cityscapes on 59 double-folio plates that include Verona, Chester, Zürich (labelled Tigurum), Landshut, Luxembourg, and Rotterdam.
The masterful etchings resembling standalone panel paintings were artfully colored along with the staffage and genre scenes that accompany them. The historical importance of this work is also crucial because it provides a systematic mapping of the structures of many medieval cities that were, shortly after the publication of this book, destroyed or severely damaged during the Thirty Years' War (1618–48) and subsequently renovated in the Baroque style.
A Team Effort
The theologian, canon, and dean from Cologne, Georg Braun (1541–1622) undertook only a few journeys himself as the author and publisher of the Civitatis Orbis Terrarum. Instead, he was able to obtain many examples through his numerous contacts, which could then be executed by the copperplate engraver and etcher Franz Hogenberg (1535–1590). Frans created the plates for vols. I–IV while his son Abraham and Simon van den Neuwel were responsible for vols. V and VI. Each of these city views are complete with descriptions of the geography, history, and economy of each of the respective locations, which were authored by Braun. Furthermore, there is information concerning local coats of arms as well as elevation markers.
Slices of Life
The cityscapes also contain small genre scenes showing the lives of the inhabitants of these cities engaged in the activities of their daily lives, which gives the reader information about what each local population generally did for a living. Farmers work the fields outside the city and fishermen angle in the rivers that they are situated on. Other details include carriages, ships, and contemporary folk costumes, which enliven the exquisite pictures and convey a realistic impression of everyday life at the end of the Middle Ages**. The modern beholder thus receives an inside look into local customs and learns contemporary fashions.
Codicology
Alternative Titles

Georg Braun and Franz Hogenberg: Beschreibung und Contrafactur der Vornembster Stät der Welt 1574-1618




Beschreibung und Contrafactur der vornembster Stät der Welt




Städteansichten

Size / Format

1 volume - ca. 270 pages / 41.0 × 28.0 cm

Origin

Date

1582

Epochs

Style

Language

Illustrations

79 colored city illustrations on 59 double-folio plates

Content

City views and maps

Artist / School

Georg Braun (1541–1622)
Franz Hogenberg (1535–90)
Georg Hoefnagel (1542–90)
---
Available facsimile editions: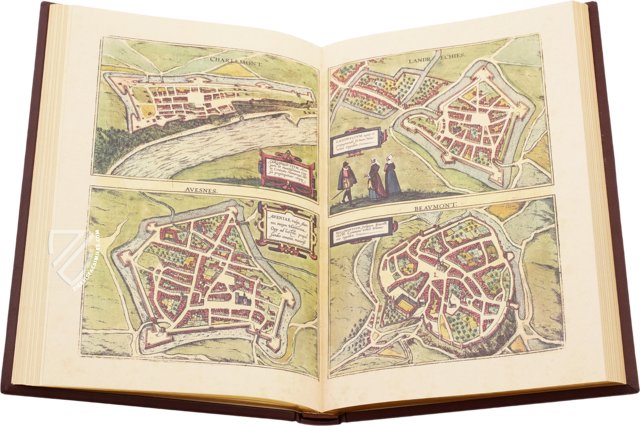 Müller & Schindler
– Simbach am Inn, 2015
Limited Edition:
Not limited
Detail Picture
Civitates Orbis Terrarum - 1582
Mariembourg
The fortress town of Mariembourg was built during the years 1542–46 at the behest of Mary of Hungary, the governor of the Hapsburg Netherlands after whom it is also named. It is designed as a start fort according to a symmetrical plan with eights streets radiating from a central square. A canal dug from either the Sambre or Meuse rivers provided water for the moat that surrounded Mariembourg for an extra layer of defense. Two extravagantly-dressed soldiers with swords, arquebusiers, and morions – open faced helmets with a distinctive crest or comb that originated from Castile – stand in the foreground.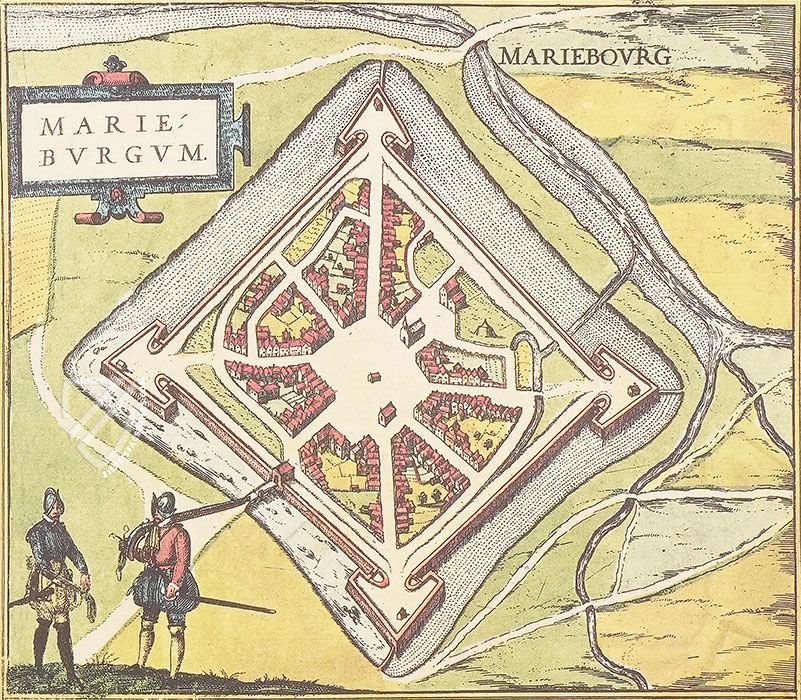 Single Page
Civitates Orbis Terrarum - 1582
Verona
This codex typically shows either maps or cityscapes of the world's most important urban centers, but for a city as ancient and important as Verona, one of each has been provided on this splendid double page engraving in two registers. The city was already at least five centuries old when it became a Roman colony in 80 BC and played an important role in the later history of the Western Roman Empire.
A man sketches the city while sitting on a hill in the lower right corner of the upper register, presumably drawing the map shown in the lower register. There, Verona's famous Roman arena is depicted on the right side while showing a pair of lovers on the left, an allusion to the tradition of tragic Italian romances that inspired Shakespeare to write Romeo and Juliet little more than a decade after this edition was published.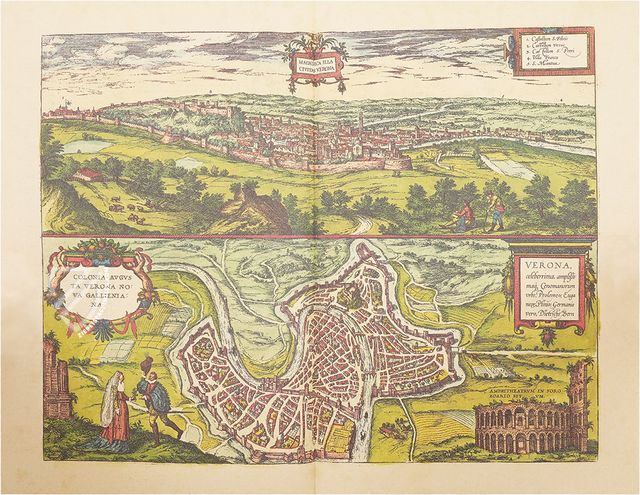 Facsimile Editions
#1

Beschreibung und Contrafactur der Vornehmbster Stät der Welt - 1582

Limited Edition:

Not limited

Binding:

Brown leather with rich gold decoration

Commentary:

1 volume by Max Schefold
Language: German

1 volume: Exact reproduction of the original document (extent, color and size)

Reproduction of the entire original document as detailed as possible (scope, format, colors). The binding may not correspond to the original or current document binding.

Facsimile Copy Available!

Price Category: €€
(1,000€ - 3,000€)