Civitates Orbis Terrarum - 1574
Description
Civitates Orbis Terrarum - 1574
The Civitates Orbis Terrarum is famous for the hundreds of gorgeous cityscapes from around the world contained in its six volumes, which are particularly precious because they shows the medieval cities of Europe before the destruction of the Thirty Years' War. Cologne theologian, geographer, and printer Georg Braun and Flemish engraver Frans Hogenberg collaborated in creating the ambitious project, which has only gained popularity over the centuries. The masterfully designed and charming colored engravings not only depict buildings and their surrounding landscapes, but coats of arms, genre scenes from the everyday life of farmers and fishermen, local customs and costumes, boats, wagons, and more. Instructive and amusing texts written by Braun accompany the images and describe each town's geographical location, historical development, and economic conditions. It was designed as a way of introducing the world to educated humanists. The volume printed in 1574 is presented here.
Codicology
Alternative Titles

Georg Braun and Franz Hogenberg: Beschreibung und Contrafactur der Vornembster Stät der Welt 1574-1618




Beschreibung und Contrafactur der vornembster Stät der Welt




Städteansichten

Size / Format

1 volume - ca. 270 pages / 41.0 × 28.0 cm

Origin

Date

1574

Epochs

Style

Language

Illustrations

139 colored city views

Content

City views and maps

Artist / School

Georg Braun (1541–1622)
Franz Hogenberg (1535–90)
Georg Hoefnagel (1542–90)
---
Available facsimile editions: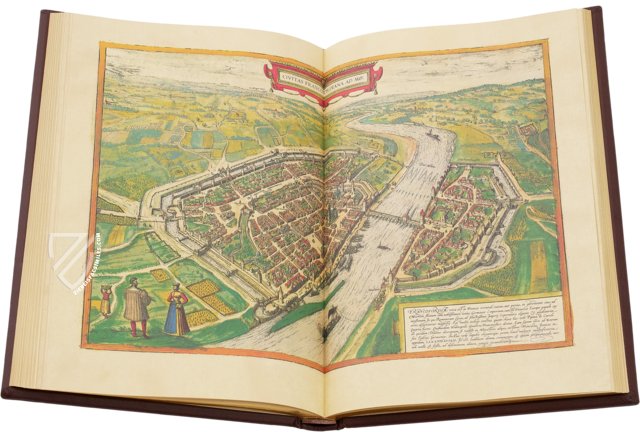 Müller & Schindler
– Simbach am Inn, 2015
Limited Edition:
Not limited
Detail Picture
Civitates Orbis Terrarum - 1574
Siena
Located on top of a great hill in Tuscany, Siena was one of the most important cities in medieval Europe and a major center of banking until it was surpassed by its rival Florence during the 13th and 14th centuries. The unexpected upside of this is that its medieval center with many towers (like nearby San Gimignano) remained relatively unchanged during the early modern period. Although most of the towers are gone today, the city as it is depicted here remains recognizable to modern travelers who have visited the city with its magnificent cathedral and the famous Piazza del Campo.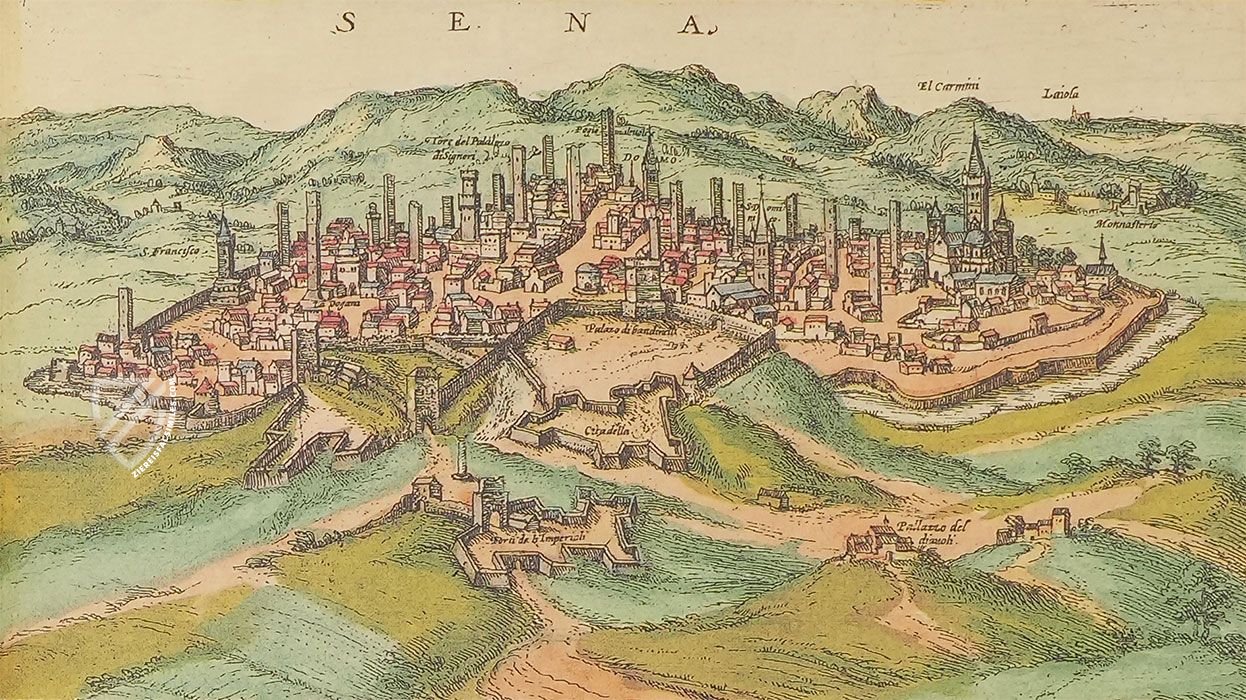 Single Page
Civitates Orbis Terrarum - 1574
Venice
La Serenissima, the "most serene" city of Venice, is presented in an oblique bird's-eye view from the south in this beautiful and detailed cityscape, in which St. Mark's Basilica and Campanile can be identified without using the extensive legend in the lower corners. The Venetian Lagoon is filled with ships sailing between the 118 islands that comprise the unique and beautiful metropolis on water.
The Doge of Venice's procession is depicted at the bottom of the page, the inscription of which reveals that he rarely leaves his palace, but when he does it with a magnificent entourage of councilors, clerics, envoys, trumpeters, and the bearers of arms, flags, and various other insignia. Following two men carrying a throne chair and a cushion, the Doge walks under a golden umbrella.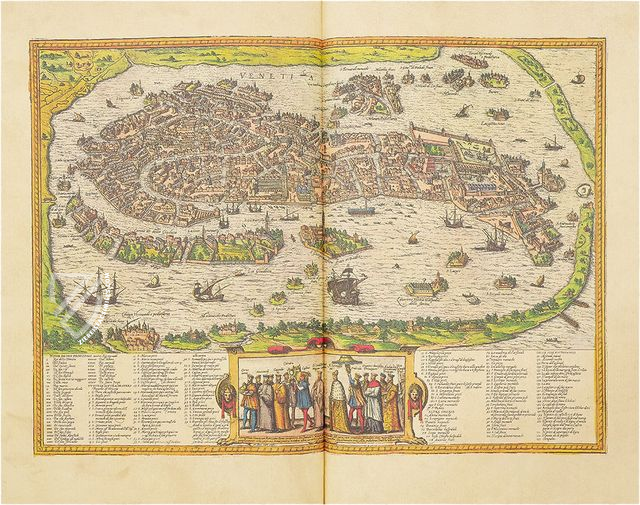 Facsimile Editions
#1

Beschreibung und Contrafactur der Vornehmbster Stät der Welt - 1574

Limited Edition:

Not limited

Binding:

Brown leather with rich gold decoration

Commentary:

1 volume by Max Schefold
Language: German

1 volume: Exact reproduction of the original document (extent, color and size)

Reproduction of the entire original document as detailed as possible (scope, format, colors). The binding may not correspond to the original or current document binding.