Civitates Orbis Terrarum - 1590
Description
Civitates Orbis Terrarum - 1590
The Civitates Orbis Terrarum is famous for the hundreds of gorgeous cityscapes from around the world contained in its six volumes, which are particularly precious because they shows the medieval cities of Europe before the destruction of the Thirty Years' War. Cologne theologian, geographer, and printer Georg Braun and Flemish engraver Frans Hogenberg collaborated in creating the ambitious project, which has only gained popularity over the centuries. The masterfully designed and charming colored engravings not only depict buildings and their surrounding landscapes, but coats of arms, genre scenes from the everyday life of farmers and fishermen, local customs and costumes, boats, wagons, and more. Instructive and amusing texts written by Braun accompany the images and describe each town's geographical location, historical development, and economic conditions. It was designed as a way of introducing the world to educated humanists. The volume printed in 1590 is presented here.
---
Available facsimile editions:
Müller & Schindler
– Simbach am Inn, 2016
Detail Picture
Civitates Orbis Terrarum – 1590
Castel Sant'Angelo and Surroundings
Located on the north bank of the Tiber, just to the east of the Vatican in an area now referred to as Parco Adriano, the Castel Sant'Angelo was once the tallest building in Rome. Originally constructed as a mausoleum for the Emperor Hadrian between AD 134 and 139, the structure was converted into a papal fortress at the beginning of the 14th century and was later used as a prison and place of execution. It is flanked by two of Hadrian's other building projects, the Hippodromus Haderiani and the Aelian Bridge, which connects the Castel Sant'Angelo to the center of Rome.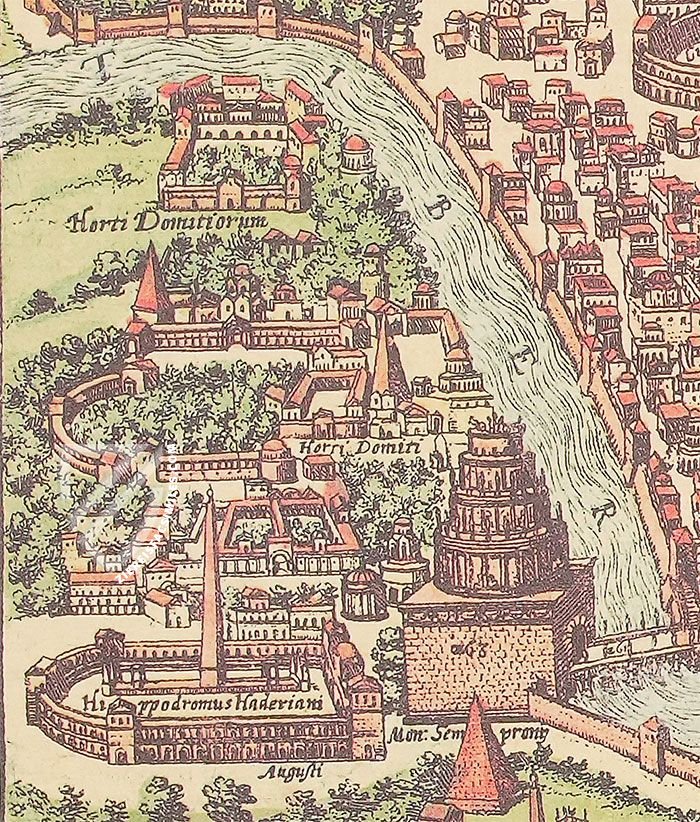 Single Page
Civitates Orbis Terrarum – 1590
Jerusalem
Reminiscent of an image from Google Earth, the holy city of Jerusalem is depicted in great detail with a bright color palette not as it was in the 16th century but how it appeared during Christ's lifetime when it was prosperous. The various locations of the Stations of the Cross and other stories of martyrdom are also depicted and the inscription at the top says that these places are reverently preserved by Christians and still venerated today.
This double-page engraving of the city was already a rarity at the end of the 16th century and the original plate has not survived to the present. It has been theorized that Braun and Hogenberg had the original in their possession because it was already used by them for the 1574 edition. Gerhard de Jode later republished the engraving in two sheets, which according to records existed as early as 1587.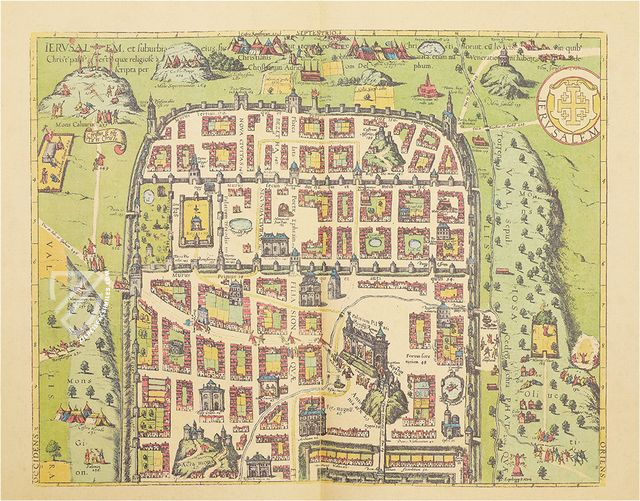 Facsimile Editions
#1

Beschreibung und Contrafactur der Vornehmbster Stät der Welt - 1590

Format of facsimile: 28.0 x 42.0 cm