Map of Spain - Abraham Ortelius
Description
Map of Spain - Abraham Ortelius
Among the figures in the early history of cartography, few names loom larger than Abraham Ortelius, creator of the first modern atlas. The map of Spain is one of the finest specimens from this famous compendium of maps and is as artful as it is accurate. It corresponds to the 1598 edition that was printed shortly after Ortelius passed away. The mountains, coastlines, and rivers of the Iberian Peninsula are depicted in detail while both the ancient and contemporary names of hundreds of cities and towns are listed. Ortelius also cites the sources that were used in creating the map going back to the ancient Greek geographer Ptolemy. This map is a testament to the degree of precision that was accomplished by European cartography during the 16th century.
Map of Spain - Abraham Ortelius
Abraham Ortelius (1527-98) is one of the most famous and important figures in the history of geography and cartography and is most remembered for creating the first modern atlas, the Theatrum orbis terrarum, which first appeared in 1570 as a commission of the merchant Gillis Hooftman van Eyckelberg (1521-81) with a final edition published posthumously in 1598. The section regarding Spain begins with a description in neatly printed in a Roman typeface that gives a succinct geographical description with both the ancient and modern names of cities and towns across the Iberian Peninsula. Mountains, coastlines, and rivers are presented with an incredible degree of accuracy in the large, double-page map. Ortelius also lists the sources he used in creating this detailed, highly accurate map going all the way back to Ptolemy (ca. 100 – ca. 170). Thus, this is a work of cartography that is distinguished both by its accuracy and its artistry – a worthy start to the Golden Age of Netherlandish Cartography!
A Titan of Cartography
Abraham Ortelius was born in the Brabant region of the Habsburg Netherlands to a family who had previously moved there from Augsburg after coming under suspicion of being secret Protestants. His personal knowledge of European geography was rooted in his extensive travels across the Low Countries, Germany, France, Italy, England, and Ireland. Ortelius began his career as a map-engraver and joined the Antwerp Guild of Saint Luke as a cartographic illuminator in 1547. He was also active as a bookseller who regularly attended the now-world famous Frankfurt Book Fair when it was in its infancy. It was there that he met Gerardus Mercator in 1554 and the two of them would go on to collaborate on what would become the world's first modern atlas, which marks the beginning of the Golden Age of Netherlandish cartography. This incredibly detailed and finely executed map is merely a taste of the magnificence that is the Theatrum orbis terrarum
Codicology
Alternative Titles

Hispania, Abraham Ortelius, Amberes, 1598




Karte von Spanien - Abraham Ortelius

Type

Origin

Date

1598

Epochs

Style

Genre

Language

Artist / School

Abraham Ortelius
---
Available facsimile editions: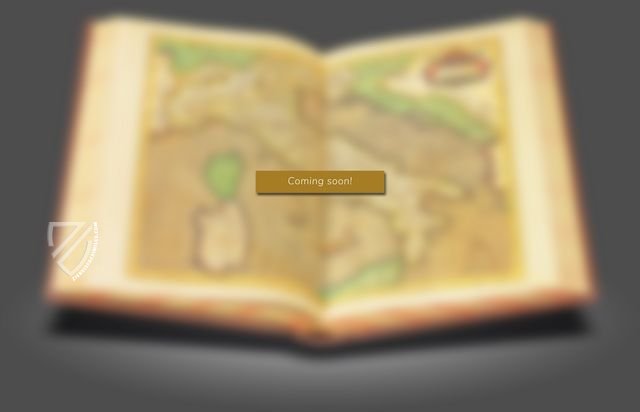 Circulo Cientifico
– Madrid, 2008
Limited Edition:
999 copies
Facsimile Editions
#1

Hispania, Abraham Ortelius, Amberes, 1598

Limited Edition:

999 copies

Commentary:

1 volume by José M. Sanz Hermida
Language: Spanish


1 volume: Exact reproduction of the original document (extent, color and size)

Reproduction of the entire original document as detailed as possible (scope, format, colors). The binding may not correspond to the original or current document binding.

Facsimile Copy Available!

Price Category: €€
(1,000€ - 3,000€)
You might also be interested in: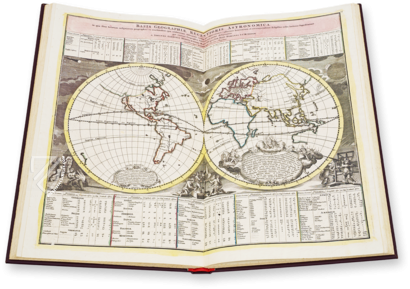 Atlas Novus Coelestis
Nuremberg (Germany) – 1742–1748
The knowledge of Ptolemy, Copernicus, or Kepler: the collected and richly illustrated works of the greatest astronomers of antiquity and the early modern era united in a splendid large-format volume
Experience More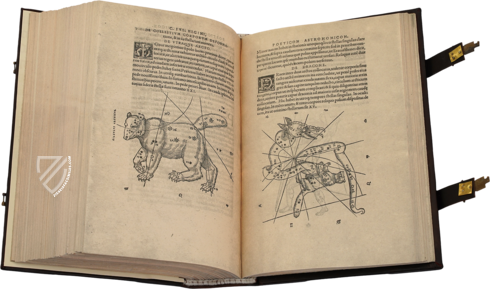 Blog articles worth reading