Hispaniae Nova Delineatio
Description
Hispaniae Nova Delineatio
After travelling throughout the Iberian Peninsula beginning in 1574, the Dutchman Enrique Cock created a splendid map that was not only the oldest to be printed in Spain, but contained various cartographic innovations and detailed information that would not be matched by other maps for centuries. Everything from important geographic features to boundaries lines established by the Romans to various populations are detailed in the map.
Hispaniae Nova Delineatio
The Dutch humanist Enrique Cock created a splendid map of the Iberian Peninsula, likely the oldest to be printed in Spain, the full name of which is Hispaniae Nova Delineatio cum Antiquis et Recentioribus Nominibus. Cock travelled extensively beginning in 1574, allowing for him to create a map of incredible detail, especially with respect to rivers, mountains, and other topographical features. Two editions were published in 1581 and 1583 by Georgius Flemalia (active 1580–1591), a printer in Salamanca, of which only two specimens survive. The map was first discovered at the Hessischen Landesbibliotheck in Darmstadt. The second one was bound into an atlas in the National Library of Spain. Both belong to the 1583 edition. Aside from its beauty and rarity, the map has a wealth of information. Modern Spanish and ancient Latin place names appear side-by-side. Old Roman administrative divisions are demarcated by dotted lines. Smaller cities are represented by circles, larger ones by clumps of buildings; bishoprics are indicated with a cross, archbishoprics are indicated with a double-arm cross. The various kingdoms making up Spain are represented by their respective coats of arms, while the author's personal escutcheon appears in the lower-left corner with the motto Homo ut flos, a compass, and scale. The lower-right corner features a large poster with architectural motifs and an extensive explanation of the map and its contents, as well as details of its publication. Finally, it identifies various populations for the first time, something which would not be incorporated into another map for two centuries.
Codicology
Alternative Titles

Hispaniae Nova Delinetaio cum Antiquis et Recentioribus Nominibus, 1581

Type

Origin

Date

1583

Epochs

Style

Genre

Language

Artist / School

Enrique Cocks
---
Available facsimile editions: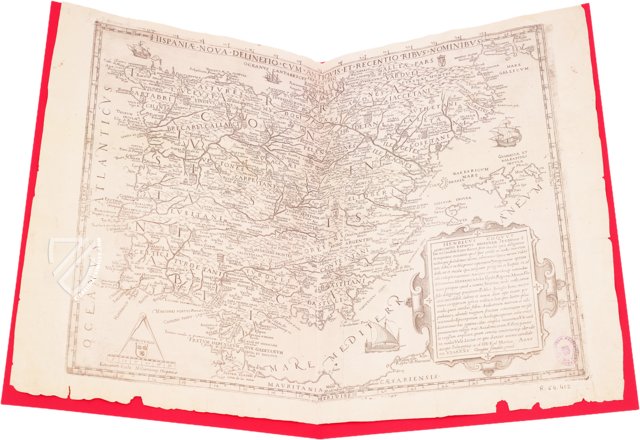 Circulo Cientifico
– Madrid, 2007
Limited Edition:
999 copies
Facsimile Editions
#1

Hispaniae Nova Delinetaio cum Antiquis et Recentioribus Nominibus, 1581

Limited Edition:

999 copies

Binding:

The facsimile as well as the commentary volume come in a protective case.

Commentary:

1 volume by José M. Sanz Hermida and María L. Martín-Merás Verdejo
Language: Spanish


1 volume: Exact reproduction of the original document (extent, color and size)

Reproduction of the entire original document as detailed as possible (scope, format, colors). The binding may not correspond to the original or current document binding.
You might also be interested in: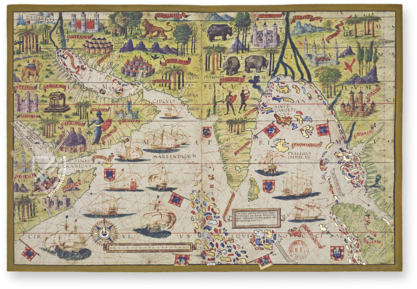 Atlas Miller
Portugal – 1519
The world at the time of the Renaissance: An exquisite cartographic work and worthy gift for King Francois I of France, masterly illuminated by Antonio de Holanda and Lopo Homem
Experience More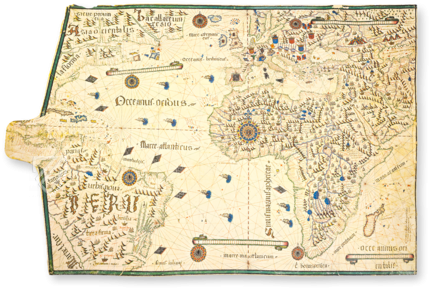 Blog articles worth reading