Portolan chart by Salvat de Pilestrina
Description
Portolan chart by Salvat de Pilestrina
This exquisite specimen of a 16th century portolan chart originated from the famous Majorcan school of cartography. Salvat de Pilestrina completed the map in 1533 and designed it not only as a nautical aid, but also as a wonderful example of his great mastery. The coasts of the western and central Mediterranean as well as the Iberian Peninsula on the Atlantic are depicted here in detail.
Portolan Chart by Salvat de Pilestrina
Silvat de Pilestrina (1502–33), whose name was changed by the Italians to Salvatore de Pilestrina, was a Spanish cartographer from the famous Majorcan school, which enjoyed its heyday in the 14th century but nonetheless produced true masterpieces of cartography over the following centuries. Renowned workshops and cartographers with great names like Creques, Olives, and et al. worked in Mallorca or came from there. Active on the Balearic islands at the beginning of the 16th century, Salvat de Pilestrina soon made a name for himself as one of the primary figures of 16th century Majorcan cartography.
From Spain to Africa via Italy
The portolan chart by Salvat Pilestrina in the Biblioteca de Castilla-La Mancha in Toledo is an impressive testimonial of his art. Originating in 1533, it is a gorgeous map of the central and western Mediterranean to the Atlantic coasts of the Iberian Peninsula and North Africa. With its impressive measurements of 54 x 36 cm, it was both outstandingly suitable as a nautical aid as well as a great masterpiece of tremendous artistic and historic value.
The Artistic Design
A Marian motif is affixed above the cartographic depiction – or at its western end: the depiction of the Madonna with child as the guardian of seafarers. Artful vignettes of the most important sea ports like Genoa and Venice illustrate the brightly designed maps, which are furnished some colorful wind roses both large and small. There are numerous small labels closely strung together along the coasts and colorful escutcheons from various lands that denote the allegiance of certain regions.
Codicology
Alternative Titles

Carta Portulana de Salvat de Pilestrina




Portolan-Karte von Salvat de Pilestrina




Carta Nàutica de la Mediterrània Occidental i Central i de la Costa Atlàntica de la Península Ibèrica i del Nord d'Àfrica

Type

Size / Format

1 map / 35.0 × 55.0 cm

Origin

Date

1533

Epochs

Style

Genre

Language

Content

Navigational map of the Mediterranean and the Atlantic Coast of the Iberian Peninsula

Artist / School

Joan Salvat de Pilestrina
Majorcan School of Cartography
---
Available facsimile editions:
Facsimile Editions
#1

Carta Portulana de Salvat de Pilestrina

Limited Edition:

995 copies

1 volume: Exact reproduction of the original document (extent, color and size)

Reproduction of the entire original document as detailed as possible (scope, format, colors). The binding may not correspond to the original or current document binding.
You might also be interested in: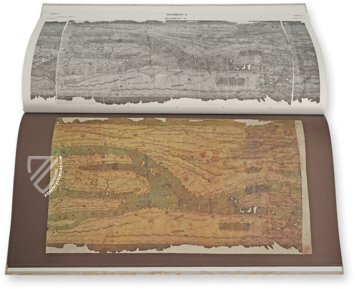 Tabula Peutingeriana
Monastery of Reichenau (Germany) – 12th/13th century
Almost like a modern travel guide: the only surviving copy of an ancient map of the Roman road network, peppered with practical information on places and accommodations in the vast Imperium Romanum
Experience More
Blog articles worth reading