Nova Totius Europae Tabula
Description
Nova Totius Europae Tabula
This splendid 16th century Dutch map accurately and artfully depicts Europe and the surrounding regions of Africa and Asia as well as some mythical islands. It is the work of Gerard de Jode (1509–91) and his son Cornelis (1568–1600) and appeared in the second edition of the Speculum Orbis Terarrum, which was published in 1593. Although overshadowed by the more successful work of Abraham Ortelius (1527–98), de Jode's cartography was widely admired by his peers and is still regarded as being exemplary of the period when Dutch cartographers were on the forefront of the science of geography.
Nova Totius Europae Tabula
This highly detailed map first appeared in the second edition of the Speculum Orbis Terarrum, published in 1593. It beautifully and accurately depicts Europe and bordering regions in addition to several mythical islands in the Atlantic like S. Brandain, Bresil, and Frislandt. It was the creation of Gerard de Jode (1509–91), a Dutch cartographer, engraver, and publisher working in Antwerp, and his son Cornelis de Jode (1568–1600). The map includes a charming detail: a large inset with 20 figures wearing various kinds of folk costume representing various European peoples. The atlas in which this map was first featured never achieved commercial success in the lifetime of its creator because it was overshadowed by the Theatrum Orbis Terrarum by Abraham Ortelius (1527–98), also known as the Ortelius Atlas. Nonetheless, it is a stunning testimonial to the golden age of Dutch cartography. The Latin inscription at the top of the map states that it was dedicated to the Prince-Bishop of Würzburg, Julius Echter von Mespelbrunn (1545–1617), an important figure of the Counter Reformation.
Master Cartographers
Gerard De Jode was one of the finest cartographers of the late–16th century, a time when the Dutch dominated the map trade. He was a prolific map-maker, but the original 1578 publication of his Speculum Orbis Terarrum was overshadowed by the success of the Theatrum Orbis Terrarum. In fact, Gerard de Jode purchased one of these atlases while already working on his own cartographic work. Although widely admired among cartographers, Jode's work was unsuccessfully commercially and the second edition from 1593 did little better. After Gerard's death, his son and wife continued to run his workshop, but Cornelis unfortunately died early at the age of 32 and the workshop's stock and plates were bought by the publisher Joan Baptista Vrients. Nonetheless, the map of Europe begun by him and finished by his son masterfully depicts both political boundaries and topographical features such as mountains and rivers.
Codicology
Alternative Titles

Carta dell'Europa di Gerard e Cornelio de Jode




Europakarte von Gerard und Cornelio de Jode




De Jode's Map of Europe

Type

Size / Format

1 map / 44.0 × 33.0 cm

Origin

Date

1593

Epochs

Style

Genre

Language

Illustrations

Map of Europe with 20 figures wearing the folk dress of various European nations

Artist / School

Gerard de Jode (1509–91)
Cornelius de Jode (1568–1600)
---
Available facsimile editions: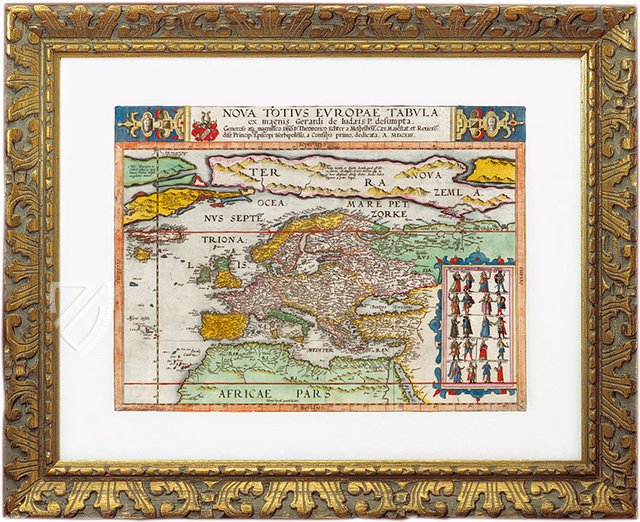 Priuli & Verlucca, editori
– Scarmagno, 2004
Limited Edition:
1049 copies
Facsimile Editions
#1

Carta dell'Europa di Gerard e Cornelio de Jode

Limited Edition:

1049 copies

1 volume: Exact reproduction of the original document (extent, color and size)

Reproduction of the entire original document as detailed as possible (scope, format, colors). The binding may not correspond to the original or current document binding.
You might also be interested in: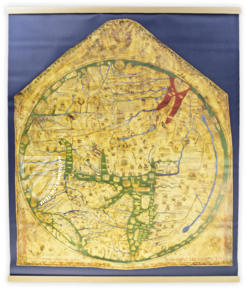 Hereford World Map: Mappa Mundi
Lincoln or Hereford (United Kingdom) – 1285–1295
A mixture of geography and biblical/world history with a diameter of 132 cm: the largest completely preserved medieval world map and now a UNESCO World Heritage Site
Experience More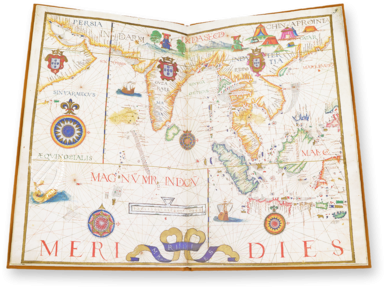 Universal Atlas
Portugal – 1565
Recorded on 19 large-format and gorgeous maps: the discoveries of Portuguese seafarers according to Diogo Homem
Experience More
Blog articles worth reading