Corsiniana Mirror of Human Salvation
Description
Corsiniana Mirror of Human Salvation
We're currently adding this record to our database.
Please contact us if you need further information about this manuscript. Thanks!
Codicology
Alternative Titles

Storie di San Francesco




Heilsspiegel mit Bildern aus dem Leben des Heiligen Franziskus




Stories of Saint Francis in the Corsinian Speculum

Origin

Date

Mid 14th century

Epochs

Style

Genre

Language

Illustrations

277 miniatures

Content

Speculum humanae salvationis and picture cycles with scenes from the Bible and the life of St. Francis
---
Available facsimile editions: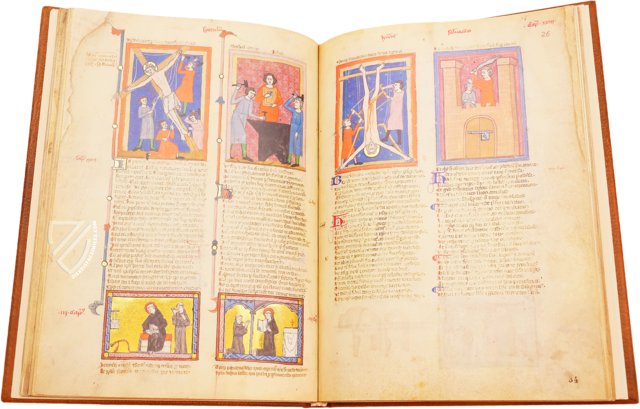 Istituto dell'Enciclopedia Italiana - Treccani
– Rome, 2020
Limited Edition:
409 copies (399 hand-numbered, 10 unnumbered)
Facsimile Editions
#1

Storie di San Francesco

Limited Edition:

409 copies (399 hand-numbered, 10 unnumbered)

Binding:

The hand-bound facsimile features a brown leather binding with ornate blind embossing, the silk headband is hand-sewn. The edition comes together with the commentary volume in a light lacquered wooden case, which includes a bookrest.

Commentary:

1 volume by Marco Guardo, Chiara Frugoni, Francesca Manzari, Nicoletta Giovè Marchioli, Anna Candida Felicia and Michela Perino
Language: Italian

1 volume: Exact reproduction of the original document (extent, color and size)

Reproduction of the entire original document as detailed as possible (scope, format, colors). The binding may not correspond to the original or current document binding.