Life and Works of Francis of Assisi
Description
Life and Works of Francis of Assisi
The Legend of the Life and Works of Saint Francis of Assisi is a codex that was produced in Florence in 1427. The manuscript tells stories from the life of the founder of the Franciscan Order, which is named after him. The tales are visually depicted in charming miniatures with watercolors and ink.
Life and Works of Francis of Assisi
Francis of Assisi was the founder of the Order of the Friars Minor, which is also known as the Franciscan Order. He is honored as a saint in the Catholic Church. His teachings about living in poverty and humility were taken as an example by many people. Saint Francis's important acts and experiences are described in the codex about his life and work. The work is adorned with 30 illustrations of charming simplicity.
Who was Francis of Assisi?
Numerous legends exist about the life of Saint Francis of Assisi, the veracity of which is not always verifiable. According to these legends, Francis lead a dissolute life in his youth, with his father's money he treated his peers at feasts and often was the focus of these celebrations. In November of 1202, Francis is supposed to have gone off with soldiers from his hometown of Assisi to war against the neighboring city of Perugia, where Assisi was defeated. Francis and his fellow soldiers were taken into captivity as prisoners of war in Perugia. His came to question his reckless life through the experience of the war and was sick and shaken to the core when he was released. Francis increasingly withdrew from his circle of friends in this period and sought solitude.
God's Call
He undertook a pilgrimage to Rome in 1205 and 1206, on which he, according to legend, traded clothes with a beggar in order to "try out" life in complete poverty. He began to live as a hermit. He went begging house to house for food. His referred to his voluntary poverty – in reference to chivalric ideas and courtly love songs – as his "mistress". Francis lived according to the word of the Gospels, not only in a metaphorical sense. He understood the biblical texts as a call to thus live and act as did the twelve young men sent out by Jesus, the Apostles, namely to live in poverty and proclaim the Gospels. Based on the Gospels, Francis clothed himself from then on in a simple habit, which is held with a rope, strictly rejected possessions and even contact with money, and went barefoot when possible. His lifestyle came across scorn and mockery, but on the other hand, acted as a stimulus for numerous others of like mind. From the growing number of his followers arose the Order of the Friars Minor.
Modest Book Decoration
In keeping with the life of St. Francis of Assisi, the codex was furnished to tell the stories of his deeds and virtues. The work contains 30 miniatures, which are painted in light water colors and are contoured with ink. The pictures are modest and yet of high artistic quality. With few materials, the stories and experiences that are portrayed in the text are vividly depicted visually. Not all images were colored. In some places the text is adorned with colorful initials. The manuscript invites consideration and meditation about life in the Middle Ages, secluded from the influences of our modern time.
Codicology
Alternative Titles

San Francesco d'Assisi, la vita e le opere




I Fioretti di




San Francesco




Il Suo Testamento




Leben und Wirken des Heiligen Franz von Assisi




Life and Writings of Francis of Assisi

Size / Format

372 pages / 29.0 × 21.7 cm

Origin

Date

1427

Epochs

Style

Genre

Language

Script

Humanistic

Illustrations

30 miniatures in ink and watercolors

Content

Life of St. Francis, his testament, the Fioretti; reflections on the stigmata and treatise on the miracles of St. Francis by Tommaso da Celano and the biographies of the friars Ginepro, Leone and Egidio

Previous Owners

Convent of Sant'Onofrio
Biblioteca Gaddi
Biblioteca Magliabecchiana
---
Available facsimile editions:
Detail Picture
Life and Works of Francis of Assisi
The Blessing of Friar Bernardo
This scene occurs in an interior space with mullioned windows and the surrounding cityscape is shown with a bell tower and lightly sketched trees: Francis, feeling the approach of his own death, wanted to bless Friar Bernardo who in turn asked Friar Elias to position himself on the Saint's right side in his place. Despite his advanced blindness, Francis senses this and crosses his arm in order to place his right hand on Bernardo's head and his left on that of Elias for the blessing.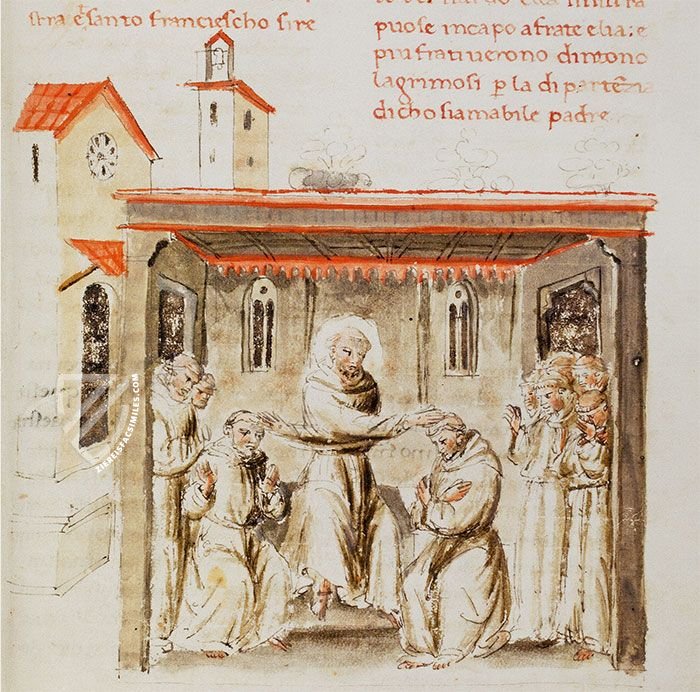 Single Page
Life and Works of Francis of Assisi
The Burning Faith of Francis and Clare
In a continuation from the previous story, Francis and Clare are so fervently engaged in prayer and enraptured by God that it appears as though the Porziuncola, a church in Assisi, is on fire and the residents of Assisi rush to put it out. Francis, Clare, and their companions are all depicted kneeling in prayer inside the church as flames rise above their heads, out of the windows, and on the roof.
The men of Assis are depicted pouring out of the gate of a walled city to the left and one even carries a poleaxe, presumably for breaking down a door. However, as soon as they enter through the doors of the Porziuncola, they are amazed to find that it is in fact a miraculous, divine fire that they have witnessed engulfing the sacred building.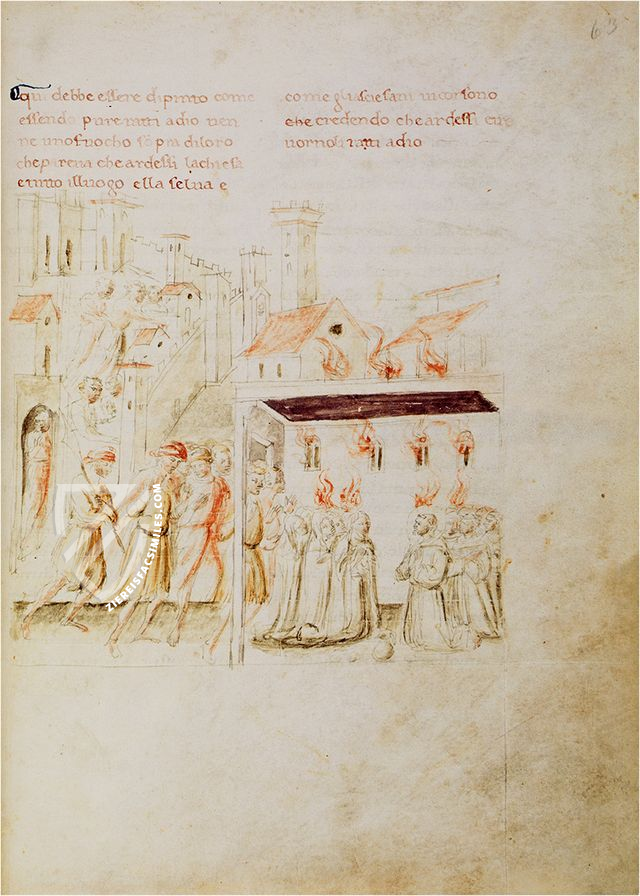 Facsimile Editions
#1

San Francesco d'Assisi, la vita e le opere

Limited Edition:

999 copies

Binding:

Leather. Comes In a box of precious wood.

Commentary:

1 volume
Language: Italian

1 volume: Exact reproduction of the original document (extent, color and size)

Reproduction of the entire original document as detailed as possible (scope, format, colors). The binding may not correspond to the original or current document binding.
You might also be interested in: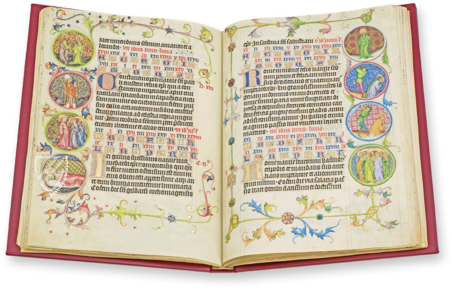 Martyrology of Usuard
Prague (Czech Republic) – Ca. 1400
A masterpiece of the International Gothic from the famous Wenceslas workshop in Prague: the agonizing martyrdoms of the saints in incredible 700 beautiful miniature medallions for King Wenceslas IV
Experience More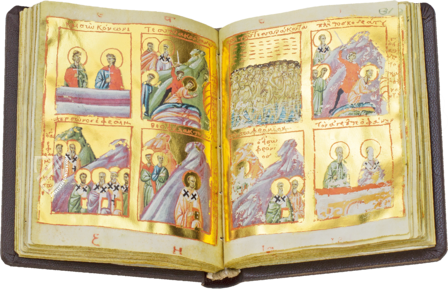 Oxford Menologion
Thessalonica (Greece) – 14th century
The histories and martyrdoms of the saints in golden images: a Byzantine masterpiece with no less than 430 splendid miniatures on a golden backgrounds
Experience More
Blog articles worth reading