Francis of Assisi and Saint Anne
Description
Francis of Assisi and Saint Anne
The missals of St. Francis of Assisi and St. Anna are contained in a small codex measuring only 4 cm x 3 cm. Created during the 16th century by an unknown artist – probably a humble yet talented member of the Franciscan Order – this small 30-page treasure contains exciting miniatures and other precious ornamental elements on every page. The truly tiny miniatures are nevertheless highly detailed, and the text is precisely and legibly written in gold ink. Small codices like this were designed to be carried on one's person and this one comes in a silver case on a chain that can be worn as a necklace. This small but incredibly fine private devotional book is a glimpse of the last and most spectacular epoch of the art of handwritten and illuminated manuscripts.
Francis of Assisi and Saint Anne
The smallest codex that is found in the Apostolic Library of the Vatican contains masses by St. Francis of Assisi and St. Anna. The booklet measures barely 4cm by 3cm, it is hardly bigger than a keychain. It is made all the more costly through the fine miniatures and ornamental elements, which adorn the small jewel of illumination. Each of the 30 pages is decorated with pictures. Some pages are adorned with a full-page miniature, while others display a text excerpt in gold colored script with a brightly colored border.
Saint Francis of Assisi
It is not known who produced the small missal or who commissioned it. The work arose in the 16th century, the miniatures are typical of Renaissance illumination. The legend of St. Francis of Assisi has been adapted into numerous novels and films. The saint is considered to be a symbol for a life lived by the example of Jesus Christ. He lead a life free of material possessions and in great humility. This lifestyle attracted contemporary companions and lead to the founding of the Franciscan Order, the Order of the Friars Minor. Francis of Assisi was highly educated, he could read and write and composed numerous prayers and exhortations for his monastics. An excerpt of his writings is found in the small missal.
Artistic Variety in the Smallest Format
Humility was the highest precept of the Franciscan Order. This is probably why there is no author stated for the small book treasure about Francis of Assisi. Presumably, a most gifted brother of the order made the work and eschewed signing the document. The inconceivable talent of the illuminator is obvious, when one beholds the small, page-filling miniatures of the work. In spite of the format, the artist was able to create highly detailed depictions of people and landscapes, which shine in a luminous variety of colors. The pictures are framed with window-like bordures and golden letters. The size of the work made it possible to carry this valuable manuscript on a daily basis.
Codicology
Alternative Titles

Messen des Heiligen Franz von Assisi und der Heiligen Anna

Size / Format

30 pages / 3.9 × 2.9 cm

Origin

Date

16th century

Epochs

Style

Genre

Language

Illustrations

Several full-page miniatures and decorative pages framed by calligraphically designed borders, just like the text pages
---
Available facsimile editions: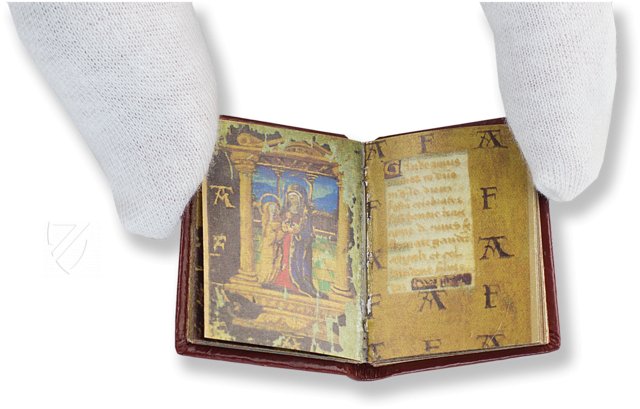 Belser Verlag
– Zurich, 1987
Limited Edition:
980 copies
Detail Picture
Francis of Assisi and Saint Anne
Anne, Mary, and the Baby Jesus
According to New Testament apocrypha, Saint Anne was the mother of the Virgin Mary, whose own birth was miraculous because her mother had long been childless. Three generations are depicted in this miniature with Anne, dressed in gold, kneeling before the baby Jesus being held in the arms of his mother, dressed in blue. Despite its minute size, the artist managed to create a sense of space and depth in the scene, which appears to take place on a terrace.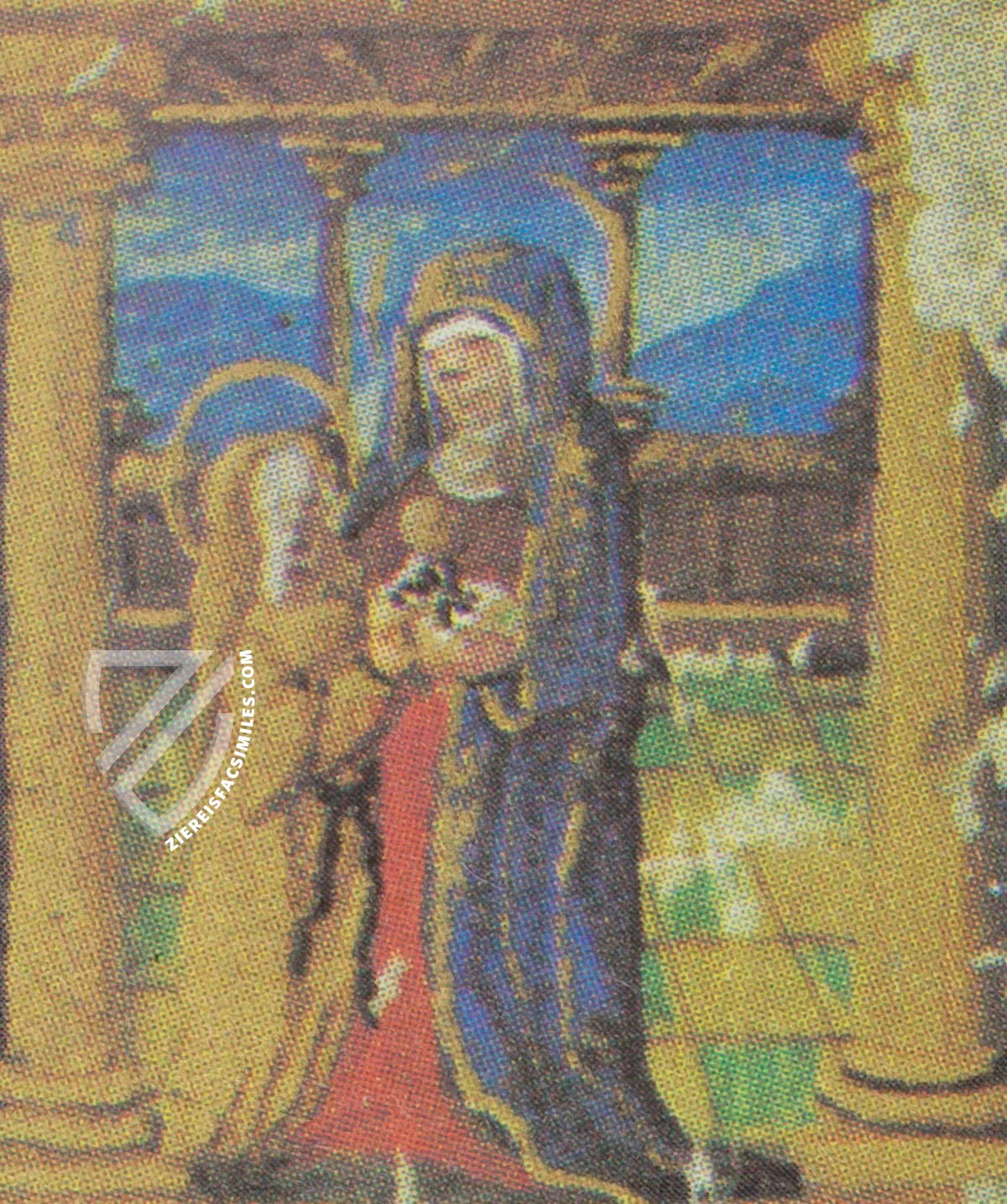 Single Page
Francis of Assisi and Saint Anne
Vision of St. Francis
St. Francis of Assisi is said to have had two visions: the first inspired him to abandon a worldly life for a spiritual one, and a second toward the end of his life in which he is supposed to have received the stigmata from a seraph, an angel with six wings on a cross. Despite measuring only 3 x 4 cm, this miracle is presented in an artful, architectural frame of purple and gold with the pattern of the letters "F" and "A" for Francis and Anne.
The seraph is depicted in red with golden rays extending toward the hands, feet, and side of St. Francis, who is himself highlighted with golden pen strokes and has a golden halo. He stands before a nighttime landscape, the sky varies between dark and light blue, indicating that it is either dawn or dusk.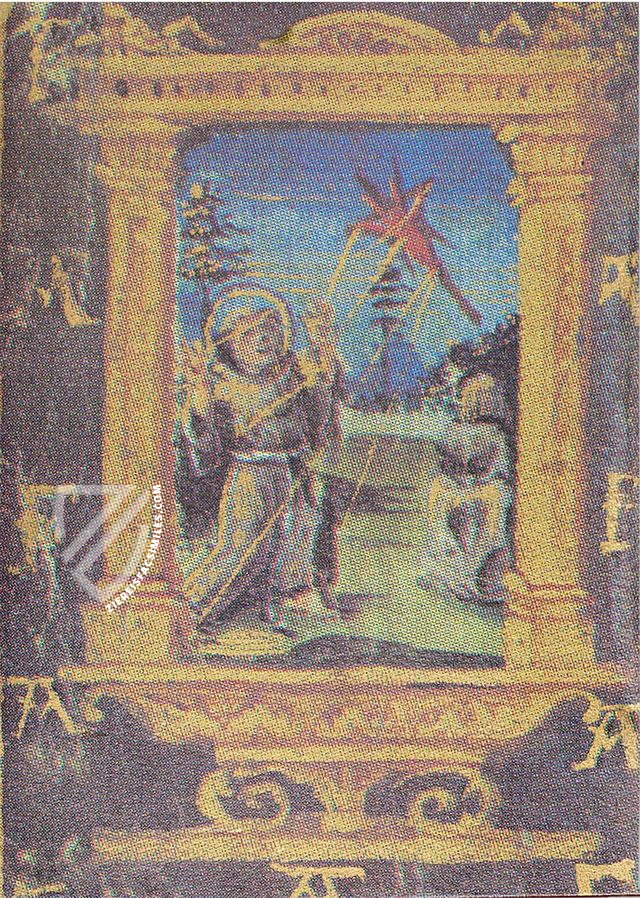 Facsimile Editions
#1

Messen des Heiligen Franz von Assisi und der Heiligen Anna

Limited Edition:

980 copies

Binding:

Leather binding. Edition comes in a silver case with necklace.

Commentary:

1 volume (63 pages) by Robert Moynihan
Language: German

1 volume: Exact reproduction of the original document (extent, color and size)

Reproduction of the entire original document as detailed as possible (scope, format, colors). The binding may not correspond to the original or current document binding.