Fasciculus Temporum. Auctoritates de Vita et Moribus Philosophorum
Description
Fasciculus Temporum. Auctoritates de Vita et Moribus Philosophorum
A bestselling history of the world and a comprehensive source on Greek philosophy from antiquity are united into a single wonderful codex, a rare early specimen of Spanish printing in Seville. These informative texts are adorned with wonderfully engraved decorative elements, some of which are colored and gilded, making it an excellent synthesis of the arts.
Fasciculus Temporum. Auctoritates de Vita et Moribus Philosophorum
Fasciculus Temporum, Little Bundles of Time in English, is the history of the world from Creation to the reign of Pope Sixtus IV (1414–84) by Werner Rolevinck (1425–1502), which appeared in nearly 40 editions during the author's lifetime and continued to be published and translated until 1726 – this particular edition was published in 1480. This rare incunabulum, an early printed book originating from before 1501, is the only surviving work from the printing house of Bartolomé Segura and Alfonso del Puerto in Seville. It is, in essence, a collection of theological, philosophical, homiletical, ascetic, exegetic, biographic, and historical texts. The other treatise to appear in the codex is the Auctoritates de Vita et Moribus Philosophorum, Lives and Opinions of Eminent Philosophers in English. It was originally written in the 3rd century by the Greek biographer Diogenes Laërtius. His work is marked by a tendency to present philosophical teachings without attempting to interpret or expand on them. Today it represents the most authoritative source on the history of Greek philosophy because the primary sources upon which Diogenes relied are lost for the most part. Both of these fascinating Latin works are printed in an elegant rounded Gothic script and are adorned with engraved diagrams, architectures, cityscapes, religious scenes, initials, and floral borders – some of the last two being adorned with rich shades of red, blue, and gold leaf.
Codicology
Size / Format

168 pages / 34.0 × 24.5 cm

Origin

Date

1480

Epochs

Style

Language

Illustrations

Numerous xylographs of buildings and cities as well as diagrams; Some gold decorated and colored decorated initials and borders

Content

Collection of theological, philosophical, homiletical, biographical, and historical texts

Artist / School

Wernerius Rolenvinck (author)
Diogenes Laertius (author)
Bartolomé Segura (printer)
Alfonso del Puerto (printer)
---
Available facsimile editions: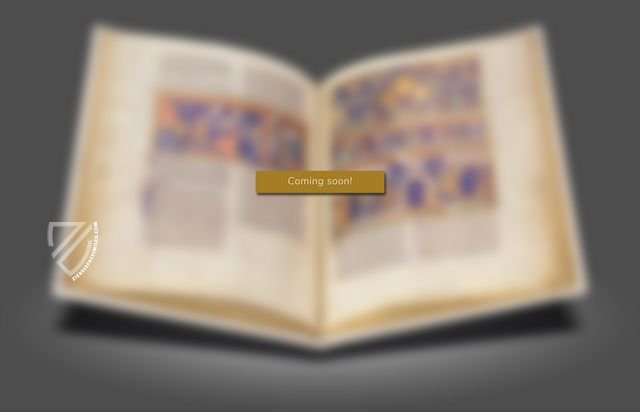 Vicent Garcia Editores
– Valencia, 2003
Limited Edition:
3160 copies
Facsimile Editions
#1

Fasciculus Temporum. Auctoritates de Vita et Moribus Philosophorum

Limited Edition:

3160 copies

Binding:

Parchment on wooden board. The facsimile edition comes in a cloth-lined presentation case with gold engraved leather spine.

Commentary:

1 volume
Language: Spanish

1 volume: Exact reproduction of the original document (extent, color and size)

Reproduction of the entire original document as detailed as possible (scope, format, colors). The binding may not correspond to the original or current document binding.
You might also be interested in: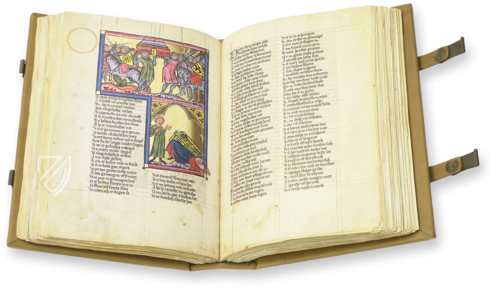 Saint Gall World Chronicle
Zurich (Switzerland) – Ca. 1300
Two of the most popular verse narratives of the German Gothic period united in a unique codex: The World Chronicle and the History of Charlemagne in 58 precious, gold-decorated miniatures
Experience More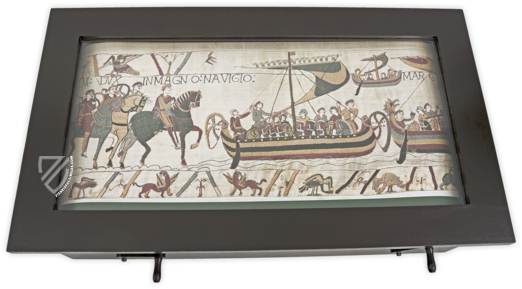 Bayeux Tapestry
United Kingdom – Ca. 1070–1079
One of the best known and most important works of art of the entire Middle Ages: a 68 meter long embroidery depicting the invasion of England in 1066 by William the Conqueror
Experience More
Blog articles worth reading