Franz Schubert: Schäfers Klagelied, D 121
Description
Franz Schubert: Schäfers Klagelied, D 121
The musical composition Schäfers Klagelied, translated as "Shepherd's Lament", was first published by Franz Schubert in 1814 when he was only 17 years old. It set to music the 1804 poem by Johann Wolfgang von Goethe Da droben auf jenem Berg, which related the lament of a shepherd over his lost love. By all accounts it was an instant success and helped launch the young composer's career. Schäfers Klagelied creates a pastoral, melancholy scene that would have been familiar to its early-19th century audience.
Franz Schubert: Schäfers Klagelied, D 121
Throughout his short life, Franz Schubert (1797–1828) set 62 texts by Johann Wolfgang von Goethe (1749–1832) to music, some even several times and today almost 80 compositions survive. However, Schubert never seems to have been successful in gaining Goethe's approval, perhaps because his new style of music was too foreign for the ears of the aged author. Although the young composer's admiration was not reciprocated, the public disagreed with Goethe's assessment and Schäfers Klagelied, Schubert's adaptation of Da droben auf jenem Berg, enjoyed immediate popularity. In fact, it has been identified by Otto Deutsch as Schubert's first song to be performed in public. Schäfers Klagelied is a small masterpiece in the guise of a work song or a simple pastoral composition and has been described as "a priceless little object of virtù".
Schubert and Goethe
The relationship between Johann Wolfgang von Goethe and Franz Schubert was one-sided: the young composer loved and set to music the poems of the genius, who was almost 50 years his senior, and sent him his scores from Vienna to Weimar in 1816. Goethe, however, was not at all taken with them: his poems could stand well on their own and, above all, there would be no need for a setting that would paint over the text, through which "the general lyrical character would be completely annulled and a false participation in the individual would be demanded and aroused" Now, one does not have to agree with the German poet prince musically, but can come as close to Franz Schubert as is still possible after his death with the autograph of Schäfers Klagelied from the Austrian National Library available here.
Codicology
Type

Size / Format

4 pages / 30.0 × 22.0 cm

Origin

Date

1814

Epochs

Style

Genre

Artist / School

Franz Schubert (1797–1828) (author and scribe)
---
Available facsimile editions: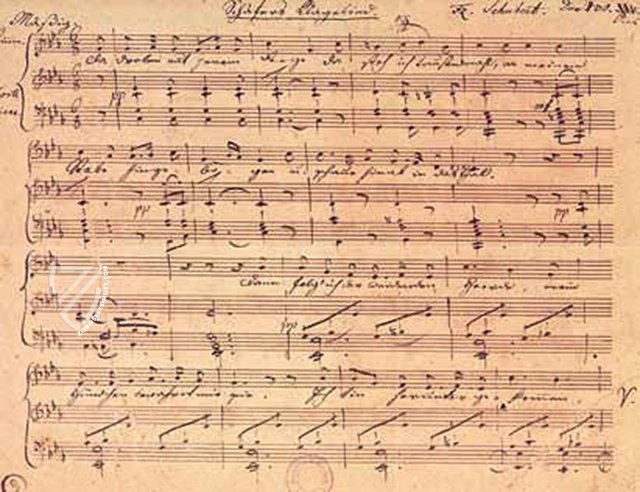 Akademische Druck- u. Verlagsanstalt (ADEVA)
– Graz, 1978
Facsimile Editions
#1

Franz Schubert: Schäfers Klagelied, D 121

Commentary:

1 volume (16 pages) by Franz Grasberger
Language: German

1 volume: Exact reproduction of the original document (extent, color and size)

Reproduction of the entire original document as detailed as possible (scope, format, colors). The binding may not correspond to the original or current document binding.