Ludwig van Beethoven - Violin Concerto in D-Dur, op. 61
Description
Ludwig van Beethoven - Violin Concerto in D-Dur, op. 61
The text of one of the most important pieces of classical music has endured to the present thanks to a "last-minute" copy that was made. Although the original of Violin Concerto in D-Dur, op. 61 has been damaged beyond recognition by harmful environmental effects, it was "pre-preserved for posterity" thanks to some lucky foresight. All of Beethoven's original notes and edits are precisely reproduced so that it looks as though the musical genius just put the finishing touches on another inspired creation.
Ludwig van Beethoven - Violin Concerto in D-Dur, op. 61
Before the harmful effects of various environmental influences claimed Beethoven's Violin Concerto in D Major, a "last-minute" reproduction was made of this manuscript, which has worldwide significance. As a result, the work now exists "pre-served" for posterity, and with an excellence of quality that remains unequalled: Beethoven's various – and meanwhile in parts already faded to illegibility – writing materials (light and dark inks, lead pencil and red chalk, together with his extraordinarily chaotic corrections) are reproduced in extremely impressive quality – just as if the master had only just raised his hand from the paper. Only this facsimile guarantees experts a full understanding of the original history of this violin concerto without exposing the damaged original manuscript to wear.
Codicology
Alternative Titles

Ludwig van Beethoven - Violinkonzert

Type

Size / Format

260 pages / 23.5 × 33.3 cm

Origin

Date

1806

Epochs

Style

Genre

Artist / School

Ludwig van Beethoven (author)
---
Available facsimile editions:

Akademische Druck- u. Verlagsanstalt (ADEVA)
– Graz, 1979
Limited Edition:
250 copies
---

Akademische Druck- u. Verlagsanstalt (ADEVA)
– Graz, 1979
Limited Edition:
1000 copies
Detail Picture
Ludwig van Beethoven - Violin Concerto in D-Dur, op. 61
Page with Corrections
Beethoven was famous for laboring over his compositions, working and reworking every note until he was able to realize his artistic vision. As such, his original manuscripts can be difficult to read because of how much has been crossed out and replaced, resembling more the scribblings of a madman than the painstaking labor of a genius. Here we see notes scribbled out in black ink and various marks in red pencil used by Beethoven to help make sense of his own work.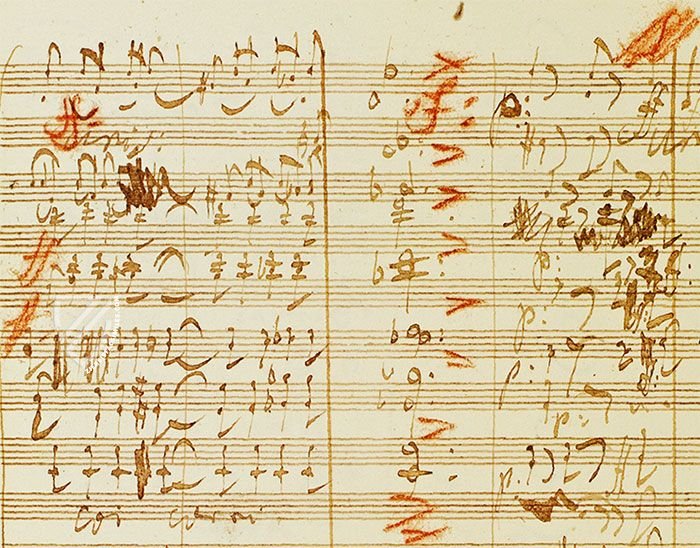 Single Page
Ludwig van Beethoven - Violin Concerto in D-Dur, op. 61
Opening Page
Labelled "Op. 61" in black ink at the top, this page not only shows musical notation on five-line staves but also various marginal notes from the hand of Beethoven, all of which was written in brown pencil. The year of its composition, 1806, is underlined in the upper-right corner of the page and Beethoven listed the instruments necessary for performing his concerto in the left margin.
Although one of him most popular compositions today, Beethoven's Violin Concerto in D major, Op. 61 did not enjoy any initial success and languished in obscurity for almost forty years before being revived after Beethoven's death for an 1844 performance by then–12-year-old violinist Joseph Joachim who was directed by Felix Mendelssohn.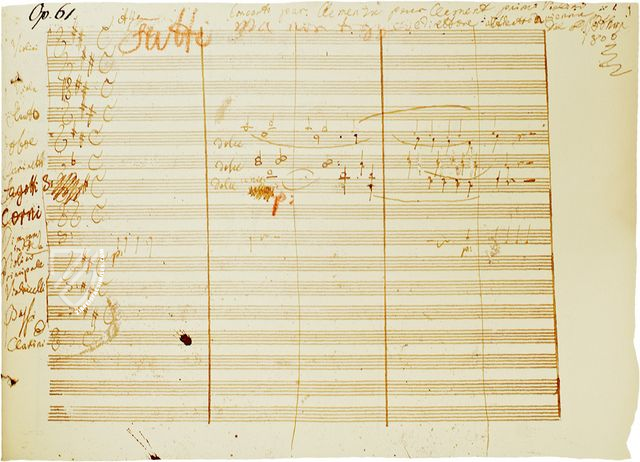 Facsimile Editions
#1

Ludwig van Beethoven - Violinkonzert (Luxury Edition)

Limited Edition:

250 copies

Binding:

Leather binding with gold embossing. All folios are cut according to the original. Presented in a luxury case with the commentary volume and a modern score. Includes a recording of the violin concerto from the Berlin Philharmonic performed by Wolfgang Schneiderhan and conducted by Eugen Jochum.

Commentary:

1 volume by Franz Grasberger and Wolfgang Schneiderhan
Language: German

1 volume: Exact reproduction of the original document (extent, color and size)

Reproduction of the entire original document as detailed as possible (scope, format, colors). The binding may not correspond to the original or current document binding.

Facsimile Copy Available!

Price Category: €€
(1,000€ - 3,000€)
---
#2

Ludwig van Beethoven - Violinkonzert (Normal Edition)

Limited Edition:

1000 copies

Binding:

True to the original half-leather binding Protected in a Solander box with the commentary volume

Commentary:

1 volume by Franz Grasberger and Wolfgang Schneiderhan
Language: German

1 volume: Exact reproduction of the original document (extent, color and size)

Reproduction of the entire original document as detailed as possible (scope, format, colors). The binding may not correspond to the original or current document binding.

Facsimile Copy Available!

Price Category: €
(under 1,000€)
You might also be interested in:

Dancing Book of Margaret of Austria
Flanders – Ca. 1470
Musical notations and calligraphy in gold and silver for the wife of Emperor Maximilian: one of only seven surviving manuscripts from the Middle Ages executed entirely on black parchment
Experience More
Blog articles worth reading