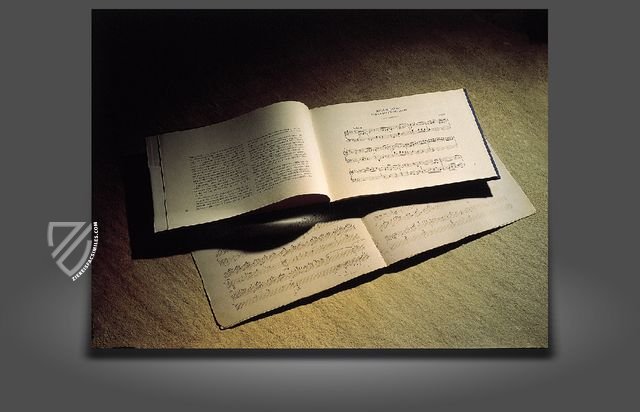 Joseph Haydn: Piano Sonata in Es-Dur, Hob. XVI:49
Vienna (Austria) — 1789–1790
This composition was originally written in 1789/90 by Joseph Haydn (1732–1809)

It was dedicated to Maria Anna von Genzinger (1754–93), a friend of Haydn's from Vienna

Maria was an amateur musician and asked for part of the composition to be simplified for her
Joseph Haydn: Piano Sonata in Es-Dur, Hob. XVI:49
Codicology
Type

Size / Format

20 pages / 23.0 × 32.0 cm

Origin

Date

1789–1790

Epochs

Style

Genre

Artist / School

Joseph Haydn (1732–1809)
1 available facsimile edition(s) of "Joseph Haydn: Piano Sonata in Es-Dur, Hob. XVI:49"
Joseph Haydn: Piano sonata in Es-Dur, Hob. XVI:49
Joseph Haydn: Piano sonata in Es-Dur, Hob. XVI:49
1 volume: Exact reproduction of the original document (extent, color and size)
Publisher

Akademische Druck- u. Verlagsanstalt (ADEVA) – Graz, 1982

Commentary

1 volume (36 pages) by O. Brusatti
Language: German

Edited and commented by O. Brusatti. Includes a transcription in modern musical notation. Extent: 10 facsimile leaves (the leaves are handtrimmed
according to the original), 36 transcription and commentary pages.

More Information

Reproduction of the entire original document as detailed as possible (scope, format, colors). The binding may not correspond to the original or current document binding.
Matching Background Articles
Music / Poetry

Do you feel elevated by monastic chant? Are you a sucker for chivalric love poetry? Music and poetry were among the most...

Experience more