St Matthew Passion BWV 244 by Johann Sebastian Bach
Description
St Matthew Passion BWV 244 by Johann Sebastian Bach
The so-called Bach Revival, a resurgence of interest in and appreciation of the works of Johann Sebastian Bach, was begun in 1829 when Felix Mendelssohn Bartholdy decided to present a sacred oratorio by the Baroque composer. The performance stunned the audience, soon societies devoted solely to Bach's music were created, and the popularity of his music remains to this day. Originally composed for Vespers on Good Friday, this composition is regarded as a highpoint of Western culture.
St Matthew Passion BWV 244 by Johann Sebastian Bach
"I have never experienced such silence or seen an audience moved in this way."
Felix Mendelssohn Bartholdy
The music of Johann Sebastian Bach (1685–1750) enjoyed a Renaissance during the 19th century, which was began on March 11th, 1829 with the performance of the St. Mathew Passionby Felix Mendelssohn Bartholdy (1809-47) and the Berlin Singakademie. It was the first the work was ever performed outside of Leipzig. A century after this sacred oratorio premiered in Leipzig's Thomaskirche, audiences were astounded by Bach's creation. Few other works in the history of music have fascinated listeners and performers to the same degree. Originally composed for Vespers on Good Friday, and even longer in duration than the "St. John Passion", it reconstructs the story of Christ's Passion with immense musical, emotional and spiritual intensity. It is regarded today as a highpoint of Western culture. Bach's original manuscript is considered to be one of his most beautiful. The composer preserved the historic score for posterity by embellishing it with colored inks, in which the biblical texts and musical notes were written.
Codicology
Alternative Titles

Matthäus-Passion BWV 244 von Johann Sebastian Bach

Type

Origin

Date

1727

Epochs

Style

Genre

Artist / School

Johann Sebastian Bach
Facsimile Editions
#1

St. Matthew Passion BWV 244

Commentary:

1 volume by Christoph Wolff and Martina Rebmann


1 volume: This facsimile is not complete.

Reproduction of the entire original document as detailed as possible (scope, format, colors). The pages are presented on a larger white background. The binding may not correspond to the original or current document binding.
You might also be interested in: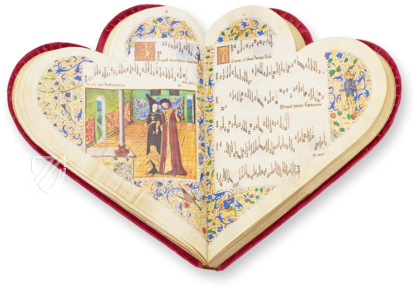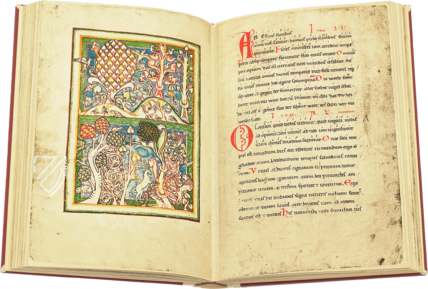 Carmina Burana + Fragmenta Burana
Carinthia, Styria (Austria) or South Tirol (Italy) – Around 1230–14th century
A unique masterpiece of medieval music and poetry: age-old songs from Benediktbeuern brought into the limelight in the 1930s by Carl Orff as a scenic cantata
Experience More
Blog articles worth reading