Mass B minor BWV 232 by Johann Sebastian Bach
Description
Mass B minor BWV 232 by Johann Sebastian Bach
Composed shortly before his death, this rare Latin choral composition by Johann Sebastian Bach is regarded by many as the culmination of his career. The mass would not be performed until more than a century after Bach's death, but would premiere in 1859 at the height of the 19th century's so-called Bach Revival. Today it is regarded as one of the finest works in the history of music and is performed in a regular basis.
Mass B minor BWV 232 by Johann Sebastian Bach
Johann Sebastian Bach (1685–1750) completed the Mass in B minor in 1748/49 shortly after the Art of Fugue and shortly before his death. This late work is as concentrated and rich in compositional technique as scarcely any other. In many ways, it is the culmination of Bach's musical career because it largely consists of various vocal music that he composed throughout his life, which was revised and combined with newly composed sections. As early as 1818, Hans-Georg Nägeli (1773–1836) enthusiastically described the Mass as the "greatest musical artwork of all time and all nations". The mass was never performed in its entirety during Bach's lifetime, and would not occur until 1859 in the midst of a Renaissance that Bach's music enjoyed in the 19th century. This is perhaps because it takes the form of a Missa tota, a choral composition that sets the invariable portions of the Eucharistic liturgy in Latin to music, which was unusual for Lutheran composers. Nonetheless, it has since been ranked as an icon of music history, which continues to be performed with regularity to the present day. The original manuscript offers Bach admirers an inside glimpse into the work's development. This is a wonderful artifact of a milestone in music history.
Codicology
Alternative Titles

Kleine Messe B BWV 232 von Johann Sebastian Bach

Type

Origin

Date

1748–1749

Epochs

Style

Genre

Artist / School

Johann Sebastian Bach
Facsimile Editions
#1

Mass B minor BWV 232

Commentary:

1 volume by Uwe Wolf


1 volume: This facsimile is not complete.

Reproduction of the entire original document as detailed as possible (scope, format, colors). The pages are presented on a larger white background. The binding may not correspond to the original or current document binding.
You might also be interested in: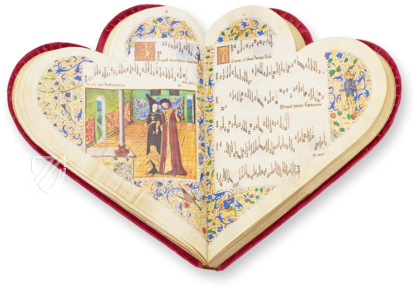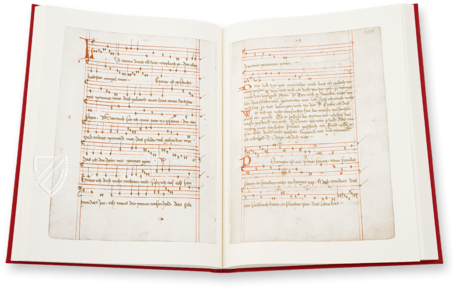 Mondsee-Vienna Music Manuscript
First half of the 15th century
One of the most important sources of the German-language music history of the 15th century: 100 polyphonic songs of famous composers like Hermann von Salzburg or Heinrich von Mügeln
Experience More
Blog articles worth reading