Missa Solemnis op. 123 by Ludwig van Beethoven
Description
Missa Solemnis op. 123 by Ludwig van Beethoven
Among the various highlights in the historic career of Ludwig van Beethoven, the musical genius considered this composition to be his finest. It was a highly personal work that represented a great labor, as evidenced by the state of the original manuscript, which was heavily reworked and edited over the four years that it took to compose. Nearly 200 years later, Beethoven's Missa solemnis is still a deeply moving piece of music.
Missa Solemnis op.123 by Ludwig van Beethoven
"One of the most grandiose artistic working processes ever documented in the history of music"
Hans-Joachim Hinrichsen
Ludwig van Beethoven (1770–1827) described his grandly conceived Missa solemnis as "my greatest work" and sold handwritten copies to some subscribers even before it had appeared in print. He struggled with the composition for years, specifically between 1819 and 1823, searching for a highly personal way to deal with the words and musical traditions of the Mass Ordinary. In the end, Beethoven produced a work that leaves no listeners cold – some are puzzled but a great many are deeply moved. It was first performed on April 7th, 1824 in St. Petersburg at a performance patronized by Prince Nikolai Borisovich Galitzine (1794–1866). The original score reflects how intensively he worked and what a difficult work process it was. Aside from the many corrections there are several torn-out pages. In some places, Beethoven could only proceed by stitching replacement pages into the manuscript. The document thus serves as a witness to the composition of this solemn mass.
Codicology
Alternative Titles

Missa Solemnis op. 123 von Ludwig van Beethoven

Type

Origin

Date

1819–1823

Epochs

Style

Genre

Artist / School

Ludwig van Beethoven
Facsimile Editions
#1

Missa Solemnis op. 123

Commentary:

1 volume by Martina Rebmann and Hans-Joachim Hinrichsen
Languages: English, German

1 volume: This facsimile is not complete.

Reproduction of the entire original document as detailed as possible (scope, format, colors). The pages are presented on a larger white background. The binding may not correspond to the original or current document binding.

Facsimile Copy Available!

Price Category: €
(under 1,000€)
You might also be interested in: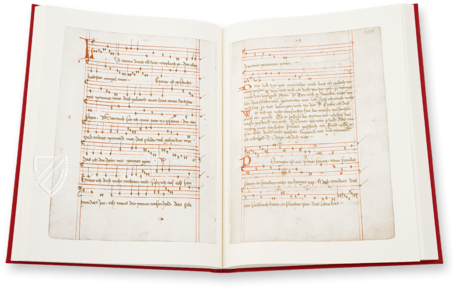 Mondsee-Vienna Music Manuscript
First half of the 15th century
One of the most important sources of the German-language music history of the 15th century: 100 polyphonic songs of famous composers like Hermann von Salzburg or Heinrich von Mügeln
Experience More
Blog articles worth reading