Gramática Castellana
Description
Not only is this the first work dedicated to Spanish grammar, it is the first published work concerning the grammar of any European language, making it an important milestone in the evolution of vernacular language as a part of Renaissance Humanism. It was the work of the Castilian grammarian Antonio de Nebrija, whose desire was to elevate the language to the same level as Latin and Greek. The work was printed using a simplified and easily legible Gothic script in black and red ink with three-line initials introducing each section. Nebrija presented his groundbreaking work to Queen Isabella I of Castile in the eventful year of 1492.
The Gramática Castellana is a famous linguistic work, the first treatise on grammar in the Castilian language, which was written by Antonio de Nebrija (1441-1522). Furthermore, it is the first proto-linguistic study of a modern European language to be published. Born Antonio Martínez de Cala, he Latinized his name, as was the style at the time, to Aelius Antonius Nebrissensis, a nod to the Roman name for his hometown of Lebrija, Nebrissa Veneria. Descended from converted Jews, Nebrija was active as a teacher, historian, poet, and astronomer, but is best remembered as a Castilian grammarian, having published and presented the first treatise on Spanish grammar to Queen Isabella I (1451-1504) in 1492.
It was his express desire to "transform Castilian speech into an artifact so that whatever henceforth shall be written in this language may be of one standard tenor, one coinage that can outlast the times. Greek and Latin have been governed by art, and thus have kept their uniformity throughout the ages. Unless the like of this be done for our language, in vain Your Majesty's chroniclers ... shall praise your deeds." The text appears in a clearly legible Gothic script including large red capitals. This specimen is the proud possession of the Biblioteca del Ayuntamiento de Valencia and represents one of the few surviving examples of the first edition, which was printed in Salamanca on the 18th of August 1492.
Codicology
Alternative Titles

Spanische Grammatik




Grammar by Nebrija

Size / Format

148 pages / 23.5 × 16.0 cm

Origin

Date

August 18, 1492

Epochs

Style

Language

Illustrations

Red initials

Content

First grammatical work of the Castilian language

Artist / School

Antonio de Nebrija (author)
Typografia Nebrigensis (printer)
---
Available facsimile editions:
Facsimile Editions
#1

Gramática Castellana

Limited Edition:

3160 copies

Binding:

Parchment on wooden board. The facsimile edition comes in a cloth-lined presentation case with gold engraved leather spine.

Commentary:

1 volume by Francisco R. Boyd-Suand
Language: Spanish

1 volume: Exact reproduction of the original document (extent, color and size)

Reproduction of the entire original document as detailed as possible (scope, format, colors). The binding may not correspond to the original or current document binding.
You might also be interested in: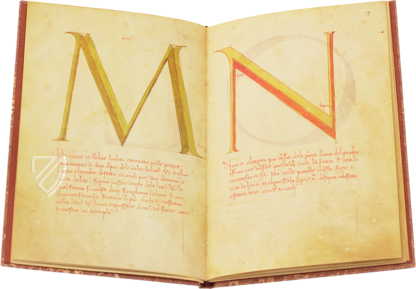 Alphabetum Romanum
Verona (Italy) – 1460
The foundation of the modern alphabet as we know it: symmetry and perfection of form in a calligraphic masterpiece by the Italian humanist Felice Feliciano
Experience More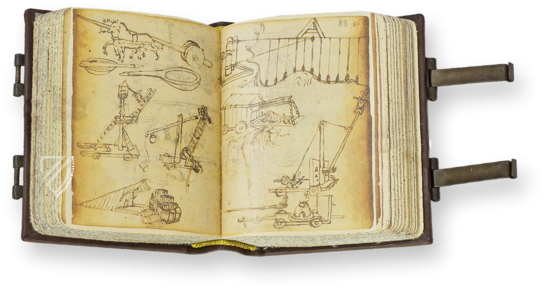 Sketchbook of Francesco di Giorgio Martini
Urbino (Italy) – 1464–1478
Direct testimony to the work of one of the most gifted architects of the Renaissance: over 1,200 architectural drawings and designs for machinery in a sketchbook that is as fascinating as it is historically significant
Experience More
Blog articles worth reading