Liber Iesus and Treatise on Grammar by Donatus
Description
Liber Iesus and Treatise on Grammar by Donatus
This is a rare primer that was beautifully illuminated for Maximilian Sforza, eldest son of the Duke of Milan. It is a combination of both a grammatical handbook and a morally instructive treatise. Although primarily concerned with Latin, Italian and German texts are also included. This is probably the most gorgeous specimen of medieval Europe's most popular Latin textbook, which was likely written in the 4th century.
Liber Iesus and Treatise on Grammar by Donatus
Illuminated primers intended for the education of children are among the rarest manuscripts produced during the Middle Ages. This primer was commissioned by the Duke of Milan, Ludovico il Moro (1452–1508), for his eldest son Maximilian Sforza (1493–1530) and features numerous splendid portraits of the Italian princeling. The text consists primarily of two parts, the Liber Iesus and the Grammatica del Donato, an anonymous adaptation of the Ars grammatica by Aelius Donatus, a Roman grammarian and teacher of rhetoric active in the mid-4th century and tutor of Saint Jerome (347-420). The work by Donatus belongs to the literary genre of the Ianuae and contains both grammatical and moralistic treatises. It is followed by the Disticha Catonis, a Latin collection of proverbial wisdom and morality by an unknown author named Dionysius Cato, who lived in the 3rd or 4th century. It was the most popular Latin textbook of the Middle Ages and was translated into numerous languages. Other elements of the primer include Italian poems, German dialogues, and prayers in Latin. The text was written down by a Milanese scribe named Giovanni Battista Lorenzi, whose skilled text has survived in many works but about whom little is known. It is adorned with wonderful full-page miniatures from various famous artists including Giovanni Ambrogio de Predis (ca. 1455 – ca. 1508), the Master of the Epithalamion of Jason de Mayno, Giovan Pietro Birago (active 1471–1513), the Master of Anna Sforza, and Boccaccio Boccaccino (ca. 1467 – ca. 1525).
Codicology
Alternative Titles

Libri per una educazione rinascimentale : Grammatica del Donato : Liber Iesus




Libretto




Libretto del Iesus




Libretto del ABC




Buch Iesus und die Abhandlung der Grammatik von Donatus

Origin

Date

Late 15th century

Epochs

Style

Script

Humanistic minuscule Square capitals

Content

Educational books for Maximilian Sforza

Artist / School

Giovanni Battista Lorenzi (scribe)
Ambrogio de Predis (illuminator)
---
Available facsimile editions:
Facsimile Editions
#1

Grammatica del Donato e Liber Iesus

Commentary:

1 volume by Jonathan J.G. Alexander, Pier Luigi Mulas, and Marzia Pontone
Language: Italian

1 volume: Exact reproduction of the original document (extent, color and size)

Reproduction of the entire original document as detailed as possible (scope, format, colors). The binding may not correspond to the original or current document binding.
You might also be interested in: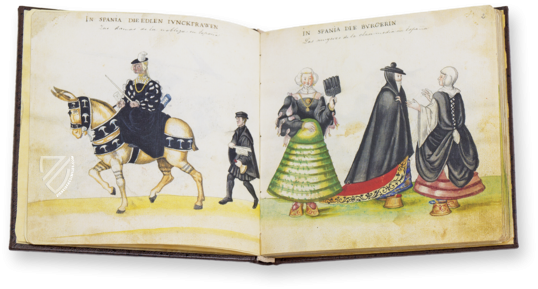 Codex of Costumes
Germany – Ca. 1546–47
Created to illustrate his world empire to the Emperor: the many peoples of Emperor Charles V's vast world empire, upon which the sun never set, and their fashions
Experience More
Blog articles worth reading