Historia de Yervas, y Plantas, con los Nombres Griegos, Latinos y Españoles
Description
Historia de Yervas, y Plantas, con los Nombres Griegos, Latinos y Españoles
This Spanish translation of the famous De Historia stirpium, a cornerstone of botany, is presented together with 520 of the most beautiful botanical woodcuts ever created. The famous work by Leonhart Fuchs was one of the most popular and widely published scientific texts of the Renaissance and continued to be translated and reprinted until the end of the 16th century. Aside from accurately describing and depicting ca. 497 plants, more than 100 of them are described for the first time in the work. However, the religious conflicts of the 16th century hampered its publication, and this translation was censored by the Spanish Inquisition. Printed in the Spanish Netherlands, the codex represents a nexus of the scientific, technological, religious, political, and social developments of the 16th century, one of the most turbulent periods in European history.
Historia de Yervas, y Plantas, con los Nombres Griegos, Latinos y Españoles
De historia stirpium commentarii insignes or "Notable Commentaries on the History of Plants" is a Latin herbal, a botanical handbook primarily concerned with medicinal plants that is regarded as a masterpiece of the German Renaissance. First printed in Basel by Michael Isengrin in 1542, it was written by Leonhart Fuchs (1501–66) and is primarily based on the writings of the ancient Greek and Roman writers Dioscorides, Hippocrates, and Galen. Fuchs envisioned it as an image-forward work and as such it is adorned by 520 woodcuts, mostly depicting species of plants from the Old World with a few from the Americas, as well as portraits of some of those who were involved with the creation of the original work.
Juan de Jarava, a physician and botanist about whom little is known, served as the translator of the work and offers a brief caption in Spanish for each illustration. This edition was printed in Amsterdam by Jean de Laet (1525–67) in 1557, one year after the Netherlands passed to the Spanish branch of the House of Habsburg under the personal rule of King Philip II (1527–98) after the abdication of his father, Holy Roman Emperor Charles V (1500–58). Since the work fell within the Spanish sphere of influence, it was also subject to the censorship of the Spanish Inquisition.
A Team Effort
Fuchs spent at least a decade gathering information as well as specimens for his home's botanical garden in preparation for the publication of this book. He soon had one of the largest "botanical libraries" in Europe, which allowed the artists who contributed to the work to make original drawings from living specimens. Albrecht Meyer was the primary artist responsible for these accurate and realistic botanical drawings and is depicted sketching a plant in the codex. These sketches were converted into woodcuts by the draftsman and painter Heinrich Füllmaurer (ca. 1497–1547/48). Also known as Vitus, Veit Rudolf Speckle (d. 1550) was a printmaker in Strasbourg who actually cut the blocks and printed the woodcuts. They are the most beautiful and exact botanical woodcuts of 16th century Europe make the work one of the most beautifully illustrated books on the subject.
Censorsed by the Spanish Inquisition
Leonhart Fuchs was a Bavarian who adopted Lutheranism while studying in Erfurt ca. 1520. Like many Protestant authors, Fuchs' works were banned or heavily censored by the Spanish Inquisition. However, even these zealots recognized the indispensable nature of the medical knowledge that the work contained and thus allowed it to be published, but only without giving credit to either Fuchs, Dioscorides, or the translator of the work, Juan de Jarava. This can be confirmed by consulting the specimen housed in the Biblioteca Histórico-Médica de la Universitat de València, which consists of a vernacular translation used by the censors of the Spanish Inquisition to create the official version. However, their efforts were in vain because the Latin work was also translated into German, Dutch, and French, printed in 39 editions during the author's lifetime, and an English translation appeared twenty years after his death. The light of knowledge could simply not be obscured, even by powerful and fanatical inquisitors.
Codicology
Alternative Titles

Geschichte der Pflanzen mit griechischen und lateinischen Namen

Size / Format

550 pages / 17.0 × 11.0 cm

Origin

Date

February 28, 1557

Epochs

Style

Illustrations

520 woodcuts of plants

Content

Encyclopedia of mainly European plants, but also some American plants

Artist / School

Leonhart Fuchs (author)
Juan de Jarava (translator)
Jean de Laet (printer)
---
Available facsimile editions: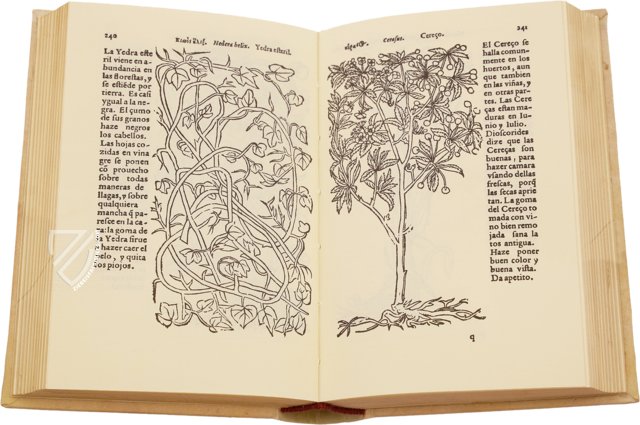 Vicent Garcia Editores
– Valencia, 1995
Limited Edition:
3160 copies
Detail Picture
Historia de Yervas, y Plantas, con los Nombres Griegos, Latinos y Españoles
Acanthus
Acanthus is useful as an efficacious plant for treating illnesses including asthma, diabetes, leprosy, hepatitis, snake bites, and rheumatoid arthritis. Aside from its medicinal uses, acanthus leaves feature prominently in Christian art, whereby this perennial plant is a symbol of enduring life. Its thorny leaves also represent pain, sin, and punishment. The generic name "acanthus" is derived from the Greek term ἄκανθος and it is a common decorative motif in Corinthian capitals from ancient Greece.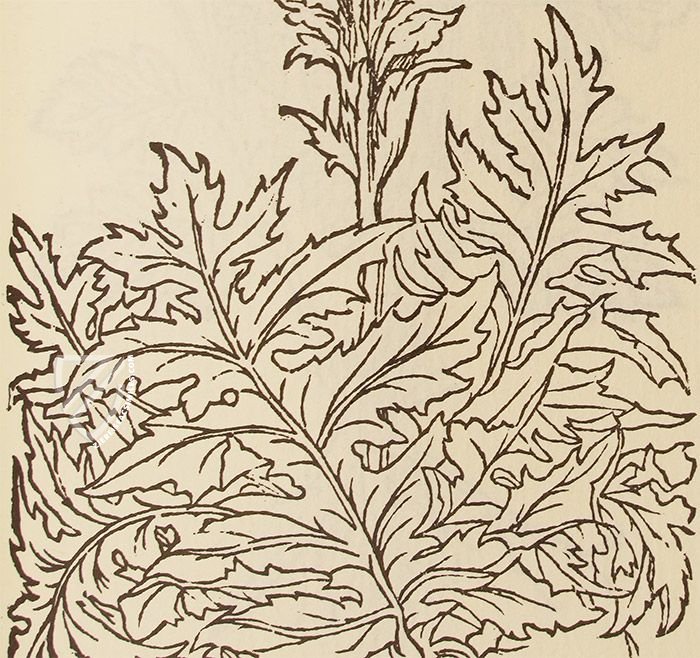 Single Page
Historia de Yervas, y Plantas, con los Nombres Griegos, Latinos y Españoles
Asparagus
This perennial flowering plant is both cultivated as a spring vegetable as well as growing wild. Its young shoots are a popular foodstuff around the world, but perhaps nowhere more so than in Germany where 57,000 tons of white asparagus is grown every year. The white color is cultivated by covering the shoots to protect them from sunlight and thus photosynthesis, which turns them green.
Although the shoots are edible, the small red berries produced by its bell-shaped, greenish white to yellowish flowers are toxic to humans. This engraving depicts a mature asparagus plant as it would appear in late summer with its feathery foliage hanging in the heat and also includes the root system of the asparagus plant, often referred to as a "crown".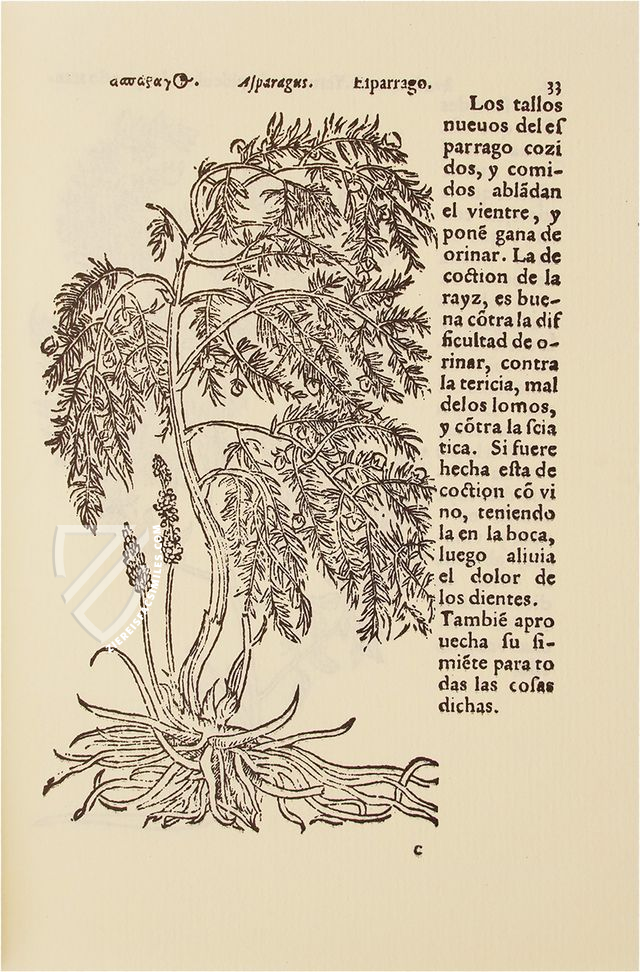 Facsimile Editions
#1

Historia de Yervas, y Plantas, con los Nombres Griegos, Latinos y Españoles

Limited Edition:

3160 copies

Binding:

Parchment on wooden board. The facsimile edition comes in a cloth-lined presentation case with gold engraved leather spine.

Commentary:

1 volume by Josè M. López Piñero
Language: Spanish

1 volume: Exact reproduction of the original document (extent, color and size)

Reproduction of the entire original document as detailed as possible (scope, format, colors). The binding may not correspond to the original or current document binding.
You might also be interested in: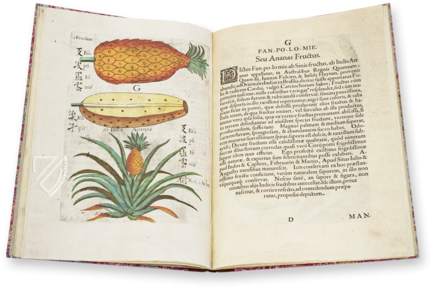 Flora Sinensis
Vienna (Austria) – 1656
Exotic plants in a special herbal with 23 hand-colored woodcuts: The first systematic encyclopedia on the botany of distant China, compiled by the Polish missionary Michał Boym
Experience More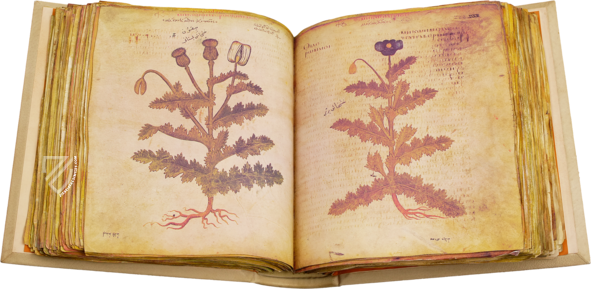 Vienna Dioscorides
Istanbul (Turkey) – Ca. 512
A milestone of medicine written 1500 years ago in Byzantium: the largest and most influential work on herbal medicine in history
Experience More
Blog articles worth reading