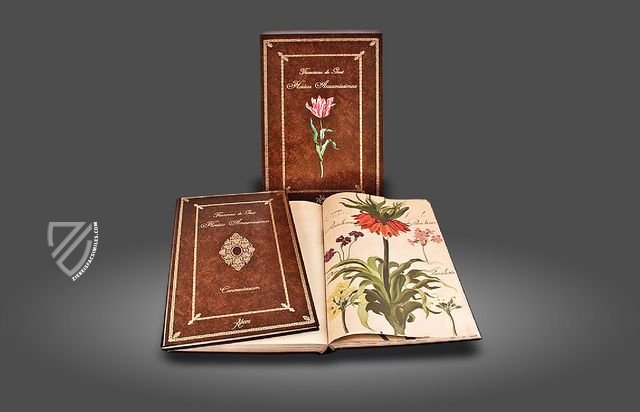 Hortus amoenissimus... by Franciscus de Geest
Leeuwarden (Netherlands) — 1668
Franciscus de Geest (1638–1699) recorded plants both exotic and common in 201 botanically correct depictions

The author of this gem was a Dutch baroque painter, famous above all for his portraits and still lives

He devoted special attention to the tulip in his book in addition to other plants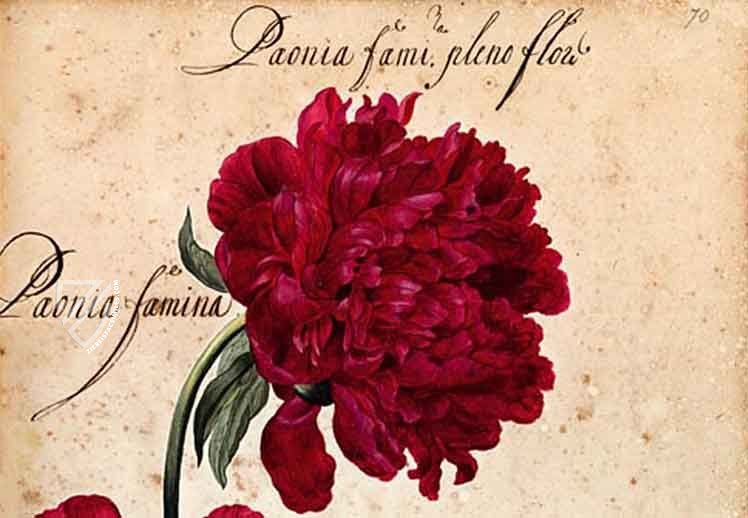 Hortus amoenissimus... by Franciscus de Geest
Alternative Titles:
Hortus amoenissimus... von Franciscus de Geest
Short Description
Splendid daffodils, lush peonies, elegant carnations, and tulips, which were coveted above all others in the 17th century, are the main characters of this exceptional botanical book: the gorgeous Hortus amoenissimus by Franciscus de Geest, a Dutch baroque artist. In the year 1668, de Geest recorded the world of plants both exotic and common in 201 marvelously vivid, simultaneously botanically correct, and elaborately colored depictions. A gem of 17th century botanical enthusiasm!
Hortus amoenissimus... by Franciscus de Geest
The tulip was undoubtedly the queen of flowers in the 17th c. Netherlands. Coming originally from Turkey, they were well-known in Europe since the 16th century. The tulip developed into a trend in Holland above all, which unleashed a real boom for bulbous plants. The plants became a sumptuous status symbol and a regular object of speculation.
A Gifted Flower Painter
Franciscus de Geest devoted special attention to this tulip in his book Hortus Amoenissimus Omnigenis Floribus, Plantis, Stirpibus, etc. etc. etc.. In addition to the varieties of tulips, numerous other types of plants and flowers were included, both native as well as exotic. The author of this gem, Franciscus de Geest (1638–1699), was a Dutch baroque painter, famous above all for his portraits and still lives. He came from a family of painters in Leeuwarden, his father was the painter Wybrand de Geest, who could boast ties of kinship with the great Rembrandt. Franciscus de Geest probably learned the art of painting flowers in Antwerp.
Over 200 Splendid Flowers
The famous florilegium by Franciscus de Geest, the renowned Hortus amoenissimus is stored under the shelf mark Varia 291 in the Biblioteca Nazionale Centrale di Roma. Originating from Dutch Leeuwarden, the book contains 201 depictions of flowers as they would have been cultivated in botanical gardens of that time. The drawings are wonderfully colored with luminous watercolors, the depictions of the plants are depicted in a manner that is both vivid and botanically correct. The work presumably originated at the behest of Prince Willem Frederik von Nassau, Stadtholder of Friesland, who had a famous garden installed in Leeuwarden.
Codicology
Alternative Titles

Hortus amoenissimus... von Franciscus de Geest

Size / Format

201 pages / 44.7 × 28.3 cm

Origin

Date

1668

Epochs

Style

Language

Illustrations

201 drawings

Artist / School

Franciscus de Geest (1638 –1699)
1 available facsimile edition(s) of "Hortus amoenissimus... by Franciscus de Geest"
Hortus amoenissimus... di Franciscus de Geest Facsimile
Hortus amoenissimus... di Franciscus de Geest Facsimile
1 volume: Exact reproduction of the original document (extent, color and size)
Publisher

Aboca Museum – Sansepolcro, 2011

Limited Edition

not limited

Binding

Gold-stamped brown leather binding Presented with the commentary volume in an elegant brown leather Solander box

Commentary

1 volume (96 pages) by Maria M. Breccia Fratadocchi, Gerda C. Huisman, and Alessandro Menghini
Languages: English, Italian

More Information

Reproduction of the entire original document as detailed as possible (scope, format, colors). The binding may not correspond to the original or current document binding.
Matching Works
Liber Magistri
An encyclopedia of the Middle Ages: over 900 pages addressing subjects such as history, liturgy, music, theater, occultism, medicine, and agriculture
Experience More