Libro de los dichos y hechos del rey don Alonso
Description
Libro de los dichos y hechos del rey don Alonso
The Libro de los Dichos y Hechos del Rey Don Alonso tells of the deeds and virtues of King Alfonso V of Aragon, called "the Magnanimous." The literary masterpiece was published in a Valencian print shop in 1527, but was only intended for a small circle of wealthy readers. Aside from the adventurous portrayals of the life of the great King Alfonso, the precious work distinguishes itself through a special illustration on its title page.
Libro de los Dichos y Hechos del Rey Don Alonso
The Book of the Deeds and Virtues of King Alfonso V, so translates the title of this Spanish literary classic into English. It is the first chronology of the adventures of King Alfonso V, who bore the epithet "the Magnanimous". This special codex is a unique specimen of this historically valuable text and originates from a printer in Valencia. The interestingly written and reader-friendly story is furnished here with preciously colored printed graphics completely in the style of the Renaissance.
A Special Literary Treasure
The edition at hand of the tales of Alfonso V was printed in 1527. The work begins with a fantastic xylographic depiction of Juan Joffre's coat of arms, who was responsible for the print. Never before had a print shop furnished their books with their own escutcheon. The fantastic printed graphic shows a mermaid with two tails. It is a special coincidence that this specimen of the precious incunabulum exists still today. The original work is not be found in any state library or in all of Spain for that matter, but rather they were probably manufactured primarily for wealthy private owners.
A Renowned Author
The masterful tale was written by Antonio Panormitano, a Sicilian Renaissance Humanist. In Bologna in 1425, Panormitano published a Latin collection of obscene and satirical epigrams with the title Hemaphroditus, which was dedicated to Cosimo de' Medici. In the year 1429, he was the court poet of Duke Filippo Maria Visconti. Six year later Panormitano came to the court of Alfonso V. Here he became a professor of theology at a monastery near Naples, where King Alfonso V spent most of his life. He was named Alfonso's personal secretary and was one of his closest confidants. Juan de Molina translated the Italian descriptions into Spanish. Molina, who is counted among the most esteemed authors of his time, composed inter alia the Chronicles of the Catholic Monarchs.
Fascinating Reading Material
Alfonso V of Aragon was the son and heir of Ferdinand the Just and his wife Eleanor of Alburquerque. He ascended the throne of the Kingdom of Aragon at the age of 20. He was also King of Naples and Sicily as Alfonso I. Numerous legends are wrapped around the life of the great king. One example is the tale of his military campaign again Genoa. He was supposedly defeated in a sea battle by the Genoese fleet near the island of Ponza, taken prisoner with his brother, and delivered to Duke Filippo Maria Visconti. Having said this, Alfonso V managed to secure his release and win the support of Milan. After a five-year struggle, Pope Eugene IV crowned him the ruler of Naples. He was considered to be a clever and mild monarch, even if he was inclined to sensuality and a love of magnificence. It is believed in scholarship that after the Fall of Constantinople in 1453, Alfonso V accepted scholars fleeing from the city. The descriptions of the monarch's adventures illustrate his flamboyant life in a unique way.
Codicology
Size / Format

146 pages / 22.5 × 15.5 cm

Origin

Date

1527

Epochs

Style

Language

Illustrations

Title page and engraved initials

Artist / School

Antonio Panormitano (author)
Juan de Molina (translator)
Juan Joffre (printer)
---
Available facsimile editions: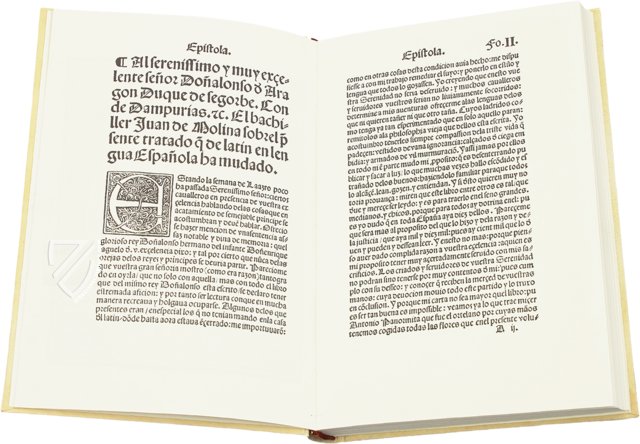 Vicent Garcia Editores
– Valencia, 1992
Limited Edition:
3160 copies
Facsimile Editions
#1

Libro de los dichos y hechos del rey don Alonso

Limited Edition:

3160 copies

Binding:

Parchment on wooden board. Presentation dust jacket cloth lined with gold engraved leather spine containing facsimile.

Commentary:

1 volume by María Cruz Cabeza Sánchez-Albornoz
Language: Spanish

1 volume: Exact reproduction of the original document (extent, color and size)

Numbered by notary and signed by the printer-publisher. Specially made laid paper.
You might also be interested in:
Blog articles worth reading