Libro de los Siete Sabios de Roma
Description
Libro de los Siete Sabios de Roma
Medieval Europeans were very fascinated by prophecy – looking for clues to the future in biblical texts, in pagan works of classical antiquity, and far beyond the known world in the mysterious and mystical East. This Spanish text, which concerns seven wise men, is based on a story that originated in India and has made a long journey to the West in one translation after another. However, this copy is additionally remarkable because it is one of the earliest printed Spanish books.
Libro de los Siete Sabios de Roma
On the one hand, this codex is a milestone in the history of Spanish book printing, while on the other, it contains a very old collection of stories and apologues from India, which were popular throughout the Middle Ages and were a part of the Sendebar occidental cycle. This specimen is the result of manifold translations: from Sanskrit to Persian, then Persian to Arabic, then Arabic to Hebrew, then Hebrew to Latin, and finally into Spanish. Various textual traditions developed as a result. This particular text, known as the Historia septem sapientum Romae, originated ca. 1330 and this codex, printed ca. 1510 in Seville, represents the first to be printed in Spain with subsequent editions appearing until the 19th century. In the book, seven sages retell stories with the purpose of illustrating the lies, deceitfulness, astuteness, and perversion of women. These stories are presented with a combination of lightheartedness and a form that is grave and doctrinal. It concludes by saying: "Seven were in Greece above all who were excellent… Those who studied philosophy until the time of Pythagoras were called wise. And later were called philosophers".
What is an Apalgoue?
An apologue is a moralizing allegory with exaggerated details that allow the lesson to be communicated without stating it directly. It differs from a fable by emphasizing the moral more than the narrative and resembles a parable because it is a rhetorical tool for persuading and not merely instructing. The origins of the apologue lie in the ancient civilizations of the Middle East, a time and place when veiled truths were often necessary because speaking truth to power, whether a slave to his master or a nobleman to an emperor, could meaning risking one's life. In fact, the famous Aesop is believed to have been a slave who gained freedom through his cleverness.
Codicology
Alternative Titles

Buch der Sieben Weisen von Rom

Size / Format

96 pages / 21.3 × 15.0 cm

Origin

Date

Ca. 1510

Epochs

Style

Genre

Language

Illustrations

Xylography on the front cover, engraved initials and 9 engravings next to the text accompanied by xylographic elements

Content

Collection of stories with Indian origins

Artist / School

Jacobo Cromberger (printer)
---
Available facsimile editions: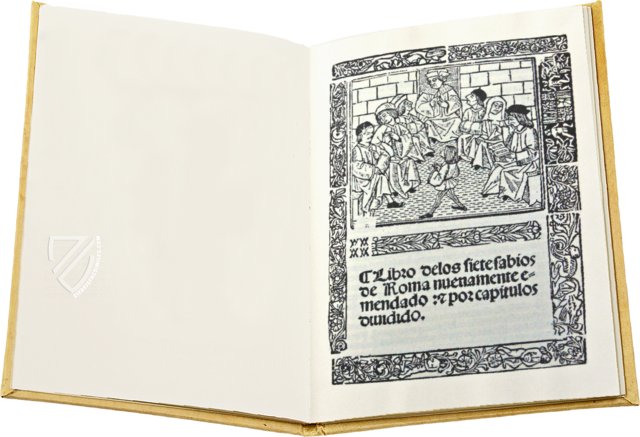 Vicent Garcia Editores
– Valencia, 2003
Limited Edition:
3160 copies
Facsimile Editions
#1

Libro de los Siete Sabios de Roma

Limited Edition:

3160 copies

Binding:

Binding of parchment on wooden cover Cloth-lined presentation case with gold engraved leather spine

Commentary:

1 volume
Language: Spanish

1 volume: Exact reproduction of the original document (extent, color and size)

Reproduction of the entire original document as detailed as possible (scope, format, colors). The binding may not correspond to the original or current document binding.
You might also be interested in: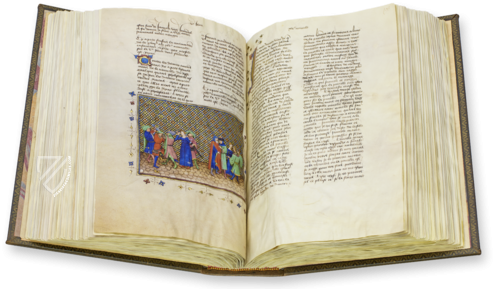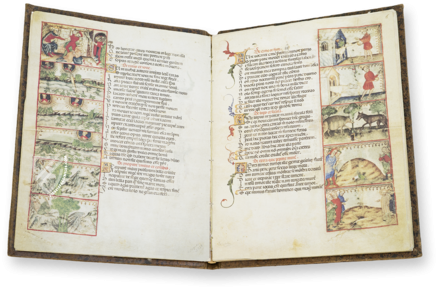 Aesop's Fables
Italy – 1489
Commissioned by Gian Galeazzo Visconti, the first Duke of Milan: a beautiful Aesop manuscript with extraordinary depictions of animals
Experience More
Blog articles worth reading