Little Serenade by W. A. Mozart
Description
Little Serenade by W. A. Mozart
Although better known for his grand operas, symphonies, and concertos, Wolfgang Amadeus Mozart also composed smaller and more personal pieces of music like his Little Serenade. Composed at the same time as his famous Don Giovanni, it likely originated from a personal commission and was not published until nearly forty years after Mozart's death. Nonetheless, it continues to charm modern audiences to this day.
Little Serenade by W. A. Mozart
"The fact that the sparrows whistle from the rooftops does not change the quality of this casual piece from a light but happy hand."
Wolfgang Hildesheimer
Eine kleine Nachtmusik - "A Little Serenade" is the most popular piece of instrumental music by Wolfgang Amadeus Mozart (1756–1791), and was composed during an especially happy period of his life. It was completed in Vienna on the 10th of August, 1787 when Mozart was at the zenith of his career as an opera composer and was simultaneously working on his famous Don Giovanni. The title comes from an entry made into his personal catalog, which was likely meant as more of a note than an actual title, but it has stuck nonetheless. It is often translated literally but less accurately as "a little night music" into English. It was not officially published until 1827 and likely originated from a personal commission. The work is one of the treasures in Mozart's oeuvre, which blends radiance and natural simplicity with brilliant refinement. Likewise, the original score of this masterpiece captivates with balanced clarity and beautiful writing.
Codicology
Alternative Titles

Eine kleine Nachtmusik KV 525 von Wolfgang Amadeus Mozart

Type

Origin

Date

August 10, 1787

Epochs

Style

Genre

Artist / School

Wolfgang Amadeus Mozart
---
Available facsimile editions:
Facsimile Editions
#1

Eine kleine Nachtmusik G major K. 525

Commentary:

1 volume by Wolfgang Rehm
Languages: English, German

1 volume: Exact reproduction of the original document (extent, color and size)

Reproduction of the entire original document as detailed as possible (scope, format, colors). The binding may not correspond to the original or current document binding.

Facsimile Copy Available!

Price Category: €
(under 1,000€)
You might also be interested in:

Dancing Book of Margaret of Austria
Flanders – Ca. 1470
Musical notations and calligraphy in gold and silver for the wife of Emperor Maximilian: one of only seven surviving manuscripts from the Middle Ages executed entirely on black parchment
Experience More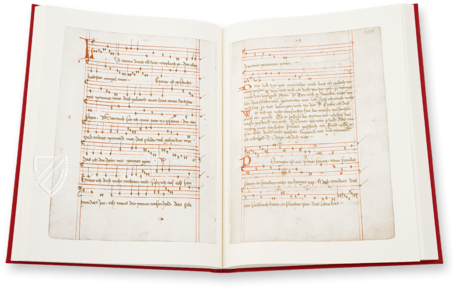 Mondsee-Vienna Music Manuscript
First half of the 15th century
One of the most important sources of the German-language music history of the 15th century: 100 polyphonic songs of famous composers like Hermann von Salzburg or Heinrich von Mügeln
Experience More
Blog articles worth reading