Otfrid von Weißenburg: Gospel Harmony
Description
Otfrid von Weißenburg: Gospel Harmony
The songbook that was presumably made at the behest of Otfrid von Weißenburg represents one of the most important sources of late medieval music to have survived. It is of tremendous interest to scholars and lovers of music from the Middle Ages. Although bearing the marks of age from six centuries of use, its lines and colors have remained remarkably intact. The Gospel Harmony features multiple illustrations of biblical scenes typical in an illuminated manuscript, in addition to its musical content, all of which have been faithfully reproduced in the facsimile.
Otfrid von Weißenburg: Gospel Harmony
Otfrid von Weißenburg´s songbook, the so-called Gospel Harmony was compiled during his lifetime and presumably at his behest. Carefully written and attractively illuminated, the manuscript has been well preserved; and its lines and colors have remained intact despite six centuries of use, yielding an equally clear and bright facsimile. To be sure, the portrait of the author has suffered the ravages of time; therefore, this edition also reproduces a later, yet satisfactory, reconstructed copy.
A Valuable Source on Late Medieval Music
The poetic texts and musical scores are preceded by a detailed and technical history and description of the manuscript by the editor, Francesco Delbono, who performed his task with true thoroughness, scrutinizing the folios painstakingly and noting every peculiarity of the protective cover, binding, format, parchment, ink, initials, script, catalogue numbers, marginal notes, etc. From these and other bits of evidence he has been able to deduce an acceptable history of Ms. A. Now that Ms. B is no longer considered merely a corrected and expanded copy of Ms. A, but a compilation of the same separate texts, it is evident that any further textual study must take Ms. A. into account; and therefore the ardent confraternity of Oswaldians should welcome this handsome addition to the Codices Selecti, as should all students of medieval music.
Codicology
Alternative Titles

Otfrid von Weißenburg: Evangelienharmonie

Size / Format

388 pages / 25.0 × 21.0 cm

Origin

Date

863–871

Epochs

Style

Genre

Language

Illustrations

1 full-page colour miniature, 3 coloured pen-and-ink drawings, headings, beginning of the lines and notes in the margin written in red

Artist / School

Otfried von Weißenburg (ca. 800 – after 870) (scribe)
---
Available facsimile editions: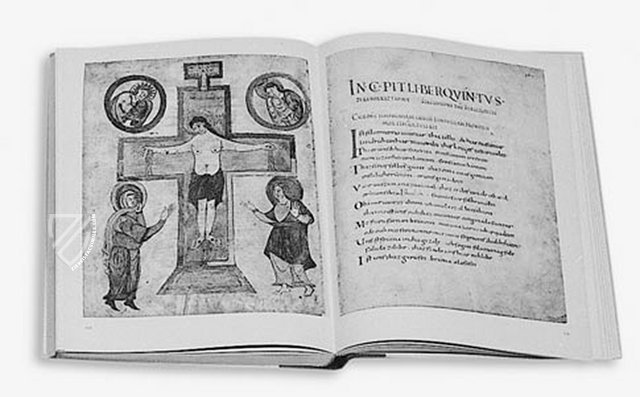 Akademische Druck- u. Verlagsanstalt (ADEVA)
– Graz, 1972
Facsimile Editions
#1

Otfrid von Weißenburg: Evangelienharmonie

Binding:

Cloth binding with leather spine

Commentary:

1 volume (46 pages) by Hans Butzmann
Language: German

1 volume: Exact reproduction of the original document (extent, color and size)

Reproduction of the entire original document as detailed as possible (scope, format, colors). The binding may not correspond to the original or current document binding.
You might also be interested in: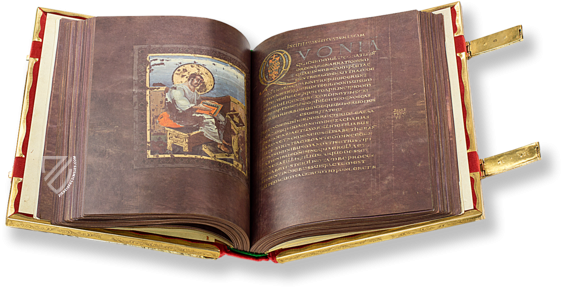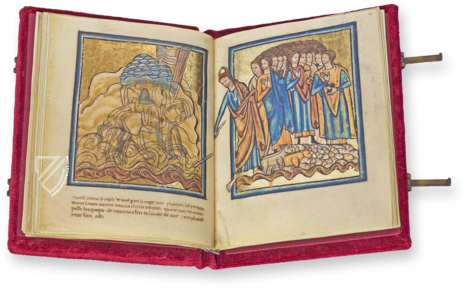 Oxford Bible Pictures
Oxford (United Kingdom) – Ca. 1250
The life of Jesus in golden miniatures: a brilliant picture book by William de Brailles with ivory carving unique in the Gothic period
Experience More
Blog articles worth reading