Petrarch's Horace
Description
Horace's Odes have been some of the most popular and imitated Roman texts throughout the last 2,000 years, including during the Middle Ages. This manuscript was created during either the 10th or 11th centuries and is famous for being owned by no less than the great Italian humanist Petrarch, who would become a great imitator of Horace's style and even wrote a letter to Horace in the form of an ode. Thus, this manuscript played a critical role in the birth of the Italian Renaissance by influencing one of its earliest and most important representatives.
Petrarch's Horace
The Odes by Quintus Horatius Flaccus (65-8 BC), commonly known as Horace, are some of the most quoted and influential texts from antiquity. He is also the author of famous phrases like Carpe diem / "seize the day!", Nunc est bibendum / "Now is the time to drink!", and Dulce et decorum est pro patria mori / "It is sweet and honorable to die for one's country". An ode is a type of lyrical poetry glorifying an event or individual, describing nature intellectually as well as emotionally. Divided into four books, the Horatian odes imitated the style of ancient Greek poets like Alcaeus and Anacreon and have in turn been imitated by other poets from Late Antiquity up to the modern period.
Petrarch's Personal Copy
The Odes enjoyed a revival during the Carolingian Renaissance and most literate people in the West we familiar with his works by the mid-9th century and they were particularly popular during the 10th and 11th centuries, when this manuscript was created, and again during the Late Middle Ages. What makes this manuscript especially precious is the identity of one of its former owners: the famous Italian humanist Francesco Petrarch (1304-74), who acquired the work in 1347. Petrarch is a key figure in the imitation of Horace in accentual meters and also borrowed from Horace when composing Italian sonnets. His verse letters in Latin were modelled on the Epistles and he wrote a letter to Horace in the form of an ode.
Codicology
Alternative Titles

Horatii Odae Seu potius opera omnia




Orazio Laurenziano




Horaz: Oden

Size / Format

282 pages / 26.0 × 17.5 cm

Origin

Date

10–11th century

Style

Genre

Language

Illustrations

Numerous red initals

Artist / School

Horace (author)


Previous Owners

Petrarch
---
Available facsimile editions:
Facsimile Editions
#1

Orazio. Orazio Laurenziano

1 volume: Exact reproduction of the original document (extent, color and size)

Reproduction of the entire original document as detailed as possible (scope, format, colors). The binding may not correspond to the original or current document binding.
You might also be interested in: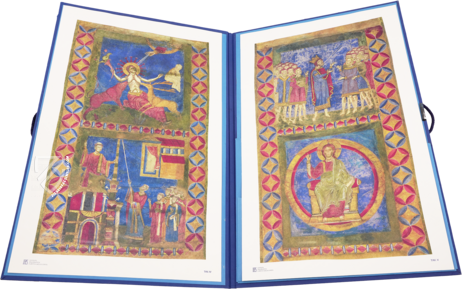 Salerno Exultet Roll
Benevento or Salerno (Italy) – Late 12th century – first half of the 13th century
The Easter message without words in an Exultet scroll from the 13th century: fascinating miniatures as a pictorial echo to the hymn of praise from the Easter Vigil
Experience More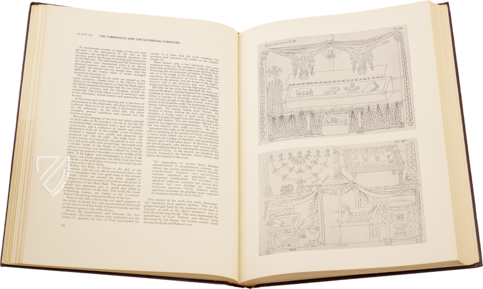 Hortus Deliciarum
Hohenburg Abbey, Alsace (France) – Last quarter of the 12th century
A manuscript from the 12th century that is special in two ways: the first richly illustrated encyclopedia written by a woman as well as an early source for polyphonic music
Experience More
Blog articles worth reading