Pontifical Gundekarianum
Codex B 4
Diözesanarchiv Eichstätt (Eichstätt, Germany)
Description
Created in 1071 at the behest of Bishop Gundekar II of Eichstätt as a pontifical, the Gundekarianum was used by the bishops of Eichstätt until 1697 and was continuously updated in the manner of a family genealogy. It is the most comprehensive medieval manuscript of its kind and is also a precious source for liturgical and art history. The original part of the manuscript contains a series of miniatures depicting Christ, twelve saints associated with Eichstätt, and all eighteen bishops of Eichstätt since the founding of the diocese by Willibald including Gundekar himself. More than a century later, Bishop Otto appended the register up to his own reign and thus set a pattern for his successors. Beginning ca. 1300, the short texts were replaced by long vitae and individual portraits replaced connected groups of bishops. The last miniatures were added in 1517, numbering 29 in total. They demonstrate the evolution of the art of illumination across four and a half centuries, making the manuscript not only an important record of the bishops of Eichstätt but an excellent source for the study of art history.
Codicology
Alternative Titles

Liber pontificalis Eichstetensis

Size / Format

84 pages / 46.0 x 37.0 cm

Origin

Date

1071-1697

Epochs

Genre

Language

Illustrations

29 opaque color miniatures, large and small gold decorated initials
Detail Picture
Pontifical Gundekarianum
Gundekar II, Bishop of Eichstätt
The namesake of this manuscript, Gundekar II (1019–75), is believed to have commissioned it in 1071 before presenting it to Eichstätt Cathedral in 1072. As Bishop of Eichstätt, he was a supporter of church reform and appears to be a modest person because he did not order a full-page dedication miniature of himself. Instead, he merely appears alongside the other 17 bishops of Eichstätt in a classically styled architectural frame dressed in liturgical robes and holding a book and bishop's staff.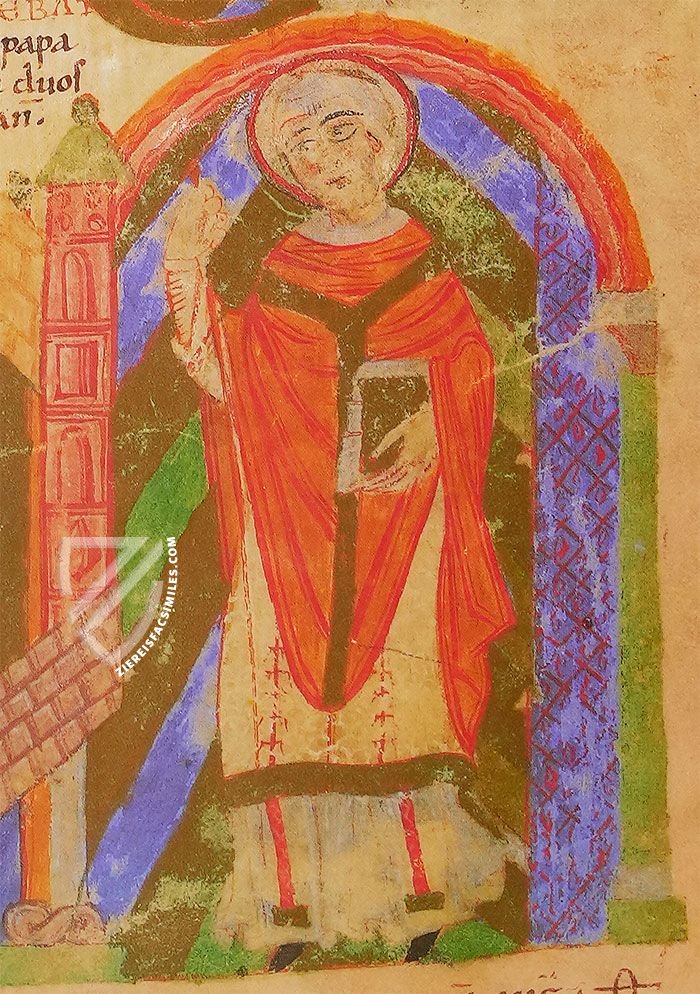 Single Page
Pontifical Gundekarianum
Johann von Eych, Prince-Bishop of Eichstätt
The work begun by Bishop Gundekar II was carried on by his successors until 1697, and thus one can witness an evolution of artistic styles beginning with the Romanesque and ending with the Renaissance. This splendid full-page miniature in the Northern Renaissance style still exhibits the elaborate ornamentation of the Gothic style in combination with new innovations for depicting human figures.
Johann von Eych (d. 1464) was also Archbishop-Elector of Mainz, Prince-Bishop of Augsburg, and eventually became a cardinal, although he never received his cardinal's cap. His handsome portrait depicts the reformer enthroned as a powerful Prince of the Church and his entourage of both clerics and laymen indicates his spiritual and temporal authority.