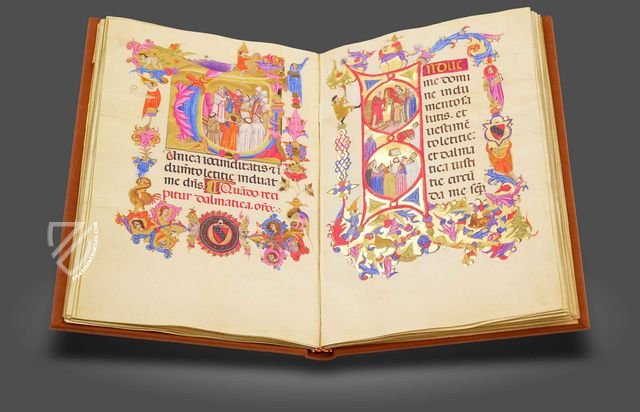 Pontifical of Boniface IX
Italy — End of the 14th century
A breathtaking Gothic prayer book that was used during ceremonial masses for various church festivals

The extensive use of gold reflects its origins as a commission of Pope Boniface IX (ca. 1350–1404) from ca. 1400

The pontifical is a treasure of Late Gothic European book art and a highlight of the Vatican Library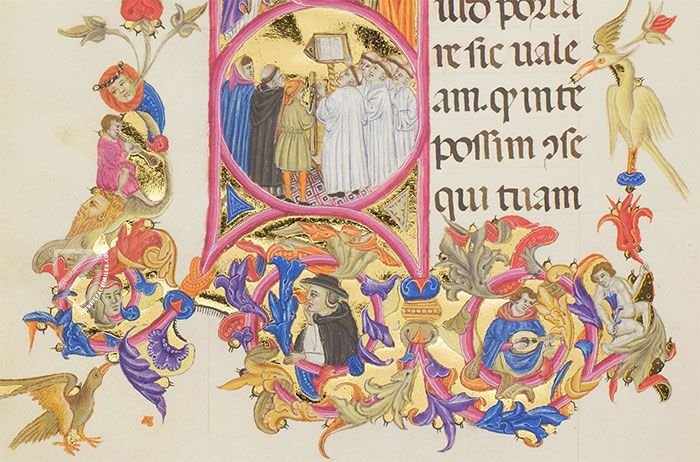 Pontifical of Boniface IX
Alternative Titles:
Pontificale di Bonifacio IX
Pontifikale Papst Bonifazius IX.
Short Description
This manuscript, the so-called Pontifical of Pope Boniface IX originated from Italy at the end of the 14th century. It is adorned with valuable full-page miniatures and numerous refined marginal depictions ennobled with gold. Today the splendid liturgical work is housed in the Vatican Library.
Pontifical of Boniface IX
Among the numerous illuminated manuscripts in the famous Vatican Library, some of the greatest masterpieces of medieval book art are to be found. One of these valuable works is the Pontifical of Pope Boniface IX. It is a breathtaking illustrated prayer book that was used in the Gothic period during ceremonial masses on various church festivals. The manuscript was commissioned at the end of the 14th century by Pope Boniface IX and contains numerous delightfully decorated initials and subtly patterned borders alongside eleven graceful, full-page miniatures.
What is a Pontifical?
A pontifical is a liturgical book with instructions and texts for festive, ritual masses and celebrations of the Catholic Church, which would be performed or led by a bishop. Instructions for the performance of lower and higher consecrations and other ritual actions, which were to be implemented by the bishop were found in historical pontificals. For example, the rules of a pontifical were used for the consecration of deacons and priests, as well as the ceremonial of a coronation. Many historical pontificals are splendidly designed and represent antiquarian treasures today. The Pontifical of Boniface IX is a famous example of this.
Enchanting Book Illustration
Nearly every page of the valuable manuscript is charmingly illuminated. The codex contains eleven full-page miniatures that reflect the narrative joy of the anonymous illuminator in a fanciful manner. The vivid images in fresh colors show high spiritual and secular representatives of the church performing important church duties. The opulent application of gold leaf in the miniatures attests to the noble character of the work. Also, no expense was spared for the colorful and golden elements of the manifold decorative frames that adorn each page of the book. This pontifical is one of the most impressive examples of Late Gothic European book art.
Codicology
Alternative Titles

Pontificale di Bonifacio IX




Pontifikale Papst Bonifazius IX.

Size / Format

88 pages / 31.0 × 21.0 cm

Origin

Date

End of the 14th century

Epochs

Style

Genre

Language

Illustrations

11 full-page miniatures. Most of the pages are decorated with illuminated initials and refined frames

Content

Ritual and the prayers for papal functions
1 available facsimile edition(s) of "Pontifical of Boniface IX"
Pontificale di Bonifacio IX Facsimile
Pontificale di Bonifacio IX Facsimile
1 volume: Exact reproduction of the original document (extent, color and size)
Publisher

ArtCodex – Modena, 2007

Limited Edition

500 copies

Binding

Leather with the gold engraved coat of arms of Pope Boniface IX. Comes In a box of precious wood.

Commentary

1 volume (159 pages) by Ambrogio M. Prazzoni
Language: Italian

More Information

23 carat fine gold on CartaPergamena
Matching Background Articles