Regiment Preservatiu e Curatiu de la Pestilencia
Description
Regiment Preservatiu e Curatiu de la Pestilencia
The splendor of the Spanish Renaissance was marred by the Spanish Inquisition. Many of Spain's greatest minds were so-called conversos of either Jewish or Muslim origin who, despite having publically converted, continued to be regarded with suspicion and hate, sometimes resulting in their death. Lluís Alcanyís suffered such a fate, but his name has survived along with his medical text, the present specimen of which was owned by the author himself.
Regiment Preservatiu e Curatiu de la Pestilencia
This 15th century medical text is also a highly popular work that has appeared in six editions, nonetheless, the success of the work was not sufficient to save the author Lluís Alcanyís (d. 1506) and his wife from being burnt at the stake by the Spanish Inquisition. Alcanyís was a converso, a Spaniard descended from converted Jews, and came under suspicion of privately practicing Judaism. Countless copies of his works, now declared anathema, were tracked down and destroyed, but others have survived to the present. This incunabulum, an early printed book originating from before 1501, was published in 1490 by Nicolau Spíndeler (d. 1508), a German printer operating in Valencia. It is a treatise on the prevention and treatment of the plague and similar contagion, which also contains advice on gastronomy with specific notes regarding inter alia wine, meat, fish, vegetables, sauces, and a glossary of terms. Additionally, Alcanyís argues for the importance of sleep, both at night and in the form of an afternoon nap, the so-called siesta. The Gothic script of the text is adorned with splendidly engraved initials. This particular specimen is of special significance because of the handwritten notes appearing in the margins, which originate from the hand of Alcanyís himself. Today, a hospital, a foundation, and several clinics associated with the Universitat de València are named after Alcanyís, perhaps as an act of repentance…
Codicology
Size / Format

72 pages / 23.0 × 15.0 cm

Origin

Date

1490

Epochs

Style

Language

Illustrations

Several decorated initials

Content

Medical essay on medicines against the plague

Artist / School

Lluís Alcanyís (author)
Nicolau Spíndeler (printer)
---
Available facsimile editions:
Vicent Garcia Editores
– Valencia, 1992
Limited Edition:
3160 copies
Facsimile Editions
#1

Regiment Preservatiu e Curatiu de la Pestilencia

Limited Edition:

3160 copies

Binding:

Parchment on wooden board. The facsimile edition comes in a cloth-lined presentation case with gold engraved leather spine.

Commentary:

1 volume by Antoni Ferrando Francés
Language: Spanish

1 volume: Exact reproduction of the original document (extent, color and size)

Reproduction of the entire original document as detailed as possible (scope, format, colors). The binding may not correspond to the original or current document binding.
You might also be interested in: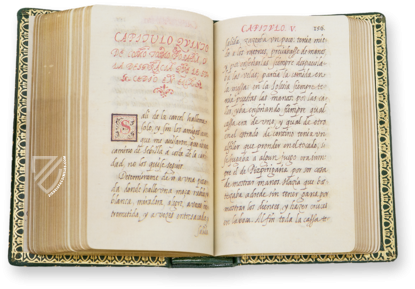 El Buscón (Manuscript B)
Spain – 17th century
One of only three surviving copies of a literary masterpiece of the Golden Age in Spain: Quevedo's picaresque novel full of sophisticated linguistic wit and astute social criticism
Experience More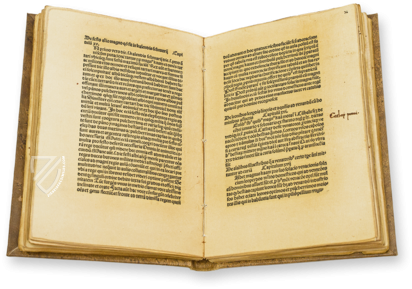 Blog articles worth reading