Sacramentary of Warmund
Ms. 31 (LXXXVI)
Biblioteca Capitolare di Ivrea (Ivrea, Italy)
Description
Bishop Warmund was an important personality in Italy and was the patron of numerous historical artistic treasures, of which only a few exist today, unfortunately. A spectacular work of art that has been connected to Warmund originated ca. 1,000. It is the Sacramentarium Episcopi Warmundi, which is decorated with elaborately embellished, gilded initials and breathtakingly beautiful illustrations in watercolors.
Sacramentary of Warmund
A precious manuscript, which was manufactured before the year 1000, is stored in the Capitulary Library of the Italian city of Ivrea. It is the Sacramentarium Episcopi Warmundi, which was made for Bishop Warmund of Ivrea. The codex consists of 444 parchment pages altogether and contains illuminations of vastly varying execution as well as colored and gilded decorative initials. It is one of the oldest works of the ecclesiastical book collection.
A Historic Personality
Bishop Warmund played a special role in the history of the city of Ivrea. He was an opponent to the King of Ivrea at that time – King Arduino and defied his rule. His most famous supporter was the young Holy Roman Emperor Otto III. He had declared it his goal to restore the Holy Roman Empire as it existed under the Emperor Constantine. The Kaiser named Pope Sylvester II as the successor of Pope Gregory V. During the Roman synod in the year 999, he imposed the death penalty on the ostensibly godless King Arduino, removing Warmund's enemy in doing so. The sacramentary, which was written in his honor, commemorates the conquest of an enemy.
A Worthy Opponent
Numerous depictions of King Arduino, who is often referred to in historical writings as the first King of Italy. He is depicted as a great man with a stately, powerful stature. His rival Warmund in no way failed to fulfill this ideal, or at least that is what the historical images of the Bishop would conclude. The highly-educated and art-loving Warmund transformed the city of Ivrea into one of the most important cultural centers of Italy during that historic epoch. One of the few examples of the artistic achievements of his time to survive today is the astounding sacramentary that lays before us.
Manifold Illumination
The illustration of the masterpiece was executed by various illuminators. However, a few special features are common in all of the pictures. The vividly colorful scenes were sketched with a pen and painted with water colors. The large-format miniatures as well as the finely designed decorative initials are encompassed in frames, which bear clarifying and explanatory inscriptions.
Codicology
Alternative Titles

Ivrea Sacramentary




Sacramentario del Vescovo Warmondo di Ivrea




Sacramentarium episcopi Warmundi




Bishop Warmund Sacramentary




Bischof Warmund-Sakramentar




Sacramentary of Ivrea




Sacramentario d'Ivrea




Episcopi Warmundi

Size / Format

444 pages / 33.0 × 21.0 cm

Origin

Date

End of the 10th century

Epochs

Style

Language

Script

Carolingian minuscule

Illustrations

62 miniatures and numerous colorful zoomorphic initials

Content

Liturgical texts, prayers for various feast days, funerary rites, texts for the ordination of bishops and the consecration of kings

Patron

Warmund, Bishop of Ivrea (d. ca. 1011)

Artist / School

Influences from Byzantine, Ottonian, and Carolingian art

Previous Owners

Bishop Warmund (d. ca. 1011)
---
Available facsimile editions:
Priuli & Verlucca, editori
– Scarmagno, 1990
Limited Edition:
1000 copies
Detail Picture
Sacramentary of Warmund
Coronation of a King
This fine miniature shows a young king leaning forward to receive his crown while surrounded by tonsured priests, all wearing elaborate robes. The scene is presented without a background and the only indication that they are in a church comes from the altar, which is covered with a large cloth. The naturalistic posturing of the figures is advanced for the period – a sign of the emerging Romanesque style – and differs from the stiff forms that were common in the 10th century.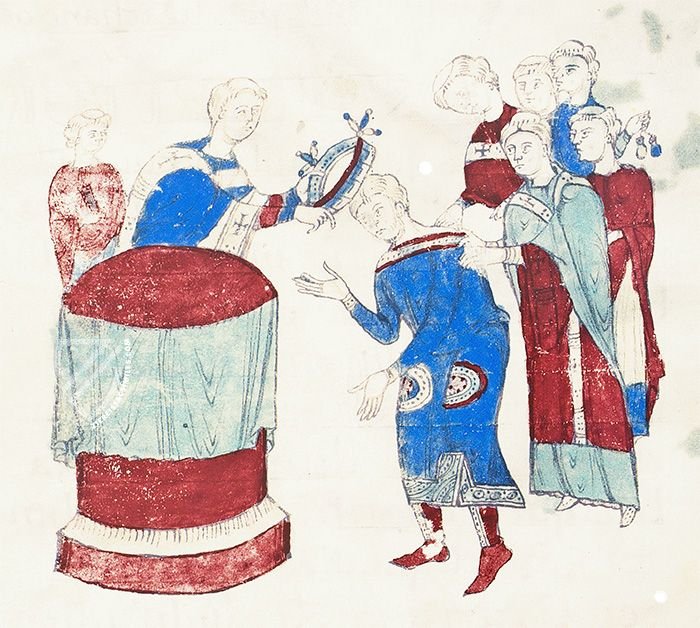 Single Page
Sacramentary of Warmund
Incipit Page
Dominated by an elaborate "V" initial, this is a fine example of artwork in this thousand-year-old manuscript, which is distinguished by its embellished initials and fine watercolors. The watercolors would have been very bright when it was first made, but have unfortunately faded and the gold leaf has rubbed off over the centuries, but the red and blue have held up remarkably well.
The influence of Insular art was widespread in Europe at this time as Irish missionaries had been establishing monasteries across Europe for centuries and continued to be very active in monastic life, including the scriptoria. This influence is evident in the intricate interlace patterns and dragon heads, both standard features of Insular illumination.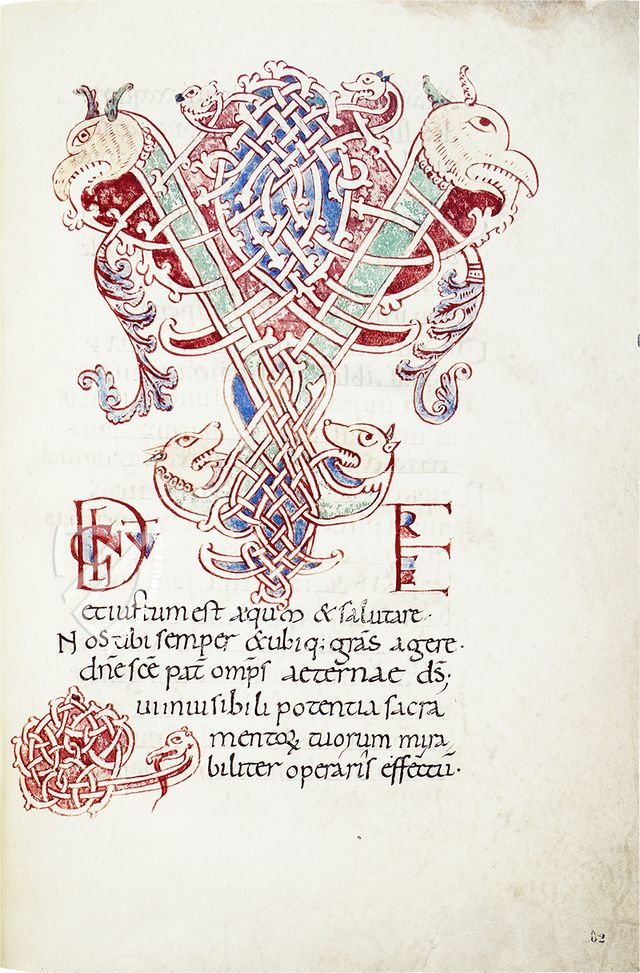 Facsimile Editions
#1

Sacramentarium Episcopi Warmundi

Limited Edition:

1000 copies

Binding:

Wooden boards with a handbound, embossed natural leather spine. Facsimile and commentary volume by a slipcase with wooden headboards and embossed leather sides.

Commentary:

1 volume (240 pages) by Luigi Bettazzi, Ferdinando dell'Oro, and Luigi Magnani
Languages: English, French, Italian

1 volume: Exact reproduction of the original document (extent, color and size)

Reproduction of the entire original document as detailed as possible (scope, format, colors). The binding may not correspond to the original or current document binding.
You might also be interested in: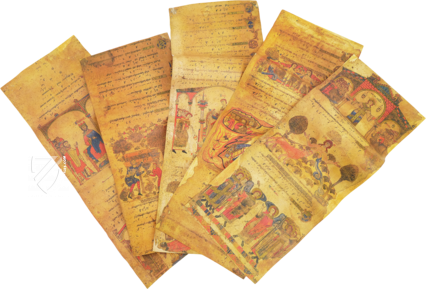 Barberini Exultet Roll
Montecassino Abbey (Italy) – Ca. 1058
Commissioned by Abbot Desiderius (1058–1087) of Montecassino: Romanesque art treasure for the doxology of the Easter Mass and one of the last scrolls ever made
Experience More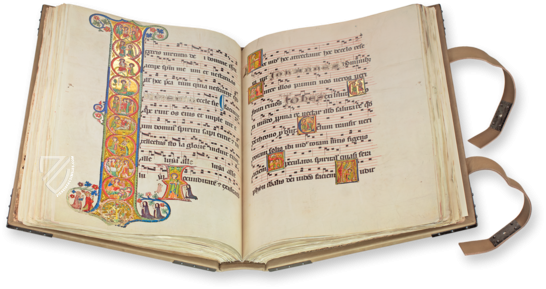 Gradual of St. Katharinenthal
Katharinenthal Abbey (Switzerland) – 1312
Masterful miniatures on splendidly luminous gold backgrounds: arguably one of the most beautiful Gothic manuscripts was used as a large choir book until the 19th century
Experience More
Blog articles worth reading