Simon Bening's Flemish Calendar
Description
Simon Bening's Flemish Calendar
Simon Bening is considered by art-historians to be the most gifted master of Flemish illumination during the Middle Ages. His Flemish Calendar was made between 1520 and 1525 in the Belgian city of Bruges. With this calendar he created a complete upheaval of the dominant landscape-painting of his time. Never before had nature and landscape been devoted to such an important role in book illumination as Bening had given them. His painting drove change in the cultural understanding of his contemporaries and served as an example to great masters such as Pieter Bruegel.
Simon Bening's Flemish Calendar
Medieval devotional books traditionally opened with a calendars, which contained the feasts and holidays of the church year. The Flemish Calendar by the master of book art Simon Bening is therefore thought to originally have been thus employed in a book of hours. The astonishingly detailed paintings, which present themselves in this fragmentary work, point to the possibility that the calendar was published as a standalone manuscript. In this work, several pages were devoted to calendar miniatures for the first time in the history of handwritten book art. Two miniatures for each month illustrate the activities typical for that month as well as displaying richly detailed landscapes in the course of the four seasons. Bening not only revolutionized calendar-illumination with his work: he was simultaneously the inventor of a new kind of landscape painting, as it was later practiced by great Dutch artists such as Pieter Bruegel.
A Luminary of Book Art
Simon Bening, son of the miniaturist Alexander Bening, was born in the Belgian city of Bruges ca. 1483. He learned the craft of illumination in the workshop of his father. During his education he became familiar with the works of great book-artists like Gerard Horenbout, with whom he would produce the greatest illuminated manuscripts of the Netherlands a few years later. Bening began to work independently from 1500 on and in was accepted into the illuminators' guild of Bruges in 1508. That was a privilege that was awarded to only the most gifted masters of the discipline. By 1525 at the latest, Simon Bening was the undisputed star of the illumination scene in the Late Middle Ages. The Portuguese diplomat and humanist Damião de Góis named him "the best master of book illustration in all of Europe". His handmade, unique illuminated manuscripts are kept safe in the most-renowned museums worldwide. Simon Bening's particular achievement lies above all else in his never-before-seen method of representation of people and landscapes.
A Revolutionary Pictorial Program
Simon Bening was the first book-painter who lent as much significance to his calendar miniatures as he did to his portraits and devotional pictures. He treated his miniatures as individual scenes, in which he desired to create an exact likeness of the nature surrounding him. He systematically examined landscapes, and familiarized himself as exactly as possible with specific topographical conditions. His poetic depictions show sentimental, atmospheric portrayals of flowering meadows, fields, and farmlands as well dark, mysterious woods. Never before had landscape-painting had so much importance attributed to it.
Illumination with Exemplary Character
The charming series of images of calendar motifs present the most varied characteristic activities and zodiac symbols that are associated with the respective month. For the most part, rural activities such as the cultivation of fields and farmlands are depicted. Similarly, the miniatures show the month's amusements and major cultural events. The leisure activities of upper-class of society receive comparatively more space in Bening's calendar than does the year-round fieldwork. A bustling and harmoniously closed society manifests itself picture for picture. Lumberjacks in open nature, farmers in snowy fields, as well as people who warm themselves by the fire in a nearby inner-space – this miniature, for example, illustrates the month of January. Other motifs, such as courtship, were implemented by Bening into scenic illumination. One sees couples in a garden, on a romantic boat trip, or dancing at a ball in an elegant Flemish house. The atmospherically-thick pictures in subtle colors were never surpassed by another illuminator of the Middle Ages.
Codicology
Alternative Titles

Simon Benings Flämischer Kalender

Size / Format

60 pages / 14.0 × 10.4 cm

Origin

Date

1520–1525

Epochs

Style

Genre

Language

Artist / School

Simon Bening (1483–1561)

Previous Owners

Ferdinand Maria (1651–1679), Elector of Bavaria
---
Available facsimile editions:
Detail Picture
Simon Bening's Flemish Calendar
April: Courtly Love
Instead of a labor of the month, Renaissance miniatures for April and May often have romantic scenes showing aristocratic couples engaging in various leisure activities. Standing by a fountain on the right, a young lady in a deep blue dress holds hands with a man who has a falcon, the ultimate symbol of wealth and nobility. Another couple is walking toward them: the woman wears a square hat and the bearded man in the stylish red fur-lined coat is wearing grey trousers and a codpiece.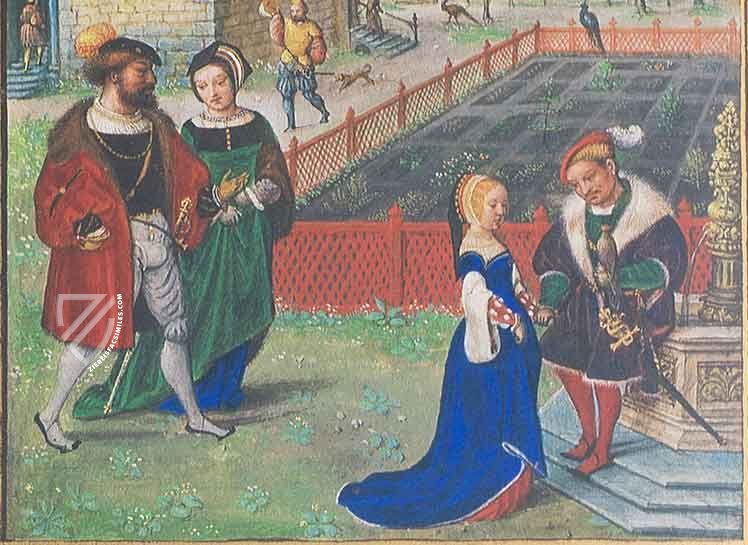 Single Page
Simon Bening's Flemish Calendar
October: Crane Lifting Casks
Simon Bening revolutionized the art of painting landscapes and cityscapes with this work. He treated each labor of the month as an individual scene that was due the same attention as a panel painting. He thus created unbelievably realistic depictions of both people and objects, e.g. transporting barrels of either beer or white wine.
The massive, Roman-style crane in the background powered by four men walking on a giant wheel dominates the scene. Wandering eyes then take in the beautiful Gothic architecture of the city contrasted against the pale autumnal sky. In the foreground, a richly dressed nobleman wearing knee-high boots, red tunic, sword, and elaborate hat samples the goods offered him by a merchant in a fur-trimmed coat and red tights.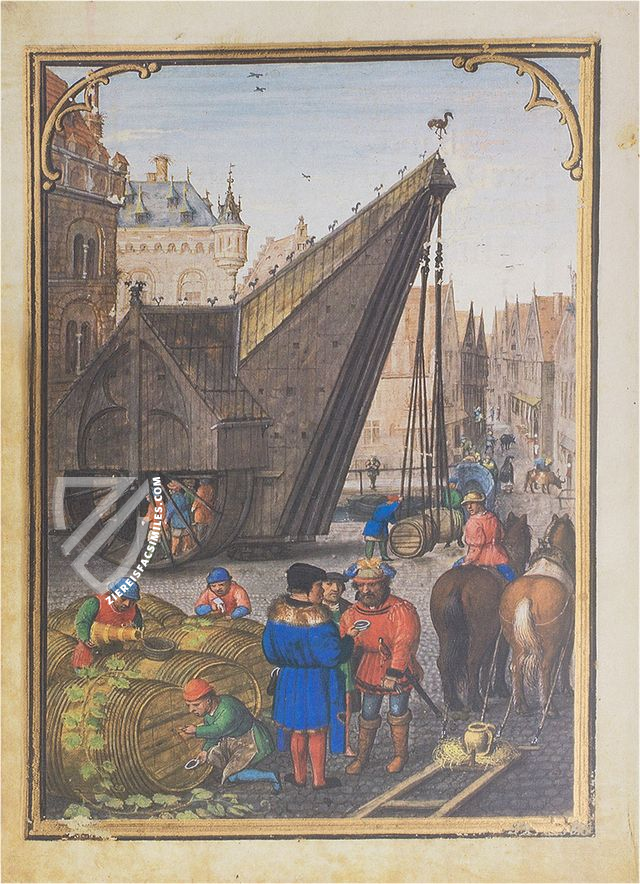 Facsimile Editions
#1

Simon Benings Flämischer Kalender

Limited Edition:

980 copies

Binding:

The binding has been manufactured in full accordance with the original: The book is bound in purple velvet and decorated with twelve rosettes, corner-fittings and clasps from massive sterling silver. The headband is sewn by hand.

Commentary:

1 volume (482 pages) by Thomas Kren and Johannes Rathofer
Languages: English, French, German

1 volume: Exact reproduction of the original document (extent, color and size)

Reproduction of the entire original document as detailed as possible (scope, format, colors). The binding may not correspond to the original or current document binding.
You might also be interested in:
Blog articles worth reading