Suma de Geografía
Description
This is one of the most beautiful works to come from the famous Cromberger printing dynasty and is also the first account of the Americas to be written in Spanish. It is one of the first books to depict world geography and has particular significance for the history of Venezuela. First published in 1519 by Jacobo Cromberger, Suma de Geografía is a travelogue by the Spanish lawyer and geographer Martín Fernández de Enciso, who first travelled to the New World in 1504. He grew rich from running a successful legal practice in Santo Domingo and also served as a colonial officer, playing an important role in the colonization of Panama. His intimate experience with life in and on the fringes of the Spanish Empire made him uniquely qualified to give a detailed and diverse account of life in the Americas.
Suma de Geografía
Martín Fernández de Enciso (c. 1470-1528) was a Spanish navigator and geographer from Seville, who was a major figure in the Spanish colonialization of the Isthmus of Panama. His description of an indigenous population who called themselves the "Veneciuela" is believed to be the root of the name of the modern nation of Venezuela. This is just one of the insights to be found in his expansive Suma de Geografía. Printed in a clear and broad Gothic script, the text is adorned with engraved initials, tables, and diagrams, as well as an elegant title page in typical contemporary style.
It was published in 1519 by Jacobo Cromberger (1472/73-1528), a German-born printer who founded a publishing dynasty in Seville during the late 15th century and whose son, Juan Cromberger (d. 1540), founded the first printing press in the Americas. He was influenced by another German printer, Meinardo Ungut (d. 1499), whose widow he married and whose partnership in the printing house with the Pole Stanislaus Polonus he assumed control of. By 1520, Cromberger would already be responsible for ca. 300 editions and became wealthy as a result, eventually printing 39 books for King Manuel I of Portugal (1469-1521) in Lisbon. The Suma de Geographia is not only one of the first books to deal with World Geography, it is one of the most beautiful and renowned to come from Cromberger's printing press.
Codicology
Alternative Titles

Suma de Geographia que trata de todas las partidas y Provincias del Mundo, en especial de las Indias

Size / Format

156 pages / 28.5 × 20.3 cm

Origin

Date

1519

Epochs

Style

Genre

Language

Illustrations

Several woodcuts: Initials, tables, diagrams and frames

Content

Treatise on geography

Artist / School

Martín Fernández de Enciso (author)
Jacobo Cromberger (printer)
---
Available facsimile editions:
Facsimile Editions
#1

Suma de Geografía

Limited Edition:

3160 copies

Binding:

Parchment on wooden board. The facsimile edition comes in a cloth-lined presentation case with gold engraved leather spine.

Commentary:

1 volume
Language: Spanish

1 volume: Exact reproduction of the original document (extent, color and size)

Reproduction of the entire original document as detailed as possible (scope, format, colors). The binding may not correspond to the original or current document binding.
You might also be interested in: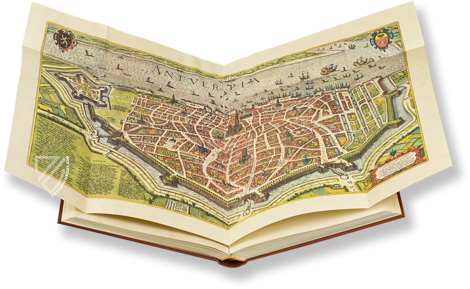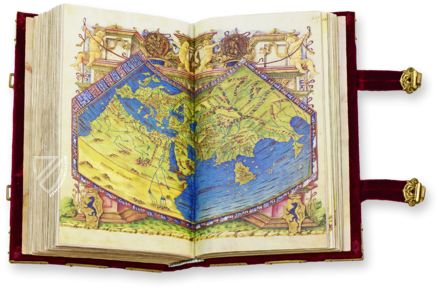 Ptolemy Cosmography
Naples (Italy) – Ca. 1490
The medieval world in a handy format: a Ptolemy atlas that is unusually small for maps, yet a magnificent work of the Italian Renaissance
Experience More
Blog articles worth reading